Fall harvest going strong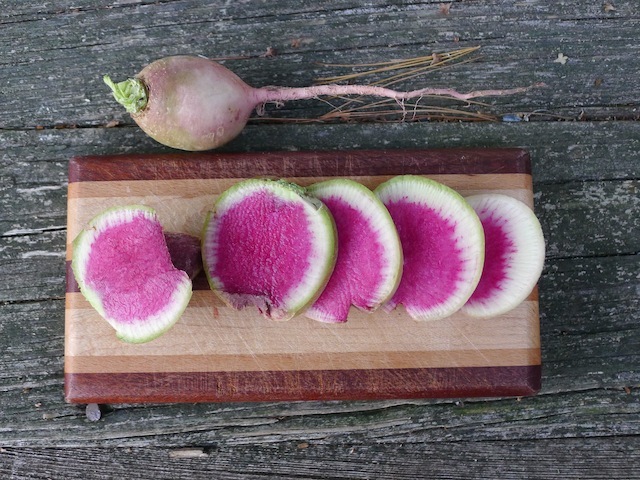 With beautiful magenta centers, the watermelon radish is an eye catcher and is quite tasty.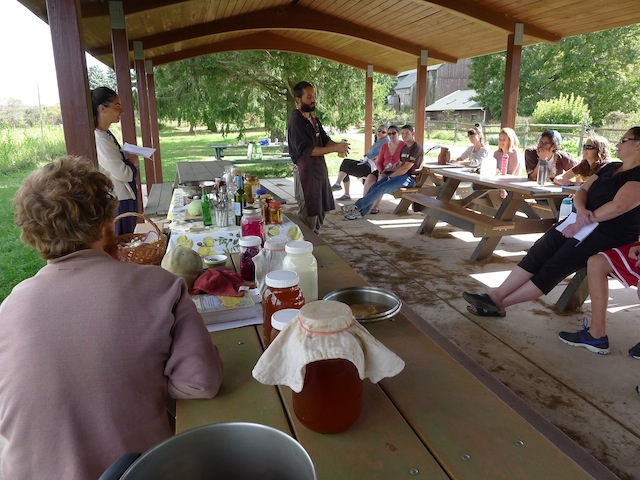 A wonderfully informative fermenting workshop with demonstrations and examples by Derek, Wayne, and Cathy.
News
Notes From The Field
Nothing to complain about
By Derek McGeehan
I can't remember the last time we had this long of a stretch of nice weather. It feels like we've enjoyed low humidity, crisp nights, and mild, sunny days for weeks now. Thankfully, we did receive a little over an inch of rain last Saturday night, otherwise we would have to start thinking about irrigating. When I was walking around the u-pick field last night, I was amazed by how nice everything looked: the cover crops, lettuces, fall greens, strawberry plants, beets, everything looked happy and robust and relatively weed free. Perhaps this happens every fall and I forget or perhaps it is actually a good time right now. Of course, weather patterns may change, we may get hit by hurricane, so enjoy it all now.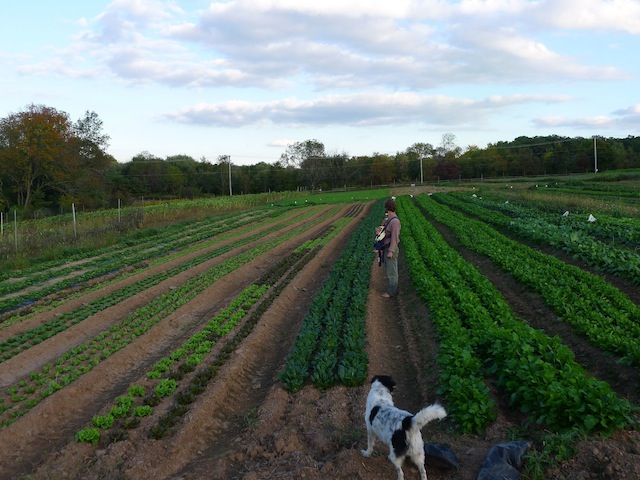 Vista of fall lettuces, tatsoi, broccoli raab, arugula, choy, Borchie, Derek, Gabe, and cover crops.
I always say this is my favorite time of year (plus early spring) because I can finally enjoy the farm at a slower pace. The sunlight even seems to be better this time of year, especially in the evenings. With the early glow of fall foliage and the darker shades of greens and reds of the crops, it is fun to look around and admire the natural beauty. We're really transitioning to fall staples in the share. New this week are cabbage, leeks, radishes, and cauliflower. The fall cabbage looks great; we've harvested 2/3 of the first planting and the yield and quality are above average. Leeks should be a staple for a while and seem to be holding their quality in the field. The first wave of radishes that we'll be giving out are called watermelon because of their bright red interiors. Eat a few slices with sharp cheddar cheese and you'll be pleased. We haven't harvested much cauliflower yet but they look good and we've seen some monster heads waiting to be cut.
When you come to the farm over the next couple of weeks you'll probably notice work being done inside the barn. We're building a state of the art, rodent proof, insulated storage space across from the veggie pick up room. This will allow us to store winter squash, potatoes, sweet potatoes, and many other crops in a safe environment that don't need the cold temperatures of the walk-in cooler. We're planning to be able to heat and cool it as well so that we can better store some harvested crops earlier and later in the season.
Expected Harvest
Taste autumn!
By Derek McGeehan
Harvest #20 (Week B) should include sweet potatoes, watermelon radishes, arugula, greens mix, collards, bok choy, leeks, garlic, winter squash, cauliflower, cabbage, eggplant, and peppers. U-pick should include hot peppers, herbs, and flowers.
Late fall CSA filling fast
By Derek McGeehan
The Late Fall CSA is about 75% full at this point. If you're interested in joining, sign up as soon as possible. If you have joined via the website but haven't sent in your payment yet, please do so soon to guarantee your spot.
New crops this week: cabbage, watermelon radishes and leeks
By Linda Dansbury
Yet another reason I love the farm this time of the year is almost every week brings a new tasty veggie - this week there are 3!
Leeks - in the same Allium as garlic, onions and scallions, these give a nice onion flavor without the bitterness. They can be used in place of onions in most cooked recipes. Use the white and slightly green parts in your recipes and save the green parts for soup stocks. Store them in plastic bags in the crisper drawer and they will keep for a few weeks.
Cabbage - there are a few recipes on this site for cole slaw - one that people really love is Robert's Blue Cheese Cole Slaw. One of the ways that I like to eat cabbage is to shred it as if making cole slaw, but then sauté it in either just canola or olive oil, or in a combination of canola oil and butter. Add a little salt and pepper to it and sauté it slowly until it is very soft and starts to brown slightly. It takes on an almost nutty taste this way. I have added a new recipe called Meltaway Cabbage. Please enjoy.
Watermelon radishes -- are a variety of daikon radishes, which you may be more familiar with. As Derek says, they are green on the outside, but when you cut them open, they are the color of a beautiful watermelon. They have a slight bite to them - they are delicious added to salads that include a bit of goat cheese or feta. They can be pickled, or cooked as you do the Asian turnips and can even be mashed, but when cooked, they lose their beautiful color, so I prefer to eat them raw.
How did I enjoy my harvest this week?
By Linda Dansbury
What beautiful weather we have been having and the cooler evenings make cooking so enjoyable. As we transition into fall crops and cooler weather, I would love to hear how you enjoy your harvest - send your thoughts to me at
lindadansbury@comcast.net
.
peppers, onions, garlic - made chicken scallopini - cut boneless, skinless chicken breasts up into 1-2 inch slices and brown in a bit of olive oil; remove from pan. Add peppers and onions and sauté until starting to get soft. Add garlic and stir until fragrant. Add chicken back into pan, along with it's juices, a large can of diced or pureed tomatoes, and herbs of your choice. I added fresh oregano and a fresh bay leaf. Rosemary is delicious too. Simmer, partially covered until chicken and veggies are very tender, about 45 minutes.
peppers, onions, tomatoes, eggplant, garlic and dandelion greens - I made a big batch of caponata this past week, and will make another one today. The classic Italian recipe (2 of them on this site) says it is great as a topping for bruschetta, but I make it a meal - serve over pasta, rice or other grain, or spaghetti squash. The above isn't a typo - I did add the dandelion greens - the recipe doesn't call for it, but I thought it would work well and it does. for those that don't care for dandelion greens, this is a great way to get these nutritional greens into your diet. With all of the other flavors, there is not a pronounced bitter green taste. I use the version of the recipe that calls for capers and olives - and I use sherry vinegar. This dish also freezes well. Yum!!!
Tomatillos - they keep for a bit in the fridge, so I took 2 weeks worth and roasted them in a hot oven yesterday - when cooled, I put the roasted tomatillos - juices as well into the blender, where they currently are. Today I will add some onion, hot pepper, lime juice and cilantro and make into a salsa to enjoy while watching the Eagles game - at least something will be good!
Arugula - Derek tells me it should be around for most of the rest of the season, which is good for me - I love it! As much as I love red wine and balsamic vinegars, arugula works so well with lemon juice. Here is a really simple salad - washed and dried arugula, sliced button mushrooms, a bit of minced shallot(optional, I don't usually use any allium with my arugula). Place arugula and sliced mushrooms in a bowl. Squeeze some fresh lemon juice over the bowl, then some good quality olive oil, a pinch of salt and pepper. Mix well, then plate - top with some grated or thinly sliced parmesan cheese.

Broccoli - ate some raw as a snack with my lunch and steamed some to have with dinner.

Swiss chard -- sautéed up with some garlic and served it alongside a venison stew.
Enjoy the harvest!!
Recipes
From Simply in Season; Serves 6; takes about an hour to cook.
1/4 cup butter
1 large onion, diced
2 Tablespoons paprika
1 medium head of cabbage, thinly sliced
stems of 1 bunch of Swiss chard, thinly sliced, optional
2 teaspoons salt
1 pound egg noodles spaetzle or chunky pasta
In a large, heavy bottomed pot, melt butter and slowly cook onion and sauté about 10 minutes, or until very soft - do not brown.
Add paprika and sauté briefly. Add cabbage, chard stems and salt, stir to coat vegetables with paprika, cover and cook on very low heat for 1 hour, stirring occasionally, until cabbage is very soft. The longer the cabbage cooks, the sweeter it will be. When cabbage is nearly finished, cook noodles and mix into cabbage and pepper to taste. Serve with sour cream if desired.