Late Fall CSA Week 3: Into December We Are
News
Expected Harvest
A Few Newbies
by Farmer Dana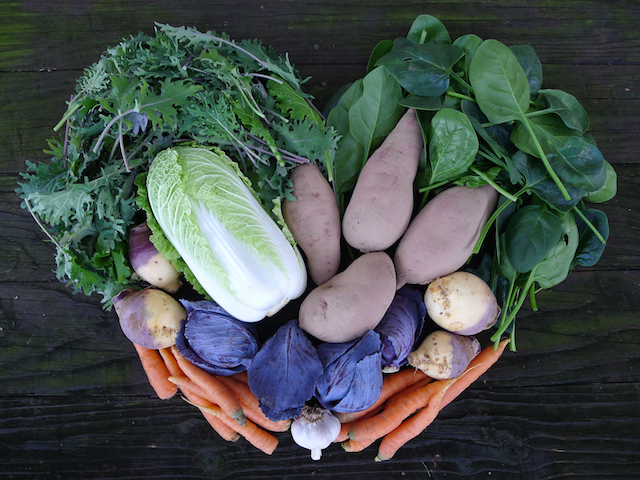 Late Fall CSA harvest #3 (Week A) should include sweet potatoes, rutabaga, daikon radishes, carrots, beets, potatoes, mini cabbage, napa/chinese cabbage, spinach, garlic, and greens mix. Some items will be a choice.
Notes From The Field
A Sunny Stretch
by Farmer Derek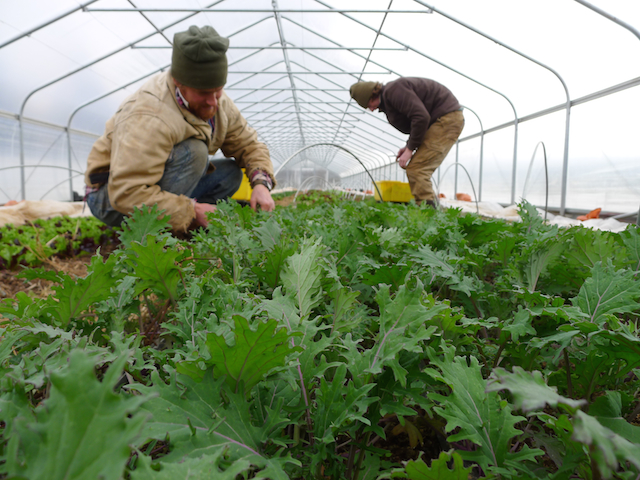 Harvesting tasty tender baby red russian kale last week.
Even this time of year I can get excited about a forecast showing 10 days of sunshine without rain (forecast will most likely change). Temperature highs will eventually be in the upper 30s but that seems permissible for early December. Another record breaking wet month is in the rear view mirror which also concludes my 9-month collection of precipitation data. From March through November 2018 we received 55" of rain, almost 2 feet more than the average of the prior 9 years. That's about an average of 1.5" per week, an insane amount here. Our soils would be happiest with at most a 1/2-inch of rain per week, even in the heat of mid-summer. But, hey, we made it to December, hooray! With four more weeks of CSA in 2018 we can actually perhaps see some light at the end of what was a very long tunnel. In a few weeks we'll celebrate the Winter Solstice and welcome increasing daylight which for us farmers marks the New Year, at least the way I internally process the growing seasons. Because it will basically coincide with the end the Late Fall season, and because we're foregoing a Winter CSA this year, it will truly feel like an end and a beginning.
We're already deep into the process of preparing for the 2019 growing season. Last week I spent days reviewing our collection of seeds and assembling our extensive seed and plant order. I ordered 7,000 strawberry plants (1,000 plants of 7 varieties) and 1,500 pounds of seed potatoes (5 of our best varieties, varying poundage and maturity length). This week I'll finalize and place our annual crop seed order and then probably move on to accessing farm supplies like irrigation infrastructure, row covers, trellising materials, and harvest containers. We also have our annual Certified Organic inspections which I'll prepare for by assembling all of our planting and harvest records as well as any receipts for farm inputs. And I will also spend time outside each day while the sun is shining for mental and physical balance, collecting remaining irrigation supplies from fields and doing some general farm clean up.
Wreaths for Sale
by Farmer Dana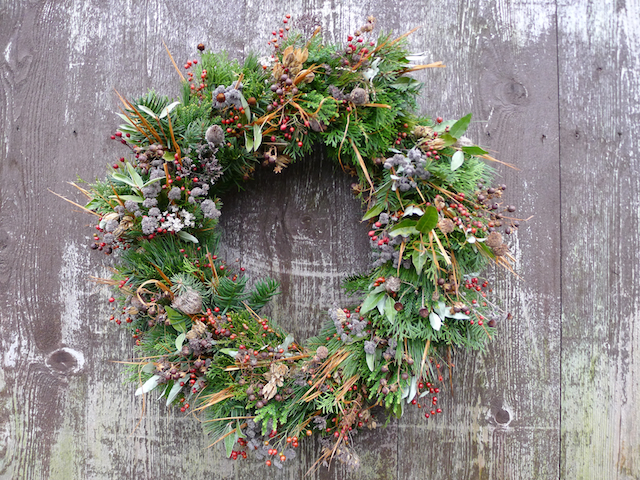 Handmade homemade farm-sourced wreath by Farmer Dana.

E-mail us if you are interested in purchasing a holiday wreath. Simple green wreaths to highly decorated wreaths (like the one pictured above) are available and range in price from $35-$55, respectively.

Sign Up for 2019 Main Season
by Farmer Derek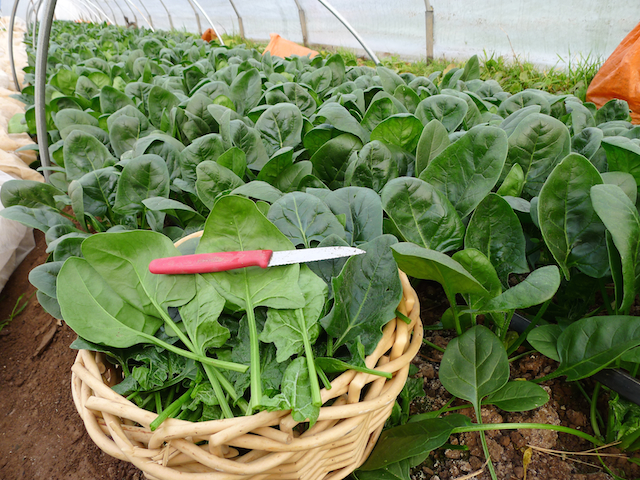 Welcoming hoop house spinach to the Late Fall share. Since it's basically impossible to grow outside, all spinach will probably be grown inside our various tunnels next spring and fall, hopefully guaranteeing a harvest.
Log in here to sign up for the 2019 Main Season CSA
. Share prices remain the same for next year. We do the bulk of farm purchasing during the winter months and it is very helpful to have members sign up and pay for shares in advance. A $200 deposit finalizes the sign up process. Total membership will remain the same as the past five seasons and we continue to fill up year after year (thankfully). We'll be in touch over the winter months with highlights, anticipations, and improvements we hope to make for next season. Since the weather cannot possibly be as bad as it was in 2018, everything is sure to be better!