Late Fall CSA Week 4: Best Time for Greens
News
Expected Harvest
Going Green
by Farmer Dana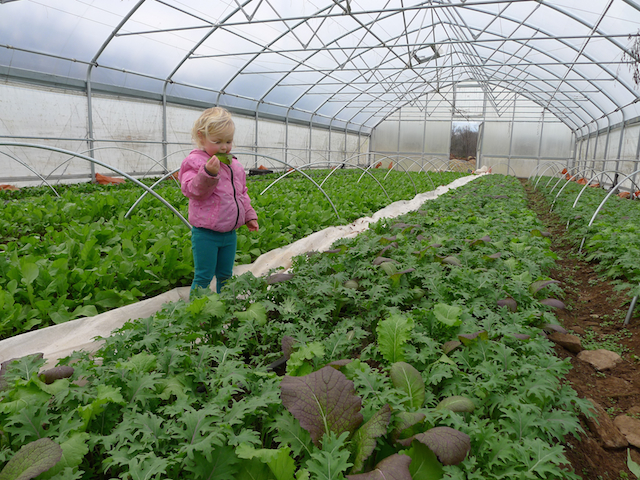 Sampling baby kale mix and arugula in the high tunnel.
Late Fall harvest #4 (Week B) should include sweet potatoes, rutabaga, daikons, carrots, beets, mini cabbage, napa/chinese cabbage, potatoes, garlic, spinach, lettuce mix, arugula, and greens mix. Some items will be a choice.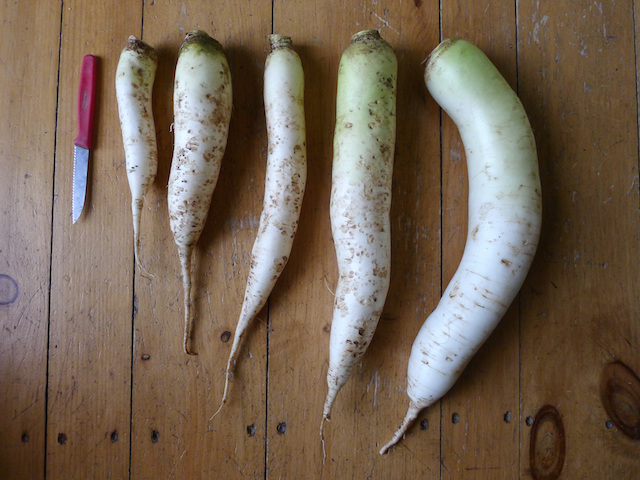 Harvested from our cover crop patches, these daikons are also called 'tillage radishes' due to their ability to break up hardpan and loosen soil with their large taproot. A very easy way to incorporate these into your meals is to simply grate them into whatever dish your making. That way they cook quickly and blend in and you only need to add what you think is appropriate since they keep well. Exterior evidence of insect interaction can be safely ignored.
Notes From The Field
Relishing the Dark Time
by Farmer Derek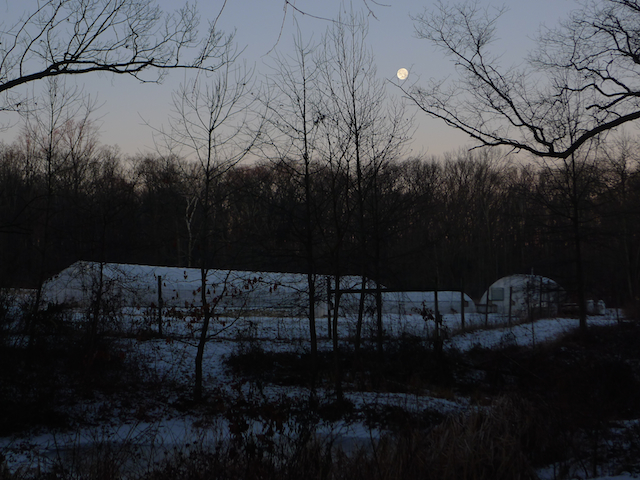 A winter moon scene.
The hustle and bustle of the outdoor growing season safely behind us, we can now allow our minds and bodies to recover, reflect, as we drift into winter's solace. Much of my work during December is done from the comfort of the couch, near the wood burning stove. Since everything and everyone is connected through the internet via some kind of computer device, most of our supplies can be ordered without me leaving the couch (except for the inventorying part). All of our crop planting plans, crop rotations, crop schedules are recorded digitally using one kind of spreadsheet or another. Eventually I will tire of this type of task, but for now it's a welcome change from the pressures of the outdoor growing season and the physical demands of farm work. If I need a break from sitting, there remains plenty of miscellaneous jobs to do outside this time of year including collecting more irrigation and season extension components from the field as well as spreading compost and mowing if the weather allows. Not to mention harvesting and distributing shares every Wednesday and Saturday through the end of this month.
My lofty goal is to finish the majority of my winter administrative work this month while hoping that I can truly take some time off in January. Thinking about and planning for the next growing season is a pleasant task due to
the glossy and glamorous pictures in the seed catalogues coupled with a fresh start on a clean field; it puts a positive spin on our aspirations for next year.
New Veggie - Rutabaga
By Linda Dansbury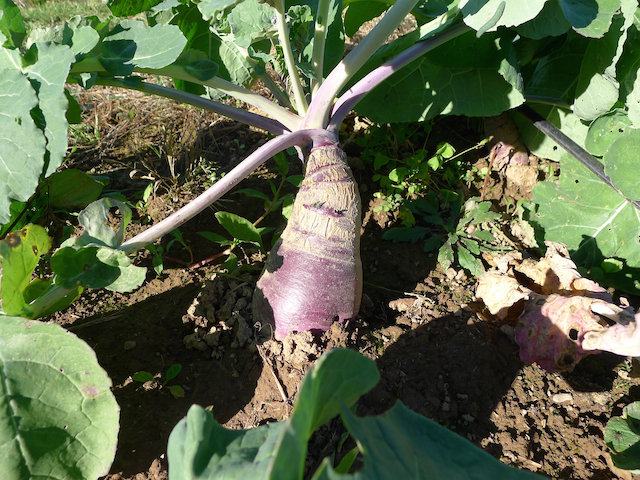 Rutabaga
Did you wonder what the new veggie - rutabaga - was in the pick up this past week? It is obviously another root veggie. It is in the same family as broccoli, cauliflower, cabbage and turnip. It was developed in the middle ages and is thought to have come from a cross between a turnip and cabbage. I think it is sweeter than either. Rutabaga is an
excellent source of vitamin C and
potassium, and a good source for fiber, thiamin, vitamin B6,
calcium, magnesium, vitamin A and manganese. It is used a lot in northern European countries in combination with carrots and potatoes as a mix of mashed veggies with butter, pepper, and sometimes stocks. It is also added to stews and soups. Rutabagas are popular in the northern US and also in Canada but I don't see it in our geography very often.
To store, they do well in a sealed plastic bag in the fridge - if you are fortunate enough to have a root cellar, store them there.
Try making mashed rutabaga using your favorite mashed potato method or recipe - or mix in some potatoes, carrots and/or sweet potatoes. Yum!! They are also delicious roasted, as I have described in other newsletters, either alone or mixed with lots of other veggies.
Enjoy this healthy new veggie!
Join the 2019 Main Season
by Farmer Derek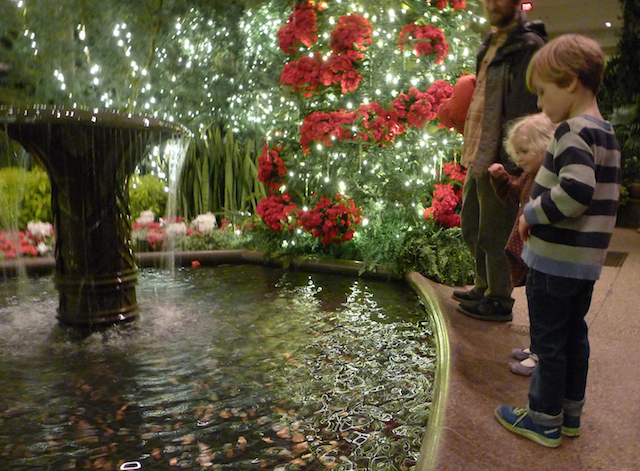 Wishing for better weather for an easier growing season in 2019!
Log in here to sign up for the 2019 Main Season CSA
. Share prices remain the same for next year. We do the bulk of farm purchasing during the winter months and it is very helpful to have members sign up and pay for shares in advance. A $200 deposit finalizes the sign up process. Total membership will remain the same as the past five seasons and we continue to fill up year after year (thankfully). We'll be in touch over the winter months with highlights, anticipations, and improvements we hope to make for next season. Since the weather cannot possibly be as bad as it was in 2018, everything is sure to be better!