Autumn weather and harvest coming to the farm
Diligent workshift planting 2014 garlic on a beautiful fall day.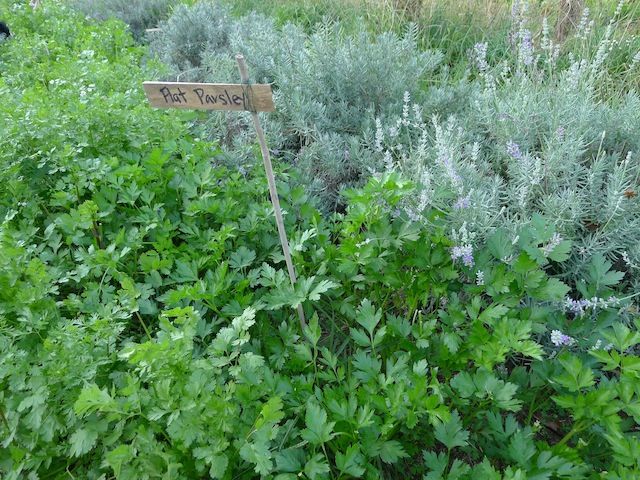 Fall friendly herbs cilantro and parsley ready to be picked.
News
Notes From The Field
Cool October Evening
By Dana Hunting
This coming week will be the 23rd out of our regular 26-week season - four more weeks to go! And a good season it's been. To date, the farm appears to have escaped any major severe weather events and we hope the trend continues. We celebrated the successful year so far at the final potluck on Saturday with a lovely crowd of CSA members. The perfectly cool October evening was made cozy by a pavilion-side fire and was a festive atmosphere in which to enjoy the variety of foods and even better company. Thanks to everyone who came out!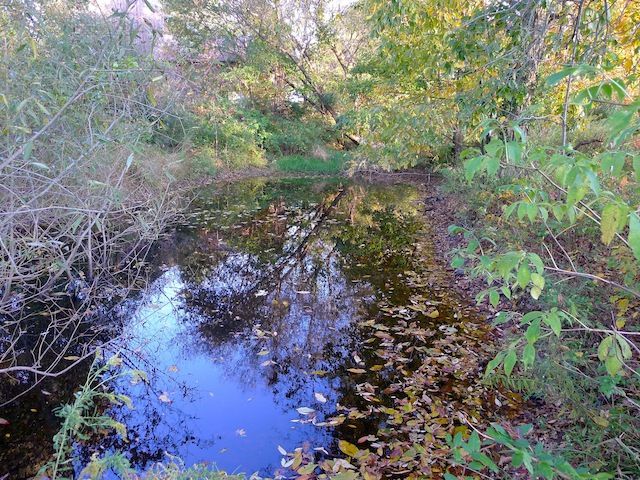 An almost full pond on an evening in autumn.
For the first time this season there will be carrots in the harvest. Carrots have always been a finicky crop to grow and have required many, many hours of attention in the past to bring them to fruition. Historically we have direct seeded them, then covered the seeded beds with row cover for several weeks to maintain adequate moisture for the seeds to germinate. By the time the carrots germinate, though, the weeds have gotten a big head start and we'll spend many hours cultivating and hand-weeding the patch. After weeding and cultivating, the carrots have to be thinned in order to provide each root the space it needs to grow into something more than a baby carrot. I know lots of CSA members have spent a significant amount of time meticulously measuring the distance between each plant and pulling out the extra seedlings to allow for adequate space. Then we'll weed again and again until the carrots are of a harvestable size.
In an effort to eliminate several of the aforementioned steps, we tried transplanting carrots this year. We seeded them into flats in the greenhouse and then transplanted them on two separate occasions into the field. Transplanting them certainly eliminated the need to thin, and reduced the number of times we had to cultivate and hand-weed the patch. So, in some ways the experiment was a success. In turn, however, the carrots grew in an intertwining fashion leading to smaller carrots of interesting shapes! The jury is still out on whether transplanting is a "better" method of growing this vegetable. Even though the resulting root isn't a traditional looking carrot, it still tastes like one which might be the most important aspect to consider. Plus, the carrots now have some additional entertainment value - what shapes do you see?
Expected Harvest
Carrots, endive and escarole
By Dana Hunting
Harvest #23 should include: carrots, lettuce, leeks, fennel, arugula, broccoli raab, tatsoi, sweet peppers, cabbage, cured potatoes, cured garlic, escarole, frisee endive. Some items will be a choice. U-pick should include: hot peppers, parsley, cilantro, perennial herbs and flowers. Half shares, this is week A.
What do I do with these radishes?
By Linda Dansbury
White and black radishes - what!!?? The rest of the world - in particular Asia and France, enjoy radishes in many shapes and colors, so it was exciting to see the black and white radishes in the pick up room last week. I have to admit that I had to research what the black radishes were and what to do with them. This is one of the things that makes Anchor Run CSA such a wonderful experience. Farmers D&D find new things to grow every year. These are items we would not otherwise have an opportunity to try - so enjoy these rare treats!
The white radishes are daikon - famous in Asia. They have quite a bite to them - eating them raw may be painful to some. They are most often cooked in soups, but I have found a few recipes that they recommend roasting with sweeter veggies, such as carrots and sweet peppers - try the new recipe posted this week.
The black radishes are apparently popular in France. They can grow to be up to a half pound each! At that size, they can be treated a bit like beets - if you roast them the skin will easily peel. For the smaller ones, they can be cut into wedges and roasted with olive oil and garlic, or shredded and made into the salad I have also posted.
How did I enjoy my harvest this week?
By Linda Dansbury
This cooler weather really lends itself to cooking so I have really enjoyed the time I've spent in my kitchen. I haven't heard from members in awhile on how you are enjoying your harvest; hope you will take a minute and email me at
lindadansbury@comcast.net
. Some of my quantities below may seem high, due to a bounty of peppers and other things in my own garden right now.
Eggplant, peppers - made a Thai in red curry dish very similar to the one on the web site - it is delicious. The store purchased red curry is pretty authentic tasting, if you don't have the time to make your own. Check the label for the following ingredients: kefir lime, lemongrass, galangal and shrimp paste - all needed for authentic taste
Garlic, onions, peppers, tomatoes, herbs - made another large batch of chicken scallopini, served it over polenta, and froze the leftovers for good eating later in the year.
Bok choy, sweet and hot peppers, onion -- made a large stir fry - I used ginger, tamari and sesame oil to season. The bok choy is beautiful and so tasty.
Bok choy -- the extra "stems" I didn't use in the stir fry I dipped in hummus and ate as a snack.
Winter squash - I know these weren't just given out, but I made a really wonderful winter squash and white bean soup, that incorporated a lot of herbs - I will likely add the recipe to the website next week.
Butter lettuce - butterhead lettuce is so delicate - and delicious - it is best with a very simple dressing. I made a dressing my grandmother used to make - she also grew butter lettuces! The dressing is fresh squeezed lemon juice, a pinch of pepper, celery salt, and canola oil. Slice up radishes and rough chop a little parsley. Toss all together - so good, especially the memories of my grandmother!
Recipes
V Roasted daikon radish, carrots and sweet pepper
From the blog saracucinabella; ready in 45 minutes, but only 10 minutes is active. Sara writes that the sharpness of the daikon radish is a nice contrast to the sweetness of the carrots and peppers.
4 large carrots, thinly sliced into 1/4 inch rounds
Daikon radishes, thinly sliced into 1/4 inch rounds - approximately same amount as carrots
1 large bell pepper, thinly sliced
1 shallot or leek, thinly sliced
2 Tablespoons olive oil
Salt and pepper to taste
1/4 cup Balsamic vinegar
Preheat oven to 400 degrees. Combine carrots, radishes, peppers, shallot or leek in a non stick baking pan - mix well with olive oil and salt and pepper. Bake for 25 to 30 minutes, turning a couple of times during baking.
Drizzle balsamic vinegar over veggies and bake 5 more minutes.
Toss well and place in serving dish. Enjoy!
V Radish salad
From Epicurious; ready in 15 minutes
4 teaspoons freshly squeezed lemon juice
1/2 teaspoon Dijon-style mustard
1 pound of assorted radishes (black and daikon) shredded, or very thinly sliced
One small shallot, sliced paper-thin
2 tablespoons extra-virgin olive oil
Fine sea salt
Preparation
1. In a medium sized bowl whisk together the lemon juice and the mustard, then slowly whisk in the olive oil into the mixture until it emulsifies.
2. Grate the radish on a grater with small holes. Add the grated radish and the shallot to the vinaigrette and toss so that all the ingredients are thoroughly combined. Season with salt. Serve immediately.