Late Fall CSA Week 3: Tuesday (not Wed) Pick Up!
News
Expected Harvest
Bounty of Thanks
by Farmer Derek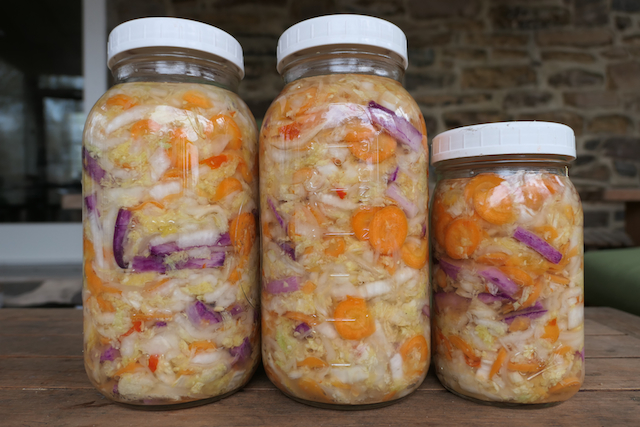 Kimchi creation. Simply chop veggies, add salt water brine. Allow omnipresent lactobacillus bacteria to do their fermentation thing for a week or more. Enjoy the flavors and health benefits.
Late Fall Harvest #3 (Week A) should include cabbage, napa cabbage, radicchio, potatoes, kale, garlic, onions, carrots, arugula, lettuce mix, greens mix, beets, celeriac, hakurei turnips, purple daikons, watermelon radishes, and hopefully rosemary. Some items will be a choice.

Notes From The Field
Think Thanks
by Farmer Derek
Setting the heat and ventilation thermostats in the greenhouse amid a sea of late season lettuce mix.
It's the end of November. It's the week of Thanksgiving. It's time for me to turn 37. My knees ache as I transition from the busy outdoor season to a winter exercise routine to balance out my time spent indoors meticulously reviewing this growing season while preparing for the next one. Neglected house and infrastructure repairs beckon. Both tractors require major reconstructive surgery (not covered by insurance). But the sun shines. The farm rests. Harvests are bountiful. It has been a good growing season. I feel ambitious as I begin to chart a course for next year. Seven thousand strawberry plants are ordered. We focus and place hope in a variety to actually extend the harvest. An additional 500 raspberry plants are purchased. Perhaps a new home and location for brambles will be found that is less prone to saturation. Hundreds of thousands of vegetable seeds are being ordered which will turn into 100,000 pounds of produce in 2020. Orders are being placed for organic amendments to help facilitate those seeds turning into edibles. Soil samples are collected for analysis. The crop rotation map will receive its annual update. We feel auspicious as we move from one season to the next. We're thankful for everything. Happy Thanksgiving.

Important Pick Up Information for this Week
by Farmer Derek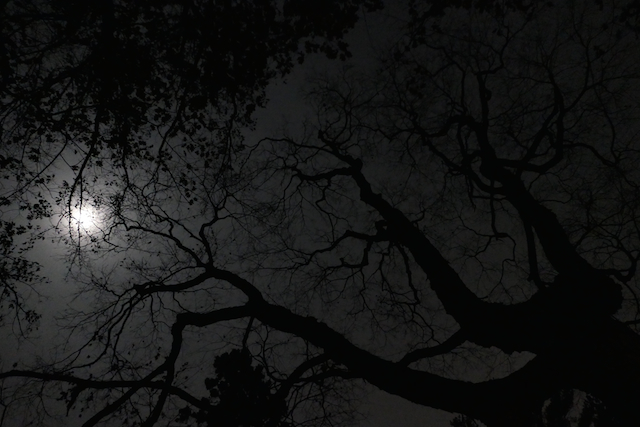 Full moon night scene.
A reminder that due to the holiday this week, Wednesday's pick up is moved to Tuesday, 11/26, 1-8pm. Saturday's pick up is still on as scheduled, 11am-1pm. If you can't make it Tuesday, please e-mail us to reschedule to Saturday or next Wednesday (if you're a Half Share).

Thanksgiving Bounty
By Linda Dansbury
If you want to change up or add to your typical Thanksgiving feast, try making a "mixed mash" and/or roasted mixed root veggies for your family and guests.
Mixed mash is simply what it sounds like: instead of just making your mash out of white potatoes, add into the pot peeled sweet potato and peeled and cut up celeriac. Even my family that wants everything from when they were growing up loves the mix! After boiling until veggies are soft, drain and proceed the way you do for your regular mashed potatoes.
Mixed roasted root veggies - I have described this before but as a reminder, cut up onions, sweet potatoes, celeriac, daikon radishes, and beets, making the beet pieces smaller than the rest because they take longer to get soft. If desired, you can also add turnips and/or kohlrabi. Mix with a bit of olive oil, salt and pepper. I like to put in a few sprigs of thyme or rosemary as well. Bake in a 380 degree oven for about 40 minutes, turning at least once during roasting. Temp can be adjusted for other things that may be in your oven at the same time, such as bread or rolls. Just adjust cooking time accordingly.
Enjoy, and Happy Thanksgiving!