Late Fall CSA Week 5: Weather or Not
News
Expected Harvest
Rooting for Rutabaga
by Farmer Dana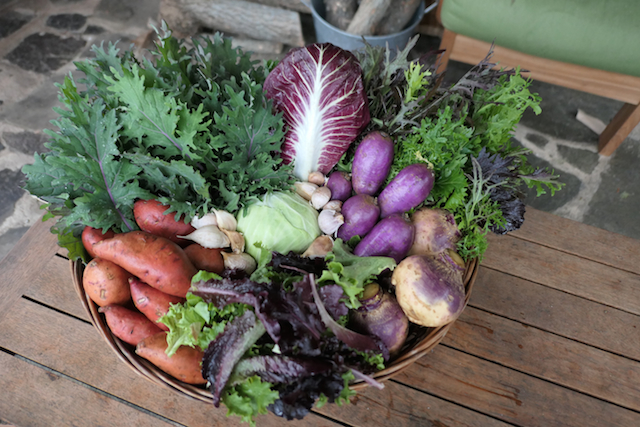 Share #5.
Late Fall Harvest #5 (Week A) should include cabbage, Napa cabbage, radicchio, potatoes, sweet potatoes, garlic, rutabaga, beets, watermelon radish, purple daikon radish, hakurei turnips, lettuce mix, greens mix, kale, and arugula. Some items will be a choice.
Notes From The Field
At the Middle
by Farmer Derek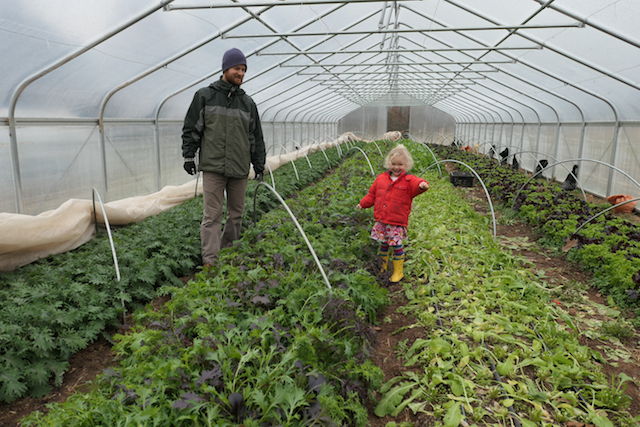 Snacking on some freshly uncovered greens in the hoop tunnel.
Welcome to Late Fall's midpoint. There are four more weeks of pick up. We're closely monitoring fresh and storage crops to ensure perfect eating conditions while trying to create a well-rounded farm share and attempt to deplete our fields, tunnels, and coolers in order of cold tolerance and storability. Since we're not planting anymore and fresh crops aren't really growing much during this persephone period (less than 10hrs/day of daylight) and all storage crops are in from the fields, we have a finite amount of produce to harvest and distribute. Thus, care must be taken to ensure adequate and reasonable amounts of delectable food are provided to you each week. It's mostly simple arithmetic but there are variables to control to keep crops in peak condition, and then there are also unforeseen occasional crop losses, too. For example, maybe something didn't store as well as we would have hoped, or too much tunnel moisture contributed to plant disease, or a polar vortex dropped temperatures down to -10 unexpectedly. So, we have to leave some margin for error and play it somewhat safe. That said, harvests should remain fairly reliable and consistent through the end of this growing season, albeit a few changes during these final weeks as some crops are depleted and others are cut. For example, we're now harvesting entirely from under cover as curly field grown kale has exited and makes room for delicious 'baby' red russian kale straight from the hoop tunnel. Rutabaga takes the place of onions in the share since we lost more onions than we planned for due to excessive moisture during storage. I guess farming is a game of give-and-take.
Rousing Rutabaga
By Linda Dansbury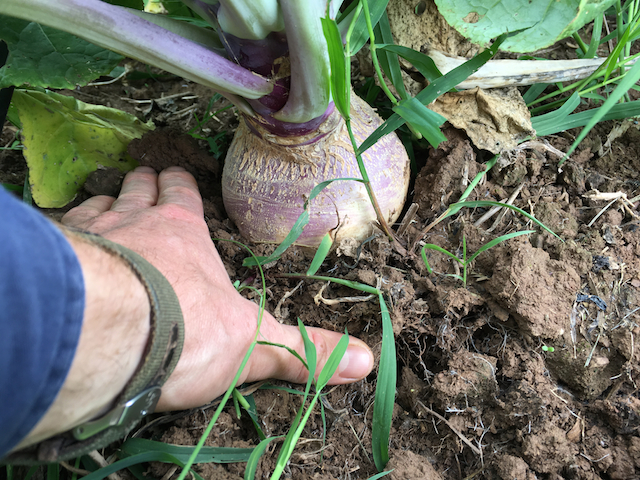 The humble rutabaga.
Another new root veggie will be in the pick up room this week - the little known and underappreciated rutabaga.
This sort of dumpy-looking veggie with a purple top and beige bottom, may not look very alluring, but there's a lot more to this winter vegetable than meets the eye.
Underneath its woody-looking exterior, rutabaga's butter-yellow flesh is sweet and earthy. Rutabagas are the result of turnips crossing with wild cabbages in the 1600s, and while they contain the genes of both veggies, they're considered a part of the cruciferous family of vegetables (cousins include broccoli) and pack similar health benefits.
Just one cup of rutabaga contains approximately 50% of your daily value of vitamin C. They're also rich in fiber, vitamin B6, potassium, and magnesium — and low in calories. An entire medium-sized rutabaga has only 145.
There are many ways to enjoy rutabaga:
Mashed or roasted, either alone or in combination with other root veggies; rutabaga make delicious oven fries - toss in oil of your choice, salt and add herbs and spices you like and bake at about 375 for 30 min or so.
Slice thin and make into your favorite gratin recipe, or, instead of using potatoes make rutabaga Hasselback. Peel and add to your favorite soups and stews - yum!
Do you like Carrot Cake? Use rutabaga instead!
Anyway, make sure you add this little known veggie to your winter repertoire!
Maple Syrup and Honey Sale
by Farmer Dana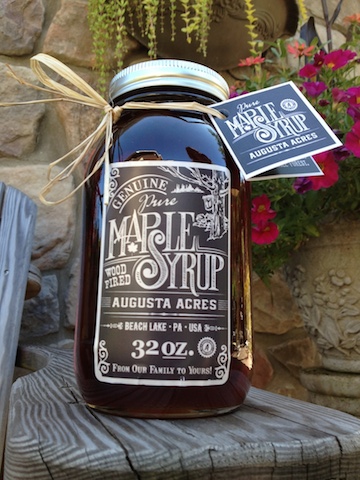 Augusta Acres Farm's Maple Syrup and Honey For Sale!
Pre-order sale only. Pick up on Wednesday, December 18th, 1-8pm. All orders must be prepaid in advance by either:
#1 Sending a check to:
Augusta Acres Farm
229 Peggy Runway Farm
Beach Lake, PA 18405

#2 Leaving a check for your balance due at Anchor Run Farm PRIOR to pick up date of Dec. 18th
We will be offering the following:
#1. 100% Pure Male Syrup from our farm
$15 Maple Syrup pint
$24 Maple Syrup quart
#2. Local, Raw Honey. Dark and delicious!!!
$15 Honey pint (Sorry, honey not available in quarts)
#3. Bourbon Barrel Aged 100% Pure Maple Syrup!!! Our new product...Handcrafted on the farm!!!
$12 Small (6.76oz) Bourbon Barrel Aged Maple syrup
$20 Large (12.7oz) Bourbon Barrel Aged Maple syrup
Thank you for supporting our small farm! It is very much appreciated. Best wishes to you and yours for a wonderful Holiday season and New Year!!!
Susan and Todd Klikus