CSA Week 16: Goodbye August
News
Expected Harvest
Summer's Slowly Fading
By Farmer Dana
Harvest #16 (Week B) should include leeks, onions, garlic, sweet peppers, eggplant, tomatoes, basil, kale, swiss chard, lettuce, winter squash (then potatoes later in the week), carrots, okra, hot peppers, shishito peppers, and italian dandelion. Some items will be a choice and may not be available during all pick up times (total weight/items will stay the same). U-pick is winding down but should include edamame, flowers, herbs, tomatoes, husk cherries, and tomatillos. These last two or three crops may be open for 'gleaning' which basically means they're at the end of production, there's not enough quality fruit for everyone, the good ones are hard to find, take what you can get, etc. Consult the u-pick board for up-to-date information.
Notes From The Field
Ready for this Change
by Farmer Derek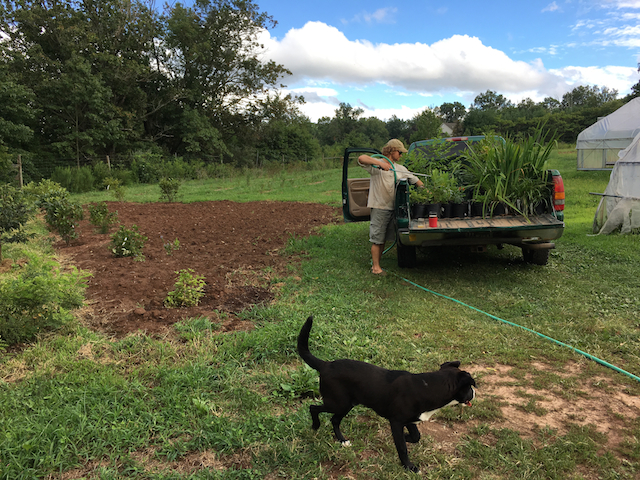 Last week was a productive and busy one. We finally managed to finish weeding the fall carrots, which were also cultivated for the 3rd time. Additional potatoes were dug. Finished fields were sown with a cover crop mix of buckwheat, oats, and winter wheat. Field space was readied for our two new caterpillar tunnels. Because we're locating these at the bottom of a field with our heaviest soil and poorest drainage and at the bottom of the hill, we had to grade and create waterways while elevating the plots for the tunnels. (Interestingly, this soil type does extremely well in protected environments where moisture is controlled.) I had to prepare a similar site in the same field for our longer, bigger hoop tunnel in 2017 so this time was a bit easier and went a lot quicker. Before Friday's rain event we sowed fescue, perennial rye, and white clover in the waterways. Last week we also transplanted a lot of crops including arugula, head lettuce, romaine lettuce, endive, escarole, salad radishes, hakurei turnips, kale, beets, chard, and napa cabbage. We seeded the first crops for indoor fall and winter production including kale, head lettuce, lettuce mix, and chard. We also converted a grass area into a plot for a variety of native plants. And of course we also spent a lot of time harvesting, washing, and distributing shares. During this coming week we have more to seed, transplant, harvest, weed, clean up, maintain, and dismantle. Enjoy this weather!
Workshifts for Week of 8/31/20
by Farmer Derek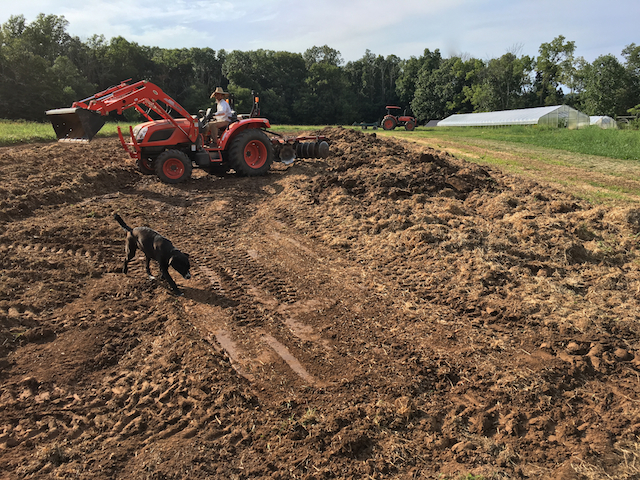 Workshifts will be held rain or shine. If it's raining we'll probably process garlic in the barn. When it's dry we'll probably harvest potatoes or pull some weeds.
Workshifts scheduled for this week:

Tuesday 9/1 9-11am
Wednesday 9/2 9-11am
Friday 9/4 9-11am
Sunday 9/6 8-10am
It Tastes Almost Like Fall - Leeks and Potatoes
by Linda Dansbury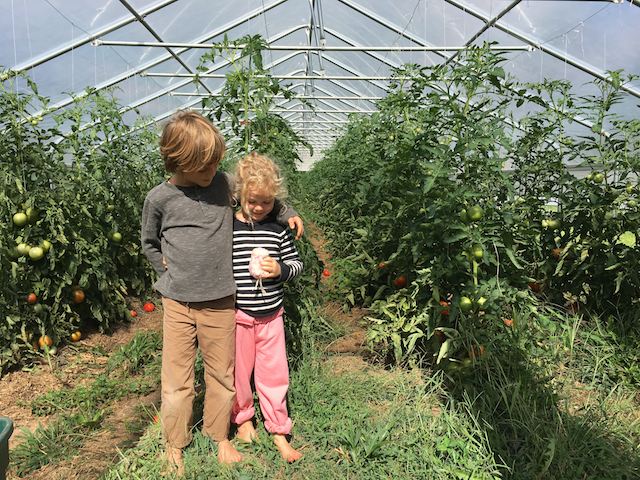 To me, leeks and potatoes mean fall is here. We will receive both for several weeks (or months) to come.
Leeks can be stored unwashed loosely wrapped in plastic in the crisper drawer of the fridge for 2-3 weeks. They can also be frozen by washing and slicing them, then air drying on the kitchen counter. Place on a tray and freeze, then place in plastic bag. Use in soups, stews and other delicious dishes. Leeks are just practically interchangeable with onions and scallions in most dishes.
Potatoes do not like it hot, cold, light, or too humid – so, store them in a cool, dry, dark place. Cool as in not near the stove or heating vents (but not in the refrigerator). Dry and dark in a cupboard or pantry that's not near the sink and is frequented enough where they won't be forgotten. A ventilated and dry basement is also a good option.
How I Enjoyed My Harvest
Time to Preserve for Winter
By Linda Dansbury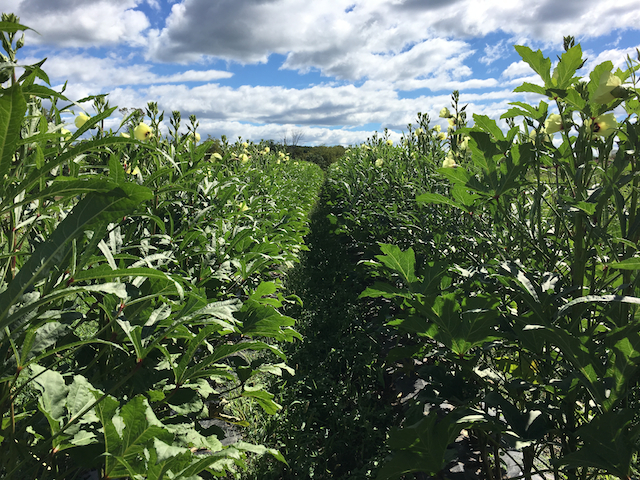 As I am writing this, the weather has broken and it is a gorgeous morning outside. I find that my mind and body start to crave different foods when the days start to get even slightly shorter – longer cooked, more warming foods. Although I am still eating a lot of "summery" foods, I have started to transition somewhat. Let me know how you are enjoying your harvest at lindadansbury@comcast.net and please put Anchor Run in subject line so I can find your email.
Onions, Peppers, Garlic, herbs – the peppers from the farm were accumulating, and I also have a lot of them coming along in my own garden, so I had to do something with a good number of them – I made chili and it is a large batch!
Okra, sweet pepper, onion – I did a new dish with okra. Quickly fried whole okra. Meanwhile, sautéed pepper and onion till soft and added Sambal Oelek – quite a bit of it to the pan and moved it all around until combined – really a yummy snack.
Okra, onion, pepper, hot pepper, garlic, eggplant, dandelion greens – made a veggie stew. Started with the onion and pepper and sautéed till starting to soften. Added chopped up eggplant and cooked until it was carmelizing a bit, then added chopped up okra. When that was almost cooked, I added corn from a leftover ear and the chopped dandelion greens. Added a bunch of herbs at the end.
Edamame – I mostly cooked and ate as snacks right away, but the latest batch I froze. After cooking, lay out on a kitchen towel to drain well. Place on cookie sheet and put in freezer until frozen and then place in resealable plastic bag to use later in the year.
Lemongrass, garlic, mint, lettuce, cilantro, parsley, scallion – we did lamb kebabs – recipes are all over the internet, but instead of putting them on wooden skewers, we used the stalks of lemon grass – it imparted such a nice taste! The version of kebabs included a yogurt sauce that had minced garlic and mint. Served alongside a salad of greens and lots of herbs. A really nice, light delicious summer dish that I would serve to anybody.