CSA Week 21: Autumn Sunshine
News
Expected Harvest
Early Autumn Mix
By Farmer Dana
Harvest #21 (Week A) should include potatoes, broccoli, kale, arugula, lettuce, leeks, garlic, beets, kohlrabi, radishes, turnips, green tomatoes, swiss chard, escarole, hot peppers, celery, and cabbage. Some items will be a choice. U-pick should include herbs.
Notes From The Field
Awesome Autumn!
by Farmer Derek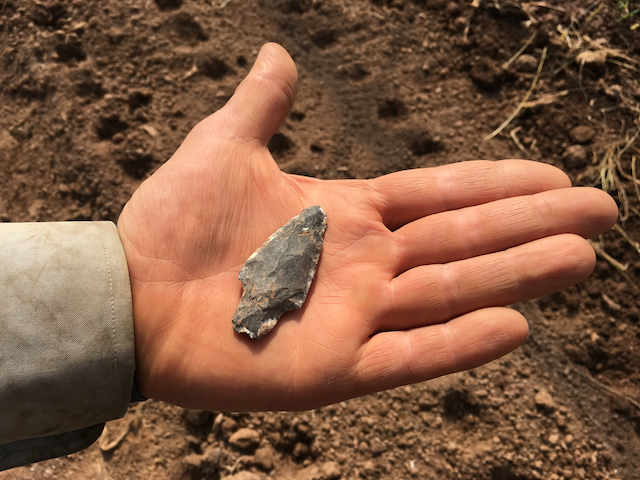 We're very appreciative of last week's dose of rain. With plenty of days of dry weather before and forecast for after, the 2.5" of precipitation was just enough to ward off any need of adding water to the fall crops. In fact most crops look to be in a blessed state of balance at the moment. These weather conditions are pretty much just perfect for our fall crops, on our farm, with our soil types. We really don't need much rain here, especially for the bare ground crops, and definitely this time of year with reduced temperatures and length of daylight. Even at the end of that two-week dry spell with low humidity and a few high wind days crops were still luscious, green, and perky.
Even with wonderful outside weather our attention is shifting towards indoor production. We're quickly filling tunnels with crops that will be harvested in November, December, and beyond. Last week we transplanted lettuce mix and arugula into the hoop house; kale and bok choy into the hoop tunnel; and spinach into one of the caterpillar tunnels. The week prior head lettuce, lettuce mix, and chard filled up another of the new caterpillar tunnels. Three quarters of the hoop tunnel and the green house are all that is left. These will be planted over the next two to three weeks.
Before last week's big day of rain on Tuesday we sowed the final round of cover crops on areas that were home to winter squash, u-pick tomatoes, eggplant, okra, and sweet potatoes. I used a mix of oats and rye. Oats should die off during the winter if it gets cold enough. Rye should over winter, aggressively and tenaciously growing through springtime. In the past we've had stands of rye reaching 5-6' in height on fallow fields. That's a tremendous amount of organic matter subsequently incorporated into the soil biome. We'll only let it get that big if we're certain we won't need that space for a 2021 crop and can rest it until 2022. Rye is said to be allelopathic and could negatively affect following crops, but it could also be from the plants having soaked up much of the available nutrients which aren't released until the plants sufficiently break down. This is one reason we've embraced 'winter-killed' cover crops. They leave the soil in a more user-friendly state for spring and early summer planting. Rye is advantageous if we fallow a field or if we won't use it until mid-summer or later.
Hope you're able to enjoy this great weather!
Workshifts for Week of 10/5/20
by Farmer Derek
Workshifts will be held rain or shine. If it's raining we'll probably process garlic in the barn. When it's dry we'll probably harvest some crops or pull some weeds.
Work opportunities are dwindling! We'll probably host about 2-4/week through October. Later this month we'll process and split garlic into seed. In early November we'll plant and mulch the garlic then pause until next season.
If you're unable to fulfill your work obligation for your share discount you can simply pay the difference. E-mail us for your balance.

Workshifts scheduled for this week:

Tuesday 10/6 9-11am
Wednesday 10/7 9-11am
Friday 10/9 9-11am
Sunday 10/11 9-11am
How I Enjoyed My Harvest
"Rooted" in Happiness
By Linda Dansbury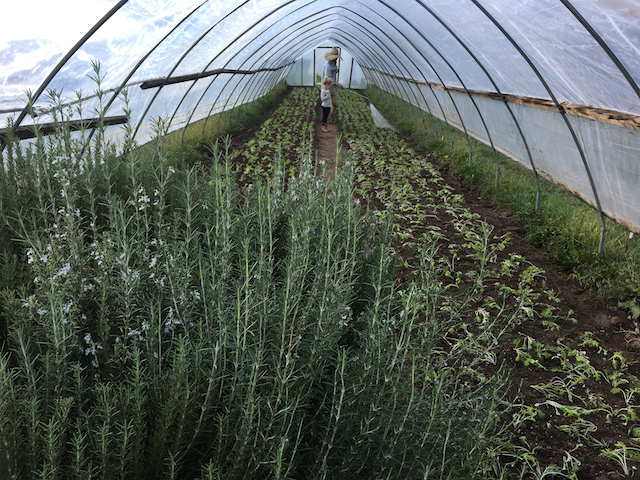 Isn't it delightful cooking when it doesn't make the kitchen uncomfortably warm? I made a few nice dishes this past week. Please send me how you are enjoying your harvest at lindadansbury@comcast.net.
Potatoes, leeks, onion, carrot, turnip tops, garlic, thyme, parsley, chives
- made the
Potato, Kale, Leek Soup
on this Site. I sauteed a few strips of bacon to start and sauteed the veggies in a combo of local butter and bacon fat. Then garnished the dish with crumbled bacon as well as parsley and chives. I also simmered it all with a couple of bay leaves and thyme sprigs. I also replaced most of the kale with turnip tops.
Beets, carrots (yes, I still had some left in my fridge from the farm), dandelion, red onion, garlic
- made a new salad this past week -
Roasted Beets and Carrots with Goat Cheese Dressing.
It took a bit of prep, but used one large skillet and one large bowl, so clean up was easy. I used dandelion greens rather than the beet greens the recipe called for. Chard would have been a more direct substitution, but I didn't have any and the dandelion worked out fine. I would have made it better by adding some type of crunchy nuts as a garnish.
Kohlrabi - been eating these just cut up as a snack and adding to salads.
Lettuce, arugula, escarole, kohlrabi, carrots, turnips - made a large veggie salad with a sherry vinaigrette. Served topped with leftover sliced steak.
Radishes, turnips, kohlrabi - made a dip using half goat cheese and half yogurt, with lemon zest, chives and mint mixed in. Delicious snack!
Savoy Cabbage
By Linda Dansbury
Savoy cabbage is so pretty with its lacy looking leaves. Like garden cabbage and Napa cabbage, it is very healthy to eat, but has a slightly milder flavor. They are all interchangeable in recipes, but Savoy does lend itself really well to roasting, so check out the new, simple
Roasted Cabbage with Walnuts and Parmesan
- you can replace the walnuts with pretty much any nut or crunchy topping your family likes.
As with other cabbages, it stores really well in plastic in the fridge.