Bitter cold, but warm enough in the high tunnel?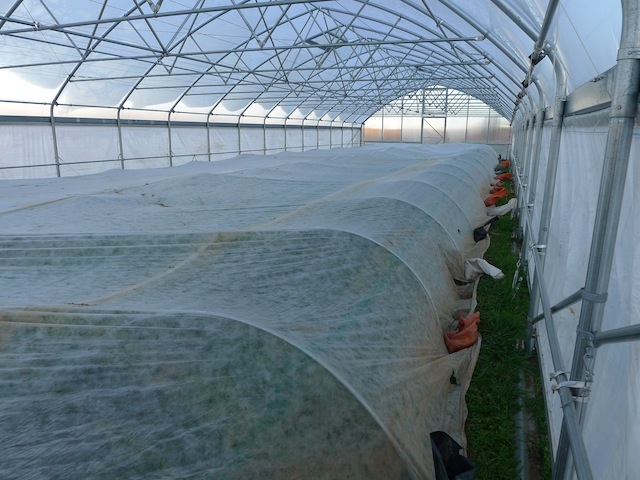 View from inside the high tunnel with row cover added as extra protection. Will it be enough?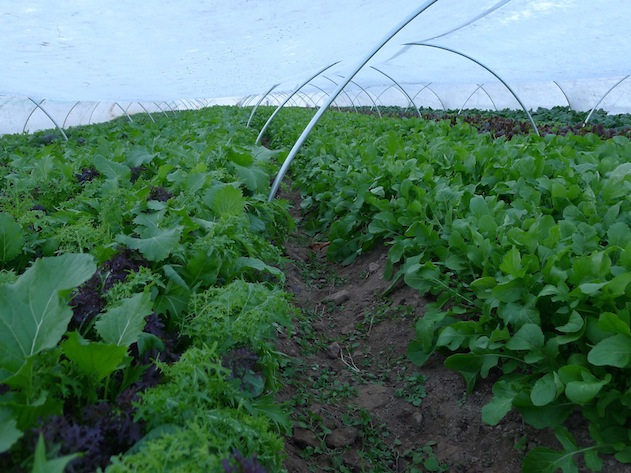 An under-the-cover view of the fresh, cold-hardy greens at risk: arugula, lettuce mix, spinach, and greens mix with mustards, kale, mizuna, vitamin greens, and tatsoi. Will they tolerate an outside low in the mid-teens?
News
Notes From The Field
Thank You Sunshine!
By Derek McGeehan
Because without it, the farm would be utterly frozen! We're really hoping the protection of the plastic layer and the newly installed row cover over hoops in the high tunnel keeps the vegetables in there warm enough to survive the bitter January cold we're going to experience tonight. Will the produce under the hoops and row cover in the field survive tonight's low temperature? That is a very good question. I will be very amazed if the lettuce, romaine, endive, escarole, and lettuce mix make it through. Let's hope so! If if we lose everything in the field, hopefully we can count on the fresh greens in the high tunnel to round out the last four weeks of the Late Fall CSA. We have a good supply of storage crops to get us to the end, like potatoes, kohlrabi, beets, celeriac, rutabaga, turnips, radishes, cabbage, napa cabbage, garlic. However, we'll all be much more pleased if we have some tasty, tender, and fresh greens through the end of December. Keep your fingers crossed and send the farm warm positive thoughts that we make it through this tough temperature test!
Expected Harvest
Thank You Veggies!
By Derek McGeehan
Fall harvest #2 should include: kale, leeks, lettuce, romaine, endive, potatoes, sweet potatoes, garlic, winter squash, celeriac or kohlrabi, and tatsoi or parsley.
Reminder: Pick up Tuesday 3-7 PM
By Derek McGeehan
Due to the Thanksgiving holiday, vegetable pick up is moved to Tuesday, 3-7 PM. We understand that everyone has a slightly different schedule this week, so if you can't make it then, please let us know as soon as possible and we'll try to accommodate you.