Getting Ready
Flourishing garlic and pre-trellised sugar snap peas growing in a new u-pick area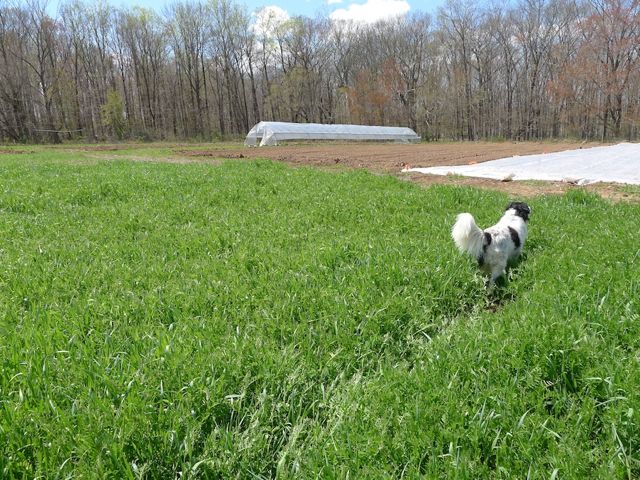 Farm dog Borchie wades through a knee-high cover crop of rye and vetch while surrounding woods bud their first leaves of the season
News
Notes From The Field
Fast and Slow
By Derek McGeehan
We're moving at light speed seeding, potting up, transplanting, composting, plowing, and bed shaping while spring moves slowly towards consistently warmer temperatures. We've been very lucky with dry, sunny days the past few weeks. In fact, we almost began to think about irrigating - which is a fairly big endeavor to set up - but were saved by 4/10 of an inch of rain on Friday night. Plus, this coming week is forecasted to be a washout.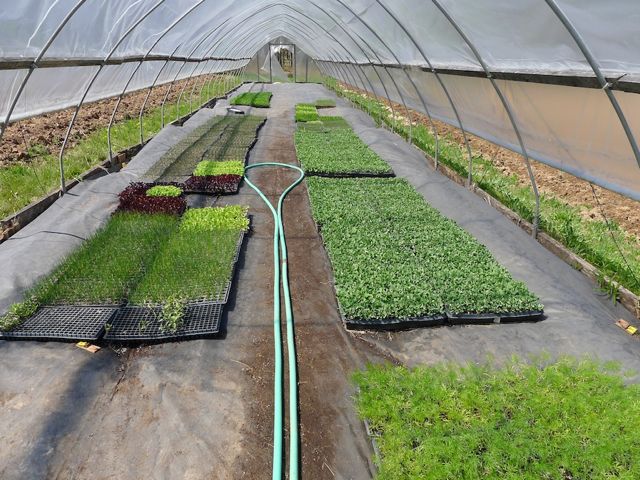 Over the past month or so we've transplanted and direct seeded many crops outside: peas, potatoes, onions, scallions, lettuces, chicories, chards, collards, kale, cabbage, kohlrabi, arugula, greens mixes, dill, cilantro, carrots, radishes, turnips, and probably a few others that escape me now. We're slowly approaching that mythical frost-free date, which is supposed to be around mid-May here. That means we can soon begin planting tomatoes, peppers, eggplant, okra, beans, edamame, squash, cucumbers and other frost sensitive crops. This also means that we're probably in the peak of field prepping season because there is so much to plant: crops harvested in a few weeks, crops harvested in a couple of months, and crops harvested towards the latter part of the growing season. Fortunately, many of these crops are once-and-done plantings like onions, potatoes, tomatoes, peppers, and winter squash. Other crops like lettuce, chicory, chard, summer squash, cucumbers, beans, and edamame are planted either every week or every month and so we must prepare constantly.The good news, for now at least, is that we're able to stay on schedule; I feared this spring was going to stay wet and cold but it has dried out and warmed up a bit. It's still too early and too difficult to forecast the start to the harvest season, but we're hoping for mid/late May. As soon as we're confident that enough crops will be ready for consumption we'll notify CSA members about the first pick up. For now, we hope you're all enjoying the return of springtime and all the sounds, smells, and other creatures that accompany it. See you soon.
Orientation Day this Sunday, May 4th, 11 AM - 4 PM
By Dana Hunting
Orientation Day -- Sunday May 4th, 11:00 AM - 4:00 PM -- NEW START TIME
Where -- Anchor Run Farm 2578 2nd Street Pike, Wrightstown, PA 18940
Who Should Attend -- All CSA Members! Especially new members who would like to check out the farm and learn more about how the CSA works before the harvest season starts.
Why -- We'll be hosting field tours and pick-up room tours complete with ample time for Q&A sessions with the farmers and the core group members. See what your food looks like before it reaches your kitchen, where your pick-up crops will be this year as well as how the pick-up room and work shifts work. There will be light refreshments and a seeding activity for the kids. So come on out and meet your farmers, mingle with the farm community, and enjoy some long awaited spring excitement.
Schedule of events -- field tours on the hour at 11:00 AM, 12:00, 1:00, 2:00, and 3:00. Pick-up room tours on the half hour at 11:30 am, 12:30, 1:30, 2:30, and 3:30. The Q&A, light refreshments, and children's seeding table are all on-going.
Work Shifts: Essential and Fun!
By Hal Wright
Our farmers depend on labor performed by members as part of their work shift commitments: Eight hours of field work from full share owners and four hours from half share owners, typically completed with help from friends and family. The work is essential: weeding, thinning, harvesting and other important tasks. Participants come to feel more a part of the CSA and enjoy the company of like-minded locavores.
Our online work shift sign-up system is up and running, and new work shifts will be added on a continuing basis. What follows is a reprint of the instructions for work shift sign-up originally sent out via email earlier this week.
As of now, the one place to find work shifts is on our
calendar
, accessible from the link on our
members' page
. The work shifts may be viewed without logging in, but to sign up, you will need to
log in
first. The login credentials are the same as those you used to register, and if you've forgotten your password, there is a link on the log in page to have one emailed to you.
Once you log in and return to the calendar page, you will see a "signup" link under each work shift that still has room for more workers. Click on that link, then click the "+" sign next to each name in your member group you'd like to add, and you're all set. Once you've signed up, there is a red "x" allowing you to remove yourself from the list, and an icon permitting you to sign up trusted guests if you wish. Note: The sign-up window typically closes on the evening prior to the work shift, so call or send us an email with any last-minute changes.
Your member group's work commitment and hours worked appear under "Member Services" on the members' page. It might take us a little time to log the hours you've worked, so please be patient, they will show up within a few days.
Just a note on member groups... In the last newsletter, I described how to
add associate members
to your account. Anyone added in this manner will show up on your member group list for work shift sign-ups.
We hope you find the online sign-up system easy to use, and that you enjoy your time spent at Anchor Run CSA.
Upcoming fun CSA events
By Judy Wright
One of the nice things about being a member of a CSA community are the events of which we get to take part. At Anchor Run we hold 3 potlucks and 3 workshops each season. Our potlucks are a great way for new members to meet other members and for existing members to reconnect with old friends. The farm is a relaxing environment in which to spend an evening and enjoy good food prepared by one another. The premise is simple--you bring a dish to share, enough for about 6 people, your own place settings and beverages and voila, a potluck is had. Members often label their dishes with the ingredients or whether it is vegan, vegetarian, or if it contains meat, etc.
The potlucks for this year will be on the following Saturdays: June 28th at 6:00, August 23rd at 6:00, and October 11th at 5:00.
Our workshops are a great way to learn methods of preparing and preserving our plentiful harvest. There will be presentations on greens, preservation and canning, and one on fermentation. The dates for our workshops are as follows: Sunday June 8th (greens), Saturday July 12th (preservation and canning), and Saturday September 20th (fermentation); times to be determined at a later date.
All of our events are listed on our website so you can check them out at any time. Please mark your calendars and plan to attend.