It's beginning to look and feel a bit like fall on the farm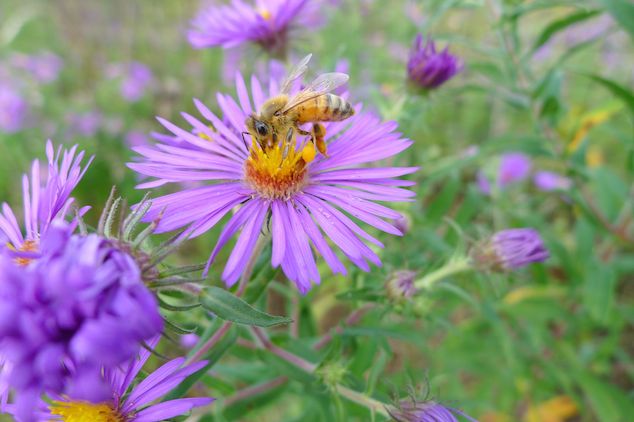 Part of the intentionally planted 2.5 acre pollinator habitat, an aster flower attracts a local honey bee.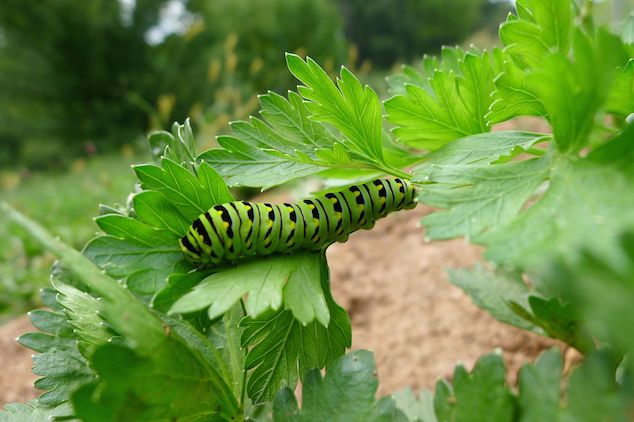 Flat leaf parsley in the herb garden is food for the larva of the swallowtail butterfly. Too beautiful to be considered a pest.
News
Notes From The Field
From summer to fall in a weekend
By Derek McGeehan
Goodbye, good riddance, heat and humidity. Welcome crisp, cool, autumn-like weather. Thankfully with the transition yesterday came slightly over a half inch of much needed rain, practically a perfect amount. It was amusing how what felt like the hottest weather of the season occurred in September which has been followed by weather more like early fall. I wonder if we'll see any more summer-like temperatures this year. Overall, we've enjoyed pretty ideal weather this season, getting by constantly with just enough rain when we started to feel desperate amid temperatures that hardly every reached the nineties and seemed to always fall below the average. Every year the weather patterns seem to be unique, which I guess could be viewed positively, or not. Those variables we never will control.
Winter is coming and so is winter squash!
Besides thinking about the weather, last week we transplanted a couple more rounds of lettuces including butterhead, romaine, summer crisp, and mini head; fall chicories including endive and escarole; and bok choy. In about two weeks all of our transplanting from the greenhouse will be finished for the season. We'll probably direct seed greens like arugula and mixes another couple times, and in late September we'll sow the seeds for the future high tunnel position to get us through early winter. We're seeing a change in the workload with less field preparation for planting but more for field hibernation. Today, a workshift de-trellised the cherry tomato patch, a sign of the end of summer. Cherry tomatoes weren't as tasty and prolific this season as others, so that is something we'll have to ponder during our hibernation. Could have been varieties chosen, soil conditions and/or nutrients, water needs, early disease exposure, or all of the above. Either way, we'll try to improve them for next season. Our field tomatoes need the same attention. Fortunately, the system for growing heirlooms in the movable high tunnel seems to be working well. In an ideal world we would have another high tunnel or two for growing all of our tomatoes under protection. Upcoming this week: more transplanting, harvesting of course, more cover cropping, and as always, weeding and cultivating.
Expected Harvest
Winter Squash and Potatoes Arrive!
By Derek McGeehan
Harvest #16 (Week B) should include lettuce, kale, Swiss chard, leeks, garlic, potatoes, winter squash, tomatoes, eggplant, sweet peppers, hot peppers, tomatillos, and celery. Some items will be a choice. U-pick this week should include beans, basils, dill, cilantro, perennial herbs, and flowers.
Fermenting Workshop
By Gia Yaccarino
The next and final workshop for this growing season will be on Fermenting Basics from 11 AM - 1 PM on Saturday, September 20th. Derek and Dana will discuss fermented beverages, such as kombucha and kvass. Wayne and Cathy will demonstrate fermenting vegetables. Last year's presentation was incredibly informative! Please bring a small mason jar with you to the workshop, if you would like some "starter" to help you get started creating your own fermented beverages!
Winter CSA
By Derek McGeehan
Announcing the 3rd season of Anchor Run Winter CSA (formerly known as Late Fall CSA)! Regular season CSA members can now begin signing up online through the Members' Page of our website. Look for the 'Join' button on the right hand side of the page. The Winter CSA will run for 6 weeks from the end of November to the end of December, a perfect way to supply your holiday meals. Pick ups will begin the week following the end of the regular season CSA, which should be November 25. This year, pick ups will be held from 3-7 PM on Tuesdays only, and should not interfere with any of the holidays. There is one share size that picks up every week and costs $200. The number of items in the share is similar to the regular season share, 10-12 items each week. Produce included in the share will be cold hardy crops like leeks, kale, Swiss chard, arugula, lettuce, romaine lettuce, mini lettuce, greens mix, mustard greens, and other Asian-type brassica greens; root crops like beets, rutabaga, radishes, kohlrabi and turnips; and storage crops like cured garlic, cured onions, winter squash, cabbage, celeriac, and potatoes. The Winter CSA is still in the developmental phase, but this year will be similar to the past two seasons. Over time, we hope to develop a year-round produce growing system. Please let us know via e-mail if you have any questions!
How did I enjoy my harvest this week?
By Linda Dansbury
Another week of wonderful veggies! Many people have informed me they do not know what to do with all of the wonderful eggplant we have been receiving. So I have posted below some of my thoughts and ideas. Here are some things I did this past week:
Eggplant, mint, tomatoes, onion
- prepared a bruschetta type dish in which the eggplant was roasted and served as the "bread." I made it last year for a core group meeting and everyone loved it. I have now added the recipe to the website. Look for it as
Roasted Eggplant with Tomatoes and Mint.
Eggplant, basil
- made
Eggplant Parmesan
- Mario Batali style - check out the website for the recipe. The eggplant is roasted, not fried, so it is healthier and easier. You make individual stacks, so it is also easy to serve and, most importantly, it is delicious!
Tomatoes, sweet and hot peppers, onion, cilantro - made the peach salsa I posted last week and had it over a nice piece of pan roasted rock fish that I got from Wild for Salmon - it was so good and healthy too.
Green Beans, scallions, sweet peppers, parsley, oregano, cherry tomatoes - made another large green bean salad and had it one night alongside of hamburgers on the grill and then ate it for a few lunches. Since I have green beans in my garden as well, I will be making another large green bean salad tomorrow.
I am going to cook tomorrow for my parents, and I have something special planned, so I'll tell you about it next week! Have a great week and let me know how you enjoyed your harvest at lindadansbury@comcast.net
Member inputs - thank you!
By Linda Dansbury
This week I heard from 2 members: Kiersten Ciocca and Tina Nightlinger. Kiersten sent a recipe for
Tomatillo, Winter Squash and Hominy Stew
, that is very different from recipes I have provided previously. It is great for a couple of reasons - it uses a number of farm veggies, AND hominy is an ingredient that I have been wanting to learn more about. Given that this week the weather is supposed to be more fall-like, I hope to find the time to try it.
Tina is a cook and sent Dana her thoughts on how she uses her veggies each week, which isn't easy since she has a busy life working in a restaurant. Below are some of her thoughts/ideas:
I cook for a living, and I just wanted to share a couple of things that I've been doing to keep up with the plentiful bounty every 2 weeks. Working in a restaurant keeps me pretty busy, so I don't have much time to eat everything fresh from the farm. So to keep up, I've been doing 3 things: stocks, pickling, and making what I call "refrigerator salads" (at work they're called "walk-in salads").
My roommate and I generally try to eat as much as we can right after pickup, but with that happening on Thursday, it's hard for me because that's generally the start of my work week. So the next week starting on Tuesday, I start pickling. Keeping all the scraps (including herb stems and the tops of carrots, fennel, etc.) as I go. I use two books by Marisa McClellan (Preserving by the Pint and Food in Jars) that have excellent preserving recipes.
The next week, I clean out the refrigerator in preparation for the next pickup. By this time, anything left over is really starting to wilt. So I take all my scraps, whatever is "on the edge" as far as edibility is concerned, and I trim up anything that is still good. I throw all of that in a pot with a bay leaf, some black peppercorns (about a tablespoon), a couple whole cloves, and a few cardamom pods. I cover with COLD water, bring to a boil, reduce to simmer for 2-3 hours. This is my stock in preparation for the coming soup season. I have about 10 quarts of stock in my freezer right now.
At this point, we also have some lettuce left (that stuff is so hearty and lasts a while). So we clean that up and make a "refrigerator salad" using any random leftover veggies that I sauté in olive oil, salt, pepper (maybe some butter if I'm using a lot of tomatoes...the fat helps cut the acidity). I also make a simple vinaigrette using a 3-1 ratio of oil to vinegar along with salt, pepper, mustard, and sometimes garlic. This makes a great meal along with random cheese I may have on hand.
So that's how I enjoy my harvest. I know that not everyone has my crazy schedule, but not everyone has time to make fresh wonderful dishes either. What I do is easy and delicious. So I hope it's helpful--Tina.
Thank you to both Kiersten and Tina -- and, I know there are so many other wonderful cooks out there - please send me thoughts, ideas and questions to lindadansbury@comcast.net.
Recipes
V Tomatillo, Winter Squash and Hominy Stew
Adapted from Yogikitchen.com; serves 6.
1/2 pound frozen tofu, thawed (freezing makes the tofu firmer) - can use ground chicken if desired
1 cup whole hominy, soaked in water overnight
1 dried chipotle (or 1 tsp chipotle powder)
1 mild chile such as pasilla or ancho if available- can also use 1-2 jalapeno or cherry peppers
1 Tablespoon extra virgin olive oil
1 stalk celery, finely chopped
1 teaspoon dried oregano
1 teaspoon ground coriander
1/2 pound tomatillos, husked and halved
1 pound of winter squash (butternut, kabocha, delicata) cut into large cubes, about 4 cups
1/2 cup fresh corn kernals (or frozen)
1 medium red bell pepper, cut into 3/4 in squares
1 teaspoon umeboshi vinegar (or red wine vinegar)
Chopped cilantro leaves for garnish
Squeeze the tofu to remove any excess water. Crumble the tofu into large pebbly pieces by hand. Set aside.
Drain the soaked hominy and place in a medium pot with 8 cups of water. Bring to a boil and simmer, partially covered, for about 1.5 hours or until the hominy is tender. Reserve the cooked hominy and cooking liquid separately.
Meanwhile, cut off the stems of the chipotles and ancho, discard the seeds and place the chilies in a pot, cover with water, bring to a boil, then turn off the heat and let the chilies soak for 15 minutes in the hot liquid until they are softened. Transfer the chiles to a food processor or blender with 1/4 cup of the soaking liquid and puree. Set aside.
Warm the oil in a medium pot, add the celery and saute over low heat for about 5 minutes, or until soft, add the oregano and coriander and saute for another 5 minutes. Add the crumbled tofu, chile puree and tomatillos, combine well and cook for another 5 minutes.
Add the squash, hominy and reserved cooking liquid plus enough water to make 3 cups. Cover the pot, bring to a boil, then reduce the heat and simmer, partially covered for 15 minutes, or until the squash is tender.
Add the corn kernels and bell peppers and cook for 5 minutes, add salt to taste and umeboshi or red wine vinegar. Cook 5 minutes or until the peppers are softened.
Serve with some or all of the following garnishes: chopped fresh cilantro leaves, avocado, tofu, lime, sour cream.
Roasted Eggplant with Ricotta and Mint
From smittenkitchen.com Makes about 4 appetizer/salad portions, assuming people will eat two rounds each.
1 to 2 tablespoons plus 4 teaspoons olive oil
1 1/2 pounds eggplant (about 2 medium), in 3/4- to 1-inch slices
2 ounces (1/2 cup) chopped or crumbled ricotta salata - or feta
2 tablespoons capers, drained - or use olives
1/3 cup finely diced red onion - or scallions
3 seeded, diced medium tomatoes (1 1/2 cups)
3 tablespoons minced fresh mint leaves - or parsley or basil
2 teaspoon red wine vinegar
Freshly ground black pepper.
Preheat oven to 425 degrees. Coat a large baking sheet generously with olive oil, about 1 to 2 tablespoons. Arrange eggplant rounds in a single layer. Sprinkle with salt and freshly ground black pepper. Roast, without disturbing, for 15 to 20 minutes. Carefully flip each piece: the undersides should be blistery, dark and a bit puffy and should release from the pan with no effort. If they're not, let it cook longer. Once flipped, sprinkle them with additional salt and freshly ground black pepper and return the pan to the oven for another 10 to 12 minutes or so, until the undersides match the tops.
[Alternatively, on the grill: Brush eggplant slices with oil; sprinkle with salt and pepper. Grill eggplant slices until slightly charred and tender when pierced with knife, about 5 to 7 minutes per side.]
Meanwhile, mix your ricotta, capers, onion, tomatoes, mint, vinegar and remaining 4 teaspoons olive oil in a small bowl. Taste for seasoning; ricotta salata tends to be quite salty so I don't find that this dish needs more than a pinch of salt, if that. Add more vinegar, if desired. Add freshly ground black pepper, to taste.
When the eggplant discs are done, arrange them on a serving platter. Scoop a spoonful of the salad over each round. Eat immediately.