Good-by summer, hello fall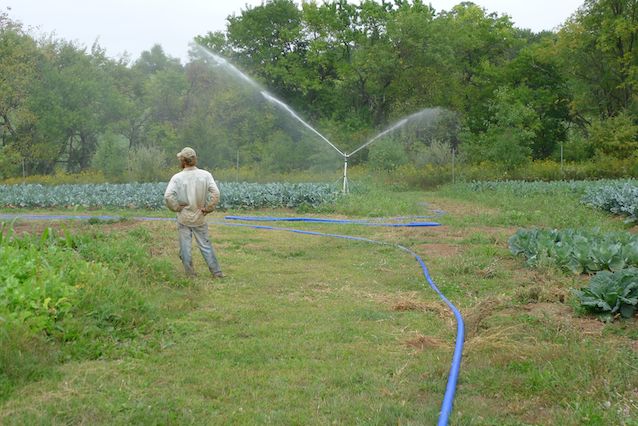 To help the robust broccoli and cauliflower plants produce reliable heads, Derek set up some necessary irrigation. With a diameter of at least 100 feet, this water "cannon" can irrigate the entire planting with just 3 moves.
Fermentation workshop attendees are shown how to make the simple, nutritious, and tasty beverage Beet Kvass using beets, water, salt, and a little dose of a previous batch as an inoculant.
News
Notes From The Field
An ideal end to summer
By Derek McGeehan
The last full week of summer has come and gone. With the retreat of summer, we're also saying goodbye to a few summer staples like peppers, tomatillos, okra, and tomatoes, though the heirlooms in the high tunnel will continue to produce for a bit longer and some of these crops will show up in shares this coming week.
The first wave of fall broccoli will be hitting the shares this week. The plants have looked truly outstanding for most of their lives in the soil and will hopefully transfer that good energy to nice, large, tasty heads.
We're welcoming more fall crops to the share such as arugula and broccoli with cauliflower, cabbage, Chinese cabbage, and greens mix not far behind.The first wave of celeriac left the field this morning and another round of beets was retrieved on Friday, all with the help of wonderful workshifts. We transplanted the last of the seedlings raised in the greenhouse so now it sits empty for the first time since February. Not having to water in there is a small but nice exclusion from our daily chores. Most of the fall crops are really thriving in the cool and dry weather, though they would probably enjoy a drink sometime in the near future. Because the broccoli and cauliflower crop are starting to head up, and because I have time and it isn't too difficult, I am giving them a drink through our water "cannon" which has a watering diameter of a hundred feet or so. Also because of the dry conditions, I'm able to get caught up and hopefully ahead with our compost spreading. Seeing those piles disappear is purely satisfying. Our compost spreader is an ancient, fickle beast and breaks on me at least once a season, if not more. I was ready to give up on it for good a few months ago, but fortunately for everyone, we have some great shareholders that took the time to fix it for us. As a farmer I have more of a green thumb than a greased thumb, so am very appreciative of any help with machinery I can get. Upcoming this week: sowing cover crops, spreading compost, getting beds ready for spring planting, harvesting, and tidying.
Expected Harvest
Signs of autumn
By Derek McGeehan
Harvest #18 (Week B) should include broccoli, lettuce, garlic, leeks, Swiss chard, kale, arugula, collard greens, Italian dandelion, winter squash, sweet peppers, hot peppers, eggplant, heirloom tomatoes, green tomatoes, and tomatillos. Some items will be a choice. U-pick this week should include dill, cilantro, perennial herbs, and flowers.
Registration open for 2014 Winter CSA, 2015 Main Season CSA
By Derek McGeehan
Registration for the 2014 Winter CSA and the 2015 Main Season CSA is available for current farm members on the
Member's Page
of our website. To sign up, simply log in and click on the 'Join' button on the right hand side of the page and follow the few steps. The Winter CSA is a 6-week (for now) season extension CSA with cold hardy greens such as arugula, greens mix, lettuces, chard, chicories, and kale; root crops like radishes, turnips, kohlrabi, rutabaga, and beets; as well as certain storage crops like garlic, winter squash, celeriac, and cabbage. Harvests are very similar to those at the end of the Main Season, and will begin following the final week of the 2014 Main Season, and will run through the last week of December. Pick ups are on Tuesdays from 1-8 PM. The 2015 Main Season CSA should once again last 26 weeks from May to November. Prices for the Main Season, the 12th CSA season, remain unchanged, but we have removed the $5 discount for making one payment instead of two due to some confusion during the sign up process. When you sign up, a $200 deposit or full payment is due to secure your membership. Registration for non-members will begin later in the fall, probably in December. E-mail us if you have any questions.
Fermenting workshop recap
By Gia Yaccarino
The Fermenting Workshop held on Saturday, September 20th was huge success! The event was well attended and informative for both those new to the idea of fermentation as well as those who have had some experience. The health benefits of fermented foods, the safety of stretching the ample Anchor Run CSA harvest well into the winter by fermenting, and how incredibly easy fermenting is, seemed to be a common thread throughout the presentation.
Derek and Dana began the workshop discussing fermented beverages. We were first educated on SCOBY - Symbiotic Colony Of Bacteria and Yeast, which is used as a "starter" necessary for Dairy Kefir, Water Kefir and Kombucha. A different SCOBY is used for each of these beverages. Beet Kvass was also discussed. Beet Kvass is created by adding a salt (non-iodized) and water brine to coarsely chopped beets. A SCOBY is not needed for Kvass, but you can transfer a little of the liquid from a previous batch to "spike" (give it a jump start) the next batch. We were able to sample some of Derek's Dairy Kefir, Kombucha and Beet Kvass. Many of us, myself included, were surprised by how good it was!
Cathy and Wayne started their portion of the presentation by sharing some of their "Farmer's Champagne" which is Water Kefir, which becomes carbonated during the second fermentation. Next, vegetable fermentation was discussed: beets, peppers, green tomatoes, tomatillo salsa and hot sauce. We then got to sample Cathy and Wayne's fermented shredded beets and fermented tomatillo salsa. Yum! They shared tricks for keeping the ferments crunchy: adding a radish leaf, grape leaf or oak leaf to the ferment. This also helps to keep the contents under the water level.
As the presentation wrapped up, SCOBY was shared with participants. Thank you so much to all those who attended, your questions and comments helped to make the workshop a hit. And thank you so very much to our presenters: Derek, Dana, Cathy and Wayne – your expertise absolutely wowed us. Happy fermenting!
Resources for fermenting include:
Books by Sandor Katz such as: The Art of Fermentation and Wild Fermentation.
Book by Sally Fallon: Nourishing Traditions: The Cookbook that Challenges Politically Correct Nutrition and the Diet Dictocrats.
Cathy & Wayne's Water Kefir Recipe
1 cup water
1 Tablespoon water kefir grains
1 Tablespoons sugar
2 pieces small dried fruit (raisins, apricot, prune, date, etc.)
2 pieces small fresh fruit (husk cherries, tomatillos, blueberries, banana, mango, etc.)
1. Boil about 1/3 of the water and dissolve sugar in that.
2. Add sugar water mixture to remaining water. Allow to cool.
3. In a glass/ceramic (non-metallic) container, combine water, grain, raisins and husk cherries. Stir gently.
4. Cover with a towel or cheesecloth secured with twine or a rubber band.
5. Ferment for 1–2 days in a warm spot (e.g. above fridge), depending on temperature and taste (recommend tasting every 12-24 hours at first to notice how sweetness decreases). Listen for bubbles when gently shaking container to confirm active fermentation. Fermentation can take longer with long dormant/cold grains.
6. Strain fruit to eat or compost.
7. Reserve grain for next batch.
Excess grains can be stored in water kefir liquid in air tight jar in fridge and given freely to all.
Cathy & Wayne's Farmer's Champagne
1. Place 2 raisins in a sealed glass container with the water kefir from above recipe.
2. This will be ready and fizzy in 24-48 hours, depending on temperature and sweetness of water kefir.
Fall's arrival leads to transitioning veggies
By Linda Dansbury
The days are getting shorter and fall arrives this week, so thoughts are starting to turn to different types of food. Rather than the light, short cooking foods of summer, I start to crave longer cooking soups and stews. This is the time of year I make batches of Caponata as we are still receiving some summer veggies. The later season peppers, eggplant, and tomatoes are perfect. Although it calls for onions, leeks will work just as well.
If you attended the Fermentation Workshop yesterday, you may be getting ready to try and ferment your tomatillos and other vegetables.
With cooler weather approaching, chili becomes a staple in my cooking. Everyone has their favorite recipe, but tomatoes and peppers, including the hot peppers, and cilantro are musts. Swiss chard or other greens can be added at the end of cooking to boost nutritional content.
For a warm day like today, try one of the spaghetti squashes with the heirloom tomatoes in
Spaghetti Squash with Sautéed Tomatoes and Basil
. If your basil, like the farm's and mine have succumbed, use parsley or even cilantro, thyme, and/or oregano.
Broccoli is new to the pick up room this week. I am excited for that; it won't keep long in your fridge, so be sure to use it within 4-6 days. Arugula is also back. Fall arugula tends to be tastier (at least to me) than the spring. I think the generally cooler temperatures and shorter days keep it from wanting to bolt into flower. Enjoy it simply with a good quality olive oil, a squeeze of lemon and some grated parmesan cheese, or mixed with sliced mushrooms and/or radishes. You can also mix it into hot pasta, where it will cook slightly and impart its peppery flavor throughout the dish.
Enjoy the harvest!
How did I enjoy my harvest this week?
By Linda Dansbury
It was a busy week, so it was a little difficult for me to keep up with the harvest, but I did make some nice things, especially for guests that came over the weekend.
Kale
- I made a
Kale and Barley Salad
, that was delicious. While the barley cooks, a pesto is made from kale, in which lemon juice is added as well as the traditional olive oil. Some kale leaves remain in pieces. Sautéed onion/shallot and currents, and toasted pine nuts are really nice along with it. I have added this recipe to the website.
Parsley, thyme - along with grated lemon zest, this is a wonderful topping for salmon, in which you cook it skin side down, making it crispy - guests always rave about this dish, and it is easy and virtually fool proof.
Hot peppers, cilantro, tomatoes, - prepared peach salsa with local peaches.
Recipes
V Lemony Barley Salad with Kale Pesto
From Food and Wine; Ready in about an hour. Makes 4 generous servings.
1 Cup pearled barley (about 8 ounces)
2 Tablespoons pine nuts
1/2 cup plus 2 tablespoons extra-virgin olive oil
1/2 cup currants
1 Tablespoon minced shallot
6 ounces kale, stems discarded and leaves torn into small pieces (4 cups)
1 Tablespoon fresh lemon juice
Kosher salt
2 Tablespoons chopped preserved lemon (optional) – I used lemon zest – it isn't the same but still delicious
In a medium saucepan, cook the barley in salted boiling water until al dente, 30 minutes. Drain well and transfer to a large bowl. Let cool slightly.
Meanwhile, in a small skillet, toast the pine nuts over low heat, stirring, until lightly golden, 3 to 5 minutes.
In a small skillet, heat 2 tablespoons of the olive oil. Add the currants and shallot and cook over moderate heat, stirring, until the shallot is golden, about 3 minutes. Scrape into the barley and add the pine nuts.
In a food processor, pulse two-thirds of the kale with the lemon juice until chopped. With the machine on, slowly drizzle in the remaining 1/2 cup of olive oil until smooth. Season with salt. Scrape the pesto into the barley. Add the preserved lemon, if using, and the remaining kale leaves, season with salt and toss well. Serve.