Autumn harvests and a found garden gnome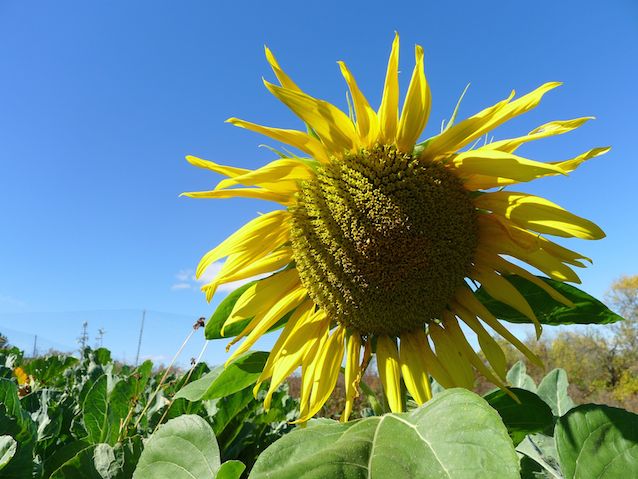 A late bloomer in the cauliflower patch, this sunflower is probably enjoying its last happy day before the potential frost and freeze tonight.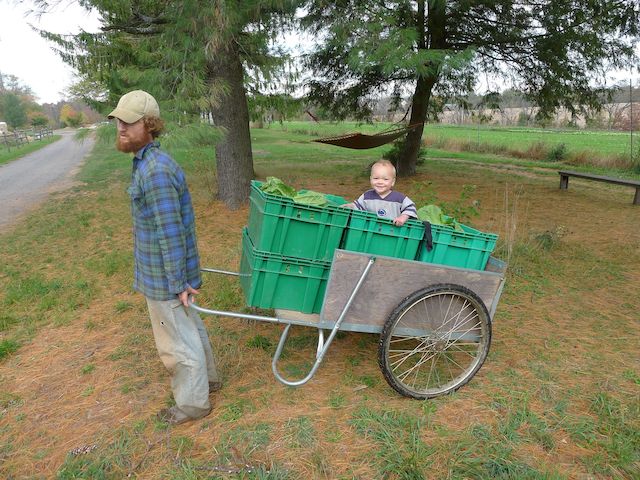 A garden gnome was found while we were harvesting romaine lettuce and we decided to bring it back to the barn.
News
Notes From The Field
Squirrel away or eat now
By Derek McGeehan
We successfully harvested all of the sweet potatoes before the 1.6" of rain arrived Wednesday night. That is more rain than we received in all of September. There was definitely some runoff when it came down hard, but most of the excess moisture appears to have been swallowed up by the soil and plants. Alas, the pond even has water in it for the first time in many months, which could have been the longest dry stretch in the 6 years we have been here.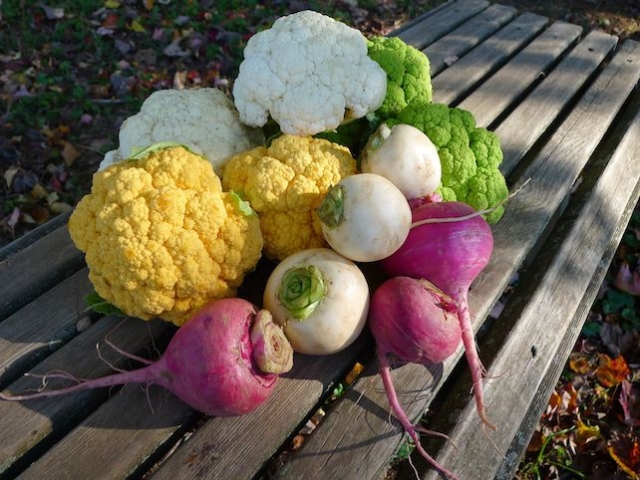 Cheddar (orange), Denali (white), and Vitaverde (green) cauliflower are three of the six varieties grown here. In the foreground are two varieties of salad/fresh eating turnips that we grow, Hakurei in white and Scarlet Queen Red Stems in, well, scarlet.
We're busy harvesting storage crops like the sweet potatoes, as well as radishes, turnips, cabbage, and other items that will fit in our just-above-freezing walk-in cooler or our warm insulated room for crops like those sweets, squashes, and potatoes. In this climate, without an abundance of greenhouses and high tunnels we have to grow, harvest, and store food for the winter, just like the squirrels do. One can witness their heightened activity as they prepare for a winter without harvesting. We like to eat fresh greens from the field as long as possible, which is why there are a lot of green items in the share right now. Soon, temperatures will drop and make it harder to grow fresh greens without some kind of protective barrier which is when there will be an increase in roots and storage crops in the shares. To help the greens along, we'll do what we can with hoops and floating row cover to add a few degrees of protection and a break from wind. Eventually we'll only be able to harvest greens from our high tunnel, which adds about 10 degrees of protection. As a last resort we'll add another layer of protection right over the plants with hoops and row cover, adding another few degrees of warmth. Even with the harsh winter we had a year ago we were able to eat greens from the high tunnel throughout the cold and dark season, but did have to wait numerous times for the sun to hit the structure and thaw the plants. Sometimes they were frozen for days. By February they began earnestly growing again and started thinking about reproduction by sending up flower stalks. That made our chickens very happy, eating what we passed up.
Expected Harvest
Salad Turnips and Romaine Lettuce
By Derek McGeehan
Harvest #22 (Week B) should include lettuce, romaine lettuce, salad turnips (hakurei and scarlet), napa Chinese cabbage, regular cabbage, greens mix, broccoli raab, winter squash, celery, fennel, onions, broccoli, cauliflower, and a chicory. Some items will be a choice. U-pick should include dill, cilantro, herbs from the herb garden, and flowers.
Registration open for 2014 Winter CSA, 2015 Main Season CSA
By Derek McGeehan
Registration for the 2014 Winter CSA and the 2015 Main Season CSA is available for current farm members on the
Member's Page
of our website. To sign up, simply log in and click on the 'Join' button on the right hand side of the page and follow the few steps. The Winter CSA is a 6-week (for now) season extension CSA with cold hardy greens such as arugula, greens mix, lettuces, chard, chicories, and kale; root crops like radishes, turnips, kohlrabi, rutabaga, and beets; as well as certain storage crops like garlic, winter squash, celeriac, and cabbage. Harvests are very similar to those at the end of the Main Season, and will begin following the final week of the 2014 Main Season, and will run through the last week of December. Pick ups are on Tuesdays from 1-8 PM. The 2015 Main Season CSA should once again last 26 weeks from May to November. Prices for the Main Season, the 12th CSA season, remain unchanged, but we have removed the $5 discount for making one payment instead of two due to some confusion during the sign up process. When you sign up, a $200 deposit or full payment is due to secure your membership. Registration for non-members will begin later in the fall, probably in December. E-mail us if you have any questions.
Fall brings an abundance of new veggies
By Linda Dansbury
Fall is like spring in that on a weekly basis we see the harvest change with new items appearing each week. Last week we saw the first of the chicory family, which mostly means endive and escarole, with some radicchio for a couple of weeks. We also received broccoli raab last week and the salad turnips are coming in this week. Try not to be overwhelmed by the amount of green you see in the pick up room. Many of these greens can be eaten raw in salads or on sandwiches, or cooked in a variety of ways.
Broccoli raab is a rather bitter green, but is very nutritious. Most information about broccoli raab states you have to boil it to get some of the bitterness out - some recipes say up to 10 minutes! I often just cook the thick stems until tender, but don't cook the leaves until I make the recipe. The classic Italian way to make broccoli raab is to cut off the tough bottom stems and then roughly chop the rest - leaves, stems and flower buds all are eaten. In a skillet, drizzle olive oil and chop some garlic, as much or as little as you want. When the oil is hot, add the garlic and some red pepper flakes and let it go for about a minute. Add the broccoli raab and keep it moving in the pan until desired doneness. You do want to cook it until the stems soften. When serving, grate a little parmesan cheese and fresh ground pepper on it. It can be served as a side dish or added to a sandwich of pork or roast beef. There are a few recipes on the website, and I am adding a new one for this week:
White Beans with Broccoli Raab.
I think that all of the more assertive greens are really good with white beans. The creaminess of the beans softens the bitterness.
Salad/scarlet turnips are small white and red globes, different than the turnips you may first think of. They are called salad turnips because they can be eaten raw, like a radish. Eaten alone, or sliced into salads, they are crunchy and have that nice "bite". They can also be cooked, along with their greens. Check out the website for a few recipes, including one of my favorites
Asian Turnip Green and White Saute.
Or try a new recipe I just added,
Pickled Salad Turnips.
Endive, escarole, greens mix can be used in salads or cooked, or added to your daily smoothie. Don't be alarmed with all of the greens. This time of year, warming soups and stews benefit in taste, color, and nutrition from the last minute addition of chopped greens. Try the
Braised Radicchio, Escarole and Fennel
recipe on the website. Braised fennel is delicious, and don't worry about not having the radicchio yet. The heads of endive we have received are more than enough for this recipe. It also helps use up the tomatoes that at this time of year don't have the texture they did back in August.
Enjoy the harvest and please let me know what you do with yours at lindadansbury@Comcast.net

How did I enjoy my harvest this week?
By Linda Dansbury
How did I enjoy my harvest this week? For one, in the past few weeks I have gotten back to eating huge green salads - mixed greens, including the farms custom greens mix, scallions (now from my garden), tomatoes, celery.
Beets, tarragon, greens, - I found a few beets in the fridge from earlier in the year, so I roasted them up and made a salad. The dressing is pretty much a classic Dijon vinaigrette, with some chopped tarragon. I line a plate with greens that have been lightly dressed, then the roasted/peeled beets are dressed and then arranged on each plate. Some bits of fresh, local goat cheese are placed around each plate, along with fresh ground pepper and some candied pecans or walnuts.
Tomatoes, leeks, herbs, spaghetti squash - I made tomato sauce with a bunch of my garden tomatoes, and I used leeks instead of onions. I cooked it with a little pork for a long time, so there were little bits of pork in it - yum! I served it over roasted spaghetti squash and sprinkled parmesan cheese and chopped fresh parsley over the top.
Broccoli, leeks, carrots, parsley - made broccoli soup - no cream needed. Just sauté the chopped leeks and carrots until tender. Add chicken or vegetable stock and add the broccoli stems and some of the tops - reserve some of the tops that have been chopped into little pieces for garnish. Cook until very tender. Meanwhile, boil the tops for about 1-2 minutes and then plunge in ice water and drain once cooled. Using an immersion or regular blender, whir up the soup until desired texture. I like it pretty smooth. Serve hot, garnished with the reserved broccoli tops, fresh ground pepper, a squeeze of lemon juice and chopped parsley.
Arugula - if you have been a faithful follower of this column, you know that I love arugula salad. Some of the arugula this week went on a home made pizza - topped with cheeses and proscuitto and baked in a 540 degree oven on a pizza stone. When pizza is finished, top with chopped fresh arugula. Delicious.
Broccoli, cauliflower, leeks, garlic, acorn squash - Roasted veggies in a 400 degree oven until charred and softened. Topped with toasted pine nuts and grated a little lemon zest over them. I could eat this almost every day, switching up the veggie combo with what is on hand.
When is your final CSA pick up?
By Derek McGeehan
Full shares and Week B half shares, your last pick up will either be Monday, November 17, or Thursday, November 20. Week A half shares, your last pick up will either be Monday, November 10, or Thursday, November 13.
Recipes
Broccoli Raab and White Beans
From Bon Appetit; ready in about 45 minutes; serves 2 as a main course or 4 as a side dish
3 tablespoons olive oil
1 small lemon, very thinly sliced, seeds removed
2 anchovy fillets packed in oil
4 garlic cloves, thinly sliced
1 bunch broccoli raab, chopped
Kosher salt and freshly ground black pepper
2 15-oz. cans cannellini (white kidney) beans, rinsed
¼ cup fresh flat-leaf parsley leaves
2 tablespoons finely grated Parmesan, plus more for serving
Crushed red pepper flakes (optional)

Heat oil in a large Dutch oven or heavy pot over medium heat. Add lemon, anchovies, and garlic. Cook, stirring occasionally, until lemon is softened and brown in spots and anchovies fall apart, about 5 minutes. Add broccoli raab; season with salt and pepper and cook, tossing occasionally, until bright green and crisp-tender, about 5 minutes.
Add beans and ½ cup water to pot. Bring to a boil; reduce heat and simmer, stirring occasionally, until flavors have melded and liquid is reduced by half (you still want it to be saucy), about 5 minutes. Mix in parsley and 2 Tbsp. Parmesan.
Transfer to a platter, sprinkle with red pepper flakes, if desired, and top with more Parmesan
V Pickled Salad Turnips
From Cookingintheory.BlogSpot.com Takes about 10 minutes to prepare; needs to rest overnight. Save the greens for another use.
1 pound salad turnips (a bunch)
1 cup rice wine vinegar
1 Tablespoon sugar
1/4 teaspoon salt
1/2 teaspoon toasted sesame oil
1 teaspoon hot chile paste (or garlic chile paste)
1/2 teaspoon freshly grated ginger
Slice the turnips in half lengthwise, then slice each half into 1/8" half circles. Set aside. Put all of the other ingredients into a container with a tight-fitting lid. Put the lid on and shake vigorously until the sugar is dissolved. Add the turnips and mix well. Cover and refrigerate overnight. They will be ready the next day, and will get stronger with time.