This Land is Your Land, This Land is My Land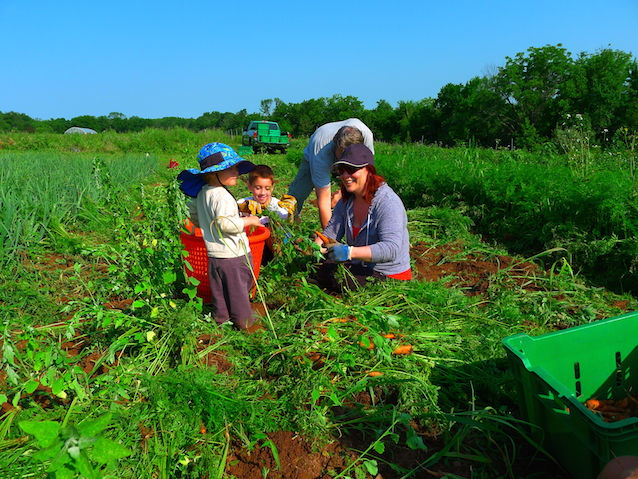 It was a beautiful summer morning for harvesting spring-sown carrots. These were seeded the first week of April then thinned and weeded over many weeks.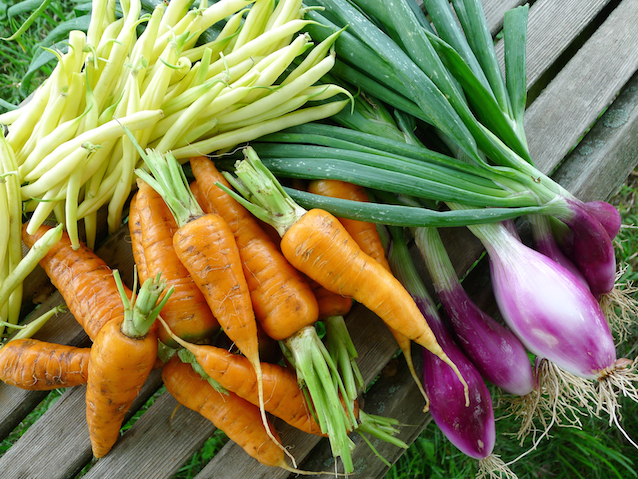 Is there anything we need to say about the beautiful produce in this photo? Perhaps only that we hope you enjoy eating everything.
News
Notes From The Field
Celebrating Our Dependence On Clean Soil
By Derek McGeehan
On this nice holiday weekend we celebrated our healthy soil dependence by harvesting all of the spring carrots with the help of three workshift crews. It is very satisfying to see the roots of our labor pulled from the soil and safely stored in the walk-in cooler. For us, carrots are a very challenging crop to grow. They take a long time to germinate, requiring consistent moisture for the seeds to wake up. Weeds out-compete them by germinating and growing faster. The carrots are direct seeded into raised beds and need to be thinned to a two-finger width so the roots can grow larger and not overly compete with one another. Lastly, our soils don't drain very quickly so in wet seasons carrots are susceptible to rotting underground. This year, though, it looks like very healthy crop and yield. Look for carrots in your share for at least two weeks but probably longer. I haven't done an official weight tally yet but am anticipating 1- to 2-thousand pounds were harvested.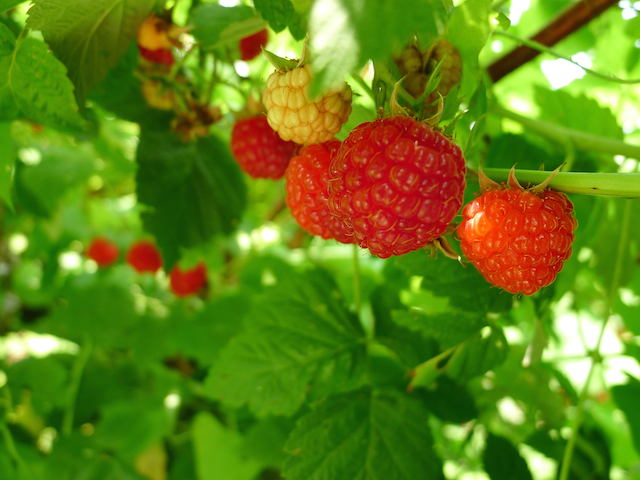 Planted in the spring of 2012, this is the first season that we've had enough raspberries to distribute to all members for perhaps a month. We're still learning how to properly manage and care for this crop, but they seem to be responding well and (most importantly) have appreciated the weather this season.
Also new in the shares this week are fresh (uncured) onions which require refrigeration. There will be red and pink torpedo onions and yellow-white mild round onions. Onions are also difficult to grow (what isn't?) but this year looks like a good one for them, too. Around 30-40% of our onion crop is for fresh eating so look for these onions in your share for a month or two. Scallions will also be around for a long time.
In the last third of July we'll begin harvesting the early varieties of potatoes and will also begin harvesting garlic bulbs. The Great Garlic Harvest takes place over one day with the help of at least three workshifts (about 40 people). This is a true team effort and takes several hours. The ground is loosened with the tractor, bulbs are pulled from the earth, they're trucked to the barn, are tied with string in bundles of 10, and are finally hung from the raftors of the barn to cure for at least a month.
Now begins the Harvesting Time of the year.
Expected Harvest
New: Carrots and Onions
By Derek McGeehan
Harvest #8 (Week B) should include carrots, onions, scallions, lettuce, summer squash, cucumbers, eggplant, celery, basil, fennel, kohlrabi, and garlic scapes. Some items will be a choice. U-pick should include cherry tomatoes, raspberries, basil, yellow snap beans, dill, cilantro, perennial herbs, and a flower bouquet.
How did I enjoy my harvest this week?
By Linda Dansbury
In a busy week, we really enjoyed the harvest - all of the fresh and delicious foods to choose from makes it an absolute joy to cook and eat. Here is some of what we ate this week.
Cucumbers, scallions, garlic scapes - made a cucumber salad Asian style. The dressing was rice vinegar, mild oil, sesame oil, soy sauce and pepper. Fresh ginger was also a component.
Eggplant, garlic scapes
- made my first batch of baba ganoush

- there are tons of recipes on the internet but I used the one on this site. I grilled the eggplants until nice and soft and charred all over and proceeded from there.
Green Beans, scallions and herbs
- made a green bean salad with an herb pesto - really delicious this way. The fresh herbs give such a nice, bright flavor.
Summer squash, garlic scapes
- made squash fritters - just grated the squash and squeezed the excess juice out of it. Added an egg, flour, baking powder, salt, and pepper and then fried them in a non stick skillet in a little canola oil.
Squash, green beans, scallions, garlic scapes
- made a frittata one night for dinner and there was enough left for a hearty breakfast for a couple mornings.
Fennel and herbs
- made salmon with fennel and white beans - they all go together so well.
Squash, eggplant, radicchio and scallions
- we grilled them all a couple of evenings this past week. So easy for a summer night and delicious!
Last week was the last of the butterhead lettuce until the fall, so we continued a weekly treat of lettuce wraps - I know, you are thinking we are in a rut, but they are so good, simple and nutritious.
New this week-carrots, yellow snap beans, fresh onions, cherry tomatoes and respberries
By Linda Dansbury
The new items for this week are straight forward. Yellow snap beans are delicious and can be used in any recipe calling for green beans. I happen to really like yellow beans - I am not sure that they taste any different, maybe it's the pretty yellow color that gets my attention.
Fresh onions are regular onions, without the outer layers being hardened off to protect them. Store them in a plastic bag in the fridge and use them as you would any other onion.
Carrots - I am sure these need no information - just eat these sweet jewels from Anchor Run fields!
Raspberries - must be eaten quickly(if they make it home!) - keep refrigerated and eat within 2 days.
Cherry tomatoes - D&D have worked over the years to pick out several varieties of tomatoes that do well in our area and taste delicious. Note that the colors are different: red, orange, yellow and even a purplish color. Look toward the bottom of the plants for the ripest tomatoes. Do not put them in the fridge. I leave mine in a container on the kitchen counter and take a couple to eat throughout the day. Yum!
Member ideas and suggestions
By Linda Dansbury
This week I heard from a few members - thank you so much for taking the time. If you have thoughts or ideas, please send them to me at
lindadansbury@comcast.net
. Please put Anchor Run in the subject line so I can easily find your message when it comes time to do the newsletter.
Emily Mahoney sent me a recipe for chocolate beet cake - there is one already on this site that I really like, but the one Emily sent incorporates beets into the icing as well, so when we have beets again I am going to give the icing a try and will let you know.
Nancy Wasch sent me her ideas - she made sloppy Joe's and replaced the rolls with Butterhead lettuce. She said she thought of it because of my comments on lettuce wraps - this is the reason I like doing this column - we get inspiration from each other. Nancy also said that she cuts her squash into wedges and tosses with a bit of olive oil and then broils them for 4-5 minutes, turning halfway through. They lose the raw flavor but retain a nice texture - the added bonus is that the oven is on for a short time.