Here We Are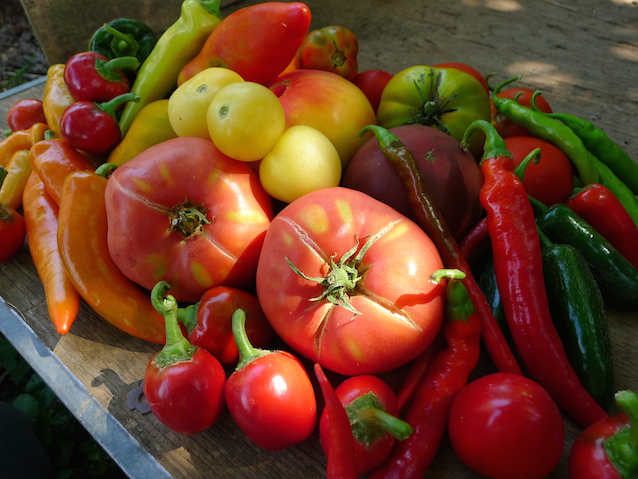 A medley of summer salsa bounty: hot peppers and heirloom and hybrid tomatoes. It just makes one want to smile and eat.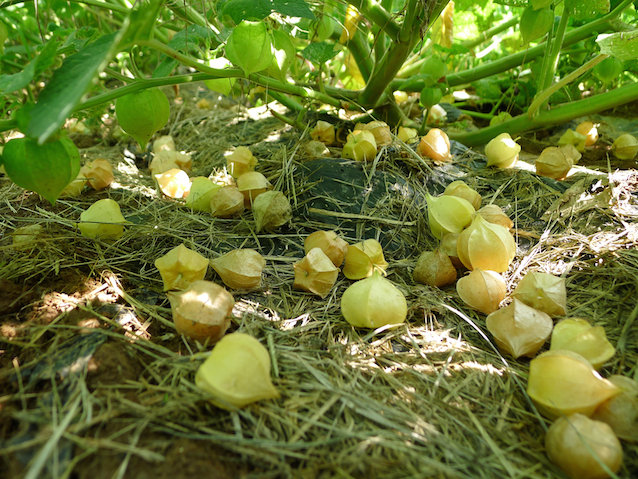 Husk cherries are definitely one of the best/tastiest/most fun to eat crops that we grow. Not only are they awesome fresh, they store for months in their protective husks. Mature ones are found on the ground, hence their other name 'ground cherry'.
News
Notes From The Field
Retrieving the Goods
By Derek McGeehan
Besides the infinite amount of crop maintenance, our attention now shifts slightly more to harvesting all of the crops that went in the ground months ago: potatoes, onions, tomatoes, peppers, winter squash, watermelon, garlic, and more. It feels a bit like a race to remove and protect these precious goods before animals, bugs, and/or diseases find them first. There are so many important components to farming and raising crops from start to finish and at every stage, from planting and cultivating and weeding through harvesting, the utmost amount of attention and energy needs to be committed all along the way. Every weekend we take an hour or so to walk the fields and inspect each crop and make our weekly to-do list. This way we have a personal relationship with everything we grow and can monitor the state of the farm. Realistically, when we begin harvesting the long-maturing crops there is hardly any time to relax and be carefree, not until everything is either safely stowed away in storage or distributed and sent home with you. However, as farmers we know that is mainly what winter is for, to recuperate physically and mentally while planning for the following season. But that sure feels far away as temperatures rise into the mid-90s today. Farming can be extremely challenging and difficult but it is also one of the most rewarding ways to spend ones time in this short life.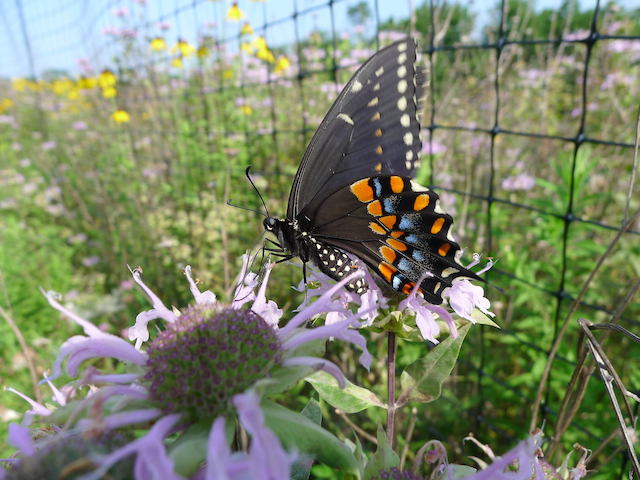 Shown here happily engaged with pollinator habitat bee balm is a swallowtail butterfly. Quite a beautiful specimen.
Last week Dana, Gabe, and I managed to break/sneak away from the farm for a week-long trip to Cliff Island in the Casco Bay outside of Portland, Maine. This was our first summer vacation in 7 years and was a fine treat. Our farm crew took good care of the place while we were away and we are extremely thankful for the opportunity we had. To me, one of the most challenging aspects to running a CSA farm is the work-life balance, especially during the growing season. It is very easy and tempting to work 7 days a week because of the infinite work. Any time we're on the farm we're aware of the various tasks that need to be completed. Getting away and putting that distance between us and the farm made relaxation truly possible. Now that we're back and finished with our weekly field walk the pressure is back on, but we're rejuvinated and ready.
Expected Harvest
Tomato, Husk Cherry, and Pepper Season
By Derek McGeehan
Harvest #10 (Week B) should include summer crisp lettuce, tomatoes, scallions, fresh onions, carrots, summer squash, cucumbers, hot peppers, okra, cabbage, fennel, celery, eggplant, and sweet peppers. U-pick should include cherry tomatoes, green beans, basil, dill, cilantro, parsley, husk cherries, tomatillos, flowers, and perennial herbs.
Member ideas and suggestions
By Linda Dansbury
We are taking a hiatus from this column this week to help ease Derek's workload. It will return next week when Judy, our editor, returns. Thanks to those that sent me great ideas this past week! Please send me additional ideas at lindadansbury@comcast.net
New crops this week: husk cherries, okra, tomatillos
By Linda Dansbury
This week surely shows it is summer not just in the temperature but in the crops that are starting to mature. Below is a bit of information on the new crops:
Okra - is in the same family as hibiscus and like hibiscus the plant has large, beautiful flowers. The vegetable is long and narrow and somewhat odd looking. Okra is great for thickening soups and is used extensively in the south in dishes such as gumbo and jambalaya. This site has several recipes for okra, including a light, summery gumbo. There are several really nice recipes that include okra and other summer veggies on this site, so please check them out. From a storage standpoint, okra really does not store well. Keep it in the fridge in a plastic bag that is not closed tightly and use within 4-5 days or freeze. Even frozen, they should be used relatively quickly because they tend to dry out.
Husk cherries - also known as ground cherries because the ripe ones are literally the ones that are laying on the ground. In the field, get down nice and low - this is great for kids to harvest - and find the ones that are laying on the ground that have a papery "husk" and are golden in color. When you get home, lay them out in a single layer to dry out. They will keep at room temperature for weeks! Yes, weeks. This is a crop that was grown by early settlers to provide them with fresh food late into the winter. Husk cherries can be added to salads or fruit salads, pie fillings, sauces and jams. We have a couple of recipes on this site. Or, they can be eaten out of hand for a healthy, refreshing snack.
Tomatillos - look like green tomatoes with a husk around them. They are in the same family as tomatoes, but are ripe when they turn a yellowish, or gold color. Some of the best ones will drop to the ground and will be the ones hanging the lowest on the plants. Tomatillos are mostly used for salsa, as in salsa verde, or sauces to cook chicken or fish. I tend to make several batches during the summer and then use it as either salsa or an easy cooked meal during the winter months. You can either make your sauce now, or freeze the tomatillos whole (without husks) and make it later in the year. Tomatillos are delicious roasted or grilled - you can do the grilling/roasting step now, and then freeze in 1 or 2 batch quantities to make sauce/salsa, and then make the sauce later, if that works best for you. If you want to do that, add to the freezer batch a hot pepper or 2 and a sliced onion, so you don't have to purchase those later. Tomatillos do keep fairly well in a plastic bag in the fridge - up to 2 weeks. I often cook up 2 weeks worth at a time. The companion crops for tomatillos are cilantro and hot peppers, all of which are available now!
How did I enjoy my harvest this week
By Linda Dansbury
Last week I admitted I hadn't cooked very much, so this past week we made up for it and cooked A LOT! Here is some of what we did - you'll notice a theme of a lot of salads. When it is so warm outside, cooling, lighter fare is welcomed. And, the bonus is that vinegar-based dressings act as a preservative, so if there are leftovers they often taste even better the next day or two.
Summer squash - made a double batch of zucchini bread - any variety can be used to make this yummy bread, which also freezes very well. There is a recipe on this website, or use your favorite one.
Green beans, green pepper, scallion, cherry tomatoes, basil - green bean salad, Italian style. It was a big hit with friends and family.
Summer squash, scallions, herbs - made the Herbed Squash Bake that is on this site. I made a double batch thinking I would freeze half of it, but we ended up having it a couple of nights for dinner and then as a side dish with friends and everyone loved it. With the bumper crop of squash, I think I will make it again and freeze it this time.
Fennel, tomatoes - Salmon goes so well with fennel - they are so natural together, so made it 2 different times recently. One recipe included white beans, so it was a complete meal on the plate.
Summer squash, garlic scapes, lettuce, cherry tomatoes - Summer Squash and Sausage Salad recipe is on this site. We love this dish. It comes together quickly and in 1 large sauté pan. We will eat this several times during the summer. The only add-in you need to have is a nice tasting feta cheese.
Scallions, herbs - made crab cakes for guests - yum!!
Basil, garlic scapes - I know I am running about a week behind those with a Monday pick up day, but last Sunday I made a batch of pesto with the large handful I received in the pick up room plus what we could cut. I froze the pesto for use later.
I hope you are all enjoying the harvest as much as I am. Let other members know how you enjoy your harvest by emailing me at lindadansbury@comcast.net.