Rain and cooler temperatures arrive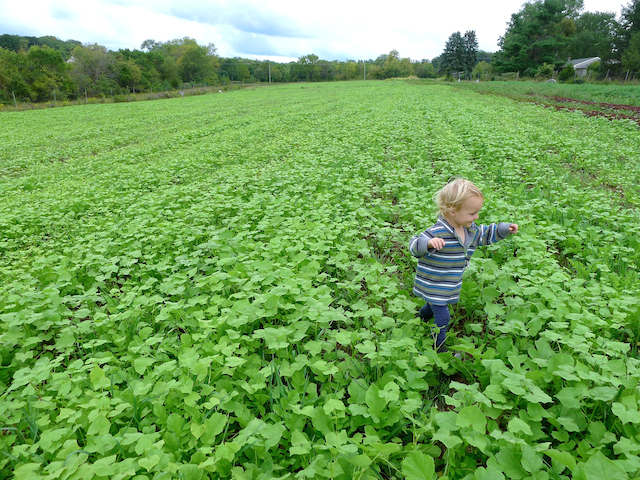 Gabe displays his enthusiasm for the carpet of cover crop green, which has grown by leaps and bounds since the rain event.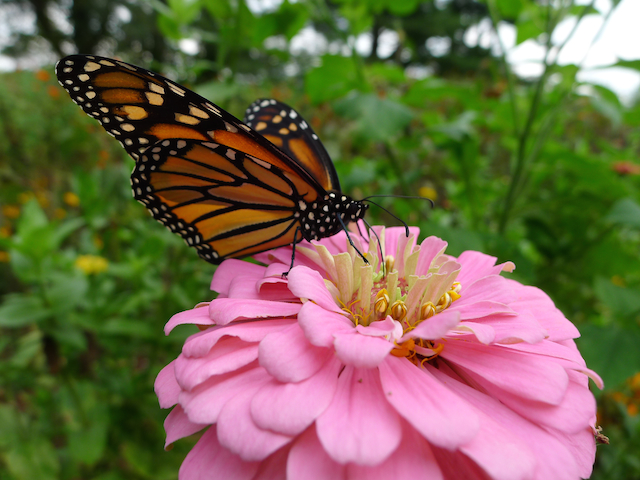 A magical monarch butterfly makes a late season snack of a zinnia flower.
News
Notes From The Field
Hot and Dry Finally Ends
By Derek McGeehan
It was with mostly open arms that we accepted the rain on Thursday; we definitely needed it. Excluded from the we was perhaps the thousands of plants that received almost too much underground water from the well, but on some level I'm sure they're happy to have the liquid fall from the sky. I was a little nervous about the state of saturation of the ground where we've been adding water and how the crops there would fare from the additional rain forecasted, but with another week of supposed sunshine starting tomorrow, I'm feeling confident the crops will slurp up what they need and the rest will evaporate and drain away. I was thrilled to receive the almost perfect style of rain - slow and steady mostly - to help start the three or four acres of sown cover crops. With the guarantee of rain in the forecast we mowed, chisel plowed, and disked in a lot of the summer crops and sowed some fun mixtures of cover crops. We mixed oats, buckwheat, daikon radish, and crimson clover in one batch for about half the area and mixed rye, peas, buckwheat, crimson clover, daikon radish, and hairy vetch for the other half. It is always very comforting when we receive enough rain for these covers to germinate and grow and protect the soil until next growing season. The comfort and contentment of a farmer is directly related to the state of his or her fields.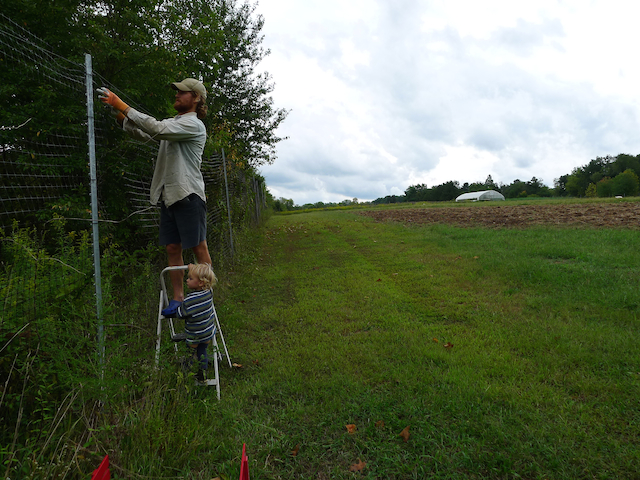 Working together to fix the sagging fence and hopefully keep the three deer out.
That being said, we've had a few scoundrels infiltrating our fields, eating next year's strawberry plants, putting holes in the bed covering plastic, and munching on our head lettuce. Somehow, these thieves have figured out how to get over or under or through our fence. They mostly enter and eat at night, when I'm too tired to try to figure out how they're compromising our safety system. I did venture out at around 2:30am on Friday night after Gabe woke me up anyway and saw their three sets of green eyes. Yes, they are deer and they are a thorn in my side right now. I spent about four hours on Saturday walking the perimeter of our fence, going over some areas twice, and reinforced any potentially weak spots. Mostly, I think, the deer slip underneath the fence, so the entire 4000 feet or so is stapled to the ground. I double checked that and added staples where needed and plugged any noticeable holes with zipties. Dana and I also added about 200 feet of wire to the top and ziptied sagging areas of the fence to the wire. I didn't venture back out last night to see if the deer were back, but hopefully the reinforcement worked. Maybe a mountain lion will reenter the local food chain and help us out.

Expected Harvest
Welcome Kohlrabi
By Derek McGeehan
Harvest #18 (Week B) should include kohlrabi, kale, chard, lettuce, leeks, onions, hot peppers, winter squash, garlic, potatoes, heirloom tomatoes, and sweet peppers. U-pick should include herbs and flowers.
Workshifts Over For Season
By Derek McGeehan
Workshifts have ended for the year. If you weren't able to finish your hours, please send your $15 per missed work hour check made payable to "Anchor Run CSA" as soon as possible (half share - $60, full share - $120). This fills out the balance of your share cost and saves us the need to contact you for payment.
Final Potluck of the Season - Let's Celebrate!
The final potluck of the season is scheduled for Saturday, September 26th and will begin at 5pm. Please bring a dish to share to feed 6 adults, plus your own drinks and place settings. If you come please try to arrive on time so we can all eat together. If the weather allows we will enjoy a nice fire and some live music.
How did I enjoy my harvest?
By Linda Dansbury
Before I started writing this week it didn't feel like I had cooked that much, but as I started to write, I realized I had actually cooked quite a bit. Please let me know how you enjoyed your harvest at
lindadansbury@comcast.net
.
Edamame – boiled, shelled and froze A LOT of edamame. I hope you did too as you will enjoy it throughout the winter. I did snack on quite a lot of them too.

Tomatillos, hot peppers, garlic, onions – roasted the gleaned tomatillos and made into sauce and froze for later use. I remembered to label that cilantro will need to be added when I thaw it out to use.

Kale, leek, garlic, peppers – sautéed all together and meanwhile, grilled Portobello mushrooms. When all was finished, stuffed the saute into the mushrooms, and topped with a slice of fresh, local mozzarella cheese and put back in the oven just until melted. Served for dinner along with a large salad.

Okra, eggplant, garlic, leek, peppers – roasted this dish twice – so easy and delicious!

Kale, leek, garlic – made a recipe tonight from Luke Smithson, fellow member and Executive Chef of Jamie Hollander Catering in New Hope. One of Luke's passions is creating dishes with mushrooms and his Wilted Kale Salad with Mushrooms and Miso Dressing is amazing! Use mushrooms you have on hand. He demonstrated this dish at the Wrightstown Farmers Market using maitake, lobster and oyster mushrooms – I made it at home using only maitake and it was still delicious. It calls for shallots but I used a leek instead. I have added the recipe to the website. Thank you Luke for quickly supplying the recipe.

Kohlrabi is back
By Linda Dansbury
The temperatures finally feel like fall and the crops have taken a definite turn to fall over the last couple of weeks. Kale, chard and now kohlrabi should be in the pick up room regularly. All store fairly well in plastic bags or containers in the fridge. I look at fall as the second coming of cole slaws - cabbage should be arriving soon, and kohlrabi and thinly sliced other greens make for nice cole slaw combos. I think it is the second season because now we have fresh local apples to mix in as well. Yum!
Members ideas and suggestions
By Linda Dansbury
This week I received a couple of ideas from members and I thank you! If you have ideas, suggestions, questions and/or recipes please send them to me at
lindadansbury@comcast.net
. Please put Anchor Run in the subject line. Here are the emails I received:
The first one was from Carolyn Lyday. Her passion for the food comes through in her email. Per Carol, "I grew up eating okra in North Carolina, but my mother stewing it with tomatoes or even putting it in a good gumbo was innovative to my mountain farm-boy Daddy, who was used to eating it one way: Slice it into thick pennies. Dredge it in cornmeal, season with salt, pepper, and hot pepper flakes (or minced hot pepper). Heat up the bacon grease (not a lot--just enough to barely cover the bottom of the pan), in combination with vegetable oil if you like, and fry up over medium high heat until lightly browned and cooked through, savory but not burned and still a little crunchy. Should not be at all greasy. Just takes minutes. I love this with slaw and corn on the cob and fried chicken, and--oh, my--sliced tomatoes!"
Emily Mahoney - by far, the most prolific member this year, sent me the following email, which is an interesting twist on an omelet or frittata. Sounds delicious. And...if you have been paying attention you will understand her dessert idea. If you missed that, email me and I will send it to you.
From Emily: "I tried out a variation on one of my favorite recipes for dinner today. I made Bauernfrühstück, which is a traditional German meal that my family eats often. Normally it's a pan-fried dish of potatoes, ham, egg, and cheese, but we added in extra veggies and it turned out great".
Ingredients:
2 beets
4 small potatoes
One onion (could substitute leeks as well), chopped
8 slices bacon, chopped
6 eggs
1 cup shredded cheese
Directions:
1. Separate beets from greens (don't discard!). Rough chop beets and potatoes and put in glass pan. Bake in 350° oven for 30 minutes.
2. Clean and shred beet greens.
3. While beets and potatoes are baking, cook bacon in frying pan. Add onions and beet greens. Cook at medium heat until onions are glassy and bacon is fully cooked.
4. Remove beets and potatoes from oven. Slice and add to frying pan. Cook veggie and bacon mixture at medium heat.
5. Whisk eggs and pour into frying pan over veggie and bacon mixture. Scramble until eggs are fully cooked. Pour cheese over dish and serve. Serves: 4.
This was delicious, and turned a really pretty pink color from the beets. I think that beans would be a good substitute for the bacon for vegetarians.
For dessert, I made mini versions of the strawberry tomatillo pie I sent you previously. I've been using husk cherries in it, and it's a huge hit. For the mini pies, I used six ready made mini graham cracker crusts, and then prepared about half of the filling from the full pie recipe. For the top crust, I made an oatmeal crumble".

Thank you to Carolyn and Emily!
Recipes
Wilted Kale Salad with Miso Vinaigrette
Recipe by Luke Smithson; serves 4-6; about 30 minutes to prepare.

1 Tablespoon oil
8 ounces Mushrooms, sliced (Maitake, Lobster and Oysters used in recipe)
1 teaspoon garlic, chopped
2 teaspoons shallot, chopped - onion or leek may be substituted
1/4 cup Miso Vinaigrette (See recipe, below)
8 ounces kale, shredded (like cole slaw)
1 ounce Pecorino cheese, grated
Salt and Pepper to taste
Heat oil in a sauté pan over medium high heat. Add mushrooms and sauté until nearly cooked. Season mushrooms with salt and pepper, then add garlic and shallots. Continue cooking for an additional 30 seconds. Add Miso vinaigrette and stir for another 30 seconds. Pour mushroom mixture over shredded kale and mix well. Top with grated Pecorino cheese and salt and pepper to taste.
Miso Vinaigrette
1/3 cup white wine vinegar
2 Tablespoons miso
1 clove garlic, chopped
2 teaspoons honey
1/4 cup water
1/4 cup basil
1 cup olive oil or sesame oil*

In a blender or food processor, mix all ingredients except the oil at high speed. Once the ingredients are blended into a paste, slowly drizzle in the oil. Season with salt and pepper if desired; use caution as miso can be quite salty. Olive oil will be more neutral in taste while sesame oil will impart a distinct flavor. Other vegetable oils can be substituted if desired. *Note: I used about 3/4 cup olive oil and the rest sesame oil and it worked well.