Welcome new farmer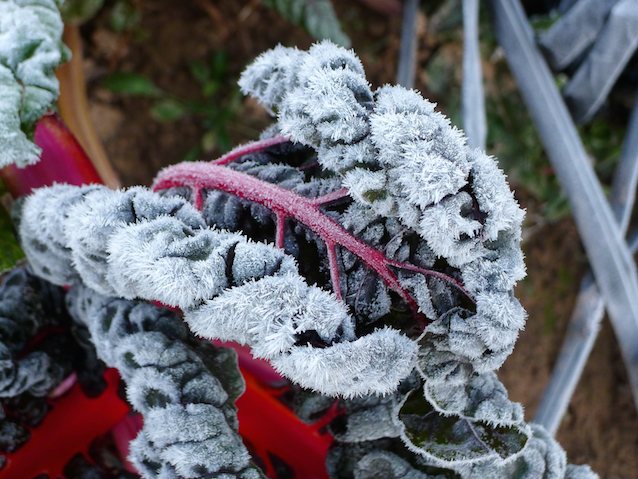 Heavy frost covered this chard leaf when temperatures dipped to 26 degrees on Monday morning.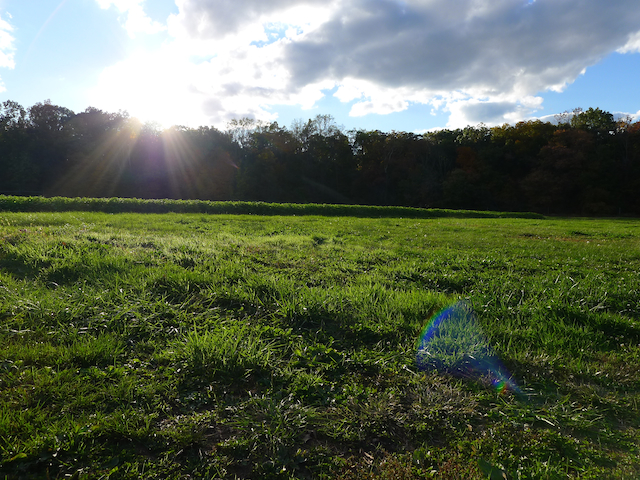 Afternoon sun begins to descend behind the trees towards the southwest part of Field 1.
News
Notes From The Field
Welcoming a New Farm Member
By Derek McGeehan
This past Monday we welcomed Abigail Margaret McGeehan into our family. She arrived at 7:24pm quickly and healthy. Mom and Abigail are doing well and we're all transitioning into a family of four. Gabe likes to call her "Little Baby Sister" and seems to have grown used to less attention, though having grandparents around all of the time has helped a lot. It seems fitting, somehow, that Gabe was born on a Thursday pick up and Abigail arrived on a Monday.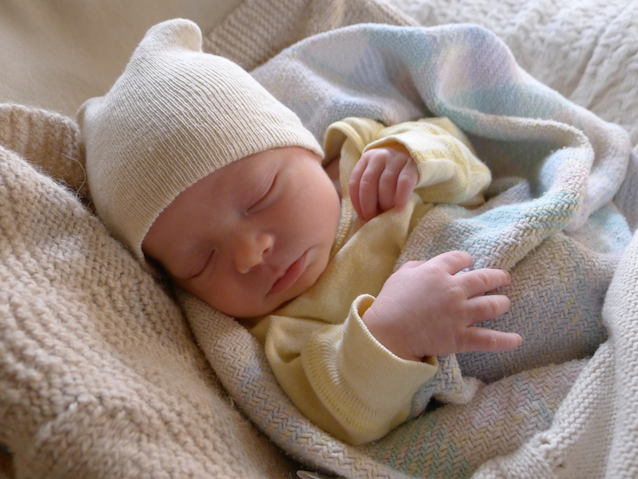 Meet Abigail Margaret McGeehan, born at home this past Monday, October 19th, at 7:24pm.
Besides this big event, we withstood a freeze and very heavy frost that same morning. The low temperature bottomed out around 26 degrees and it stayed below freezing until 10:00 am or so. We covered with row cover everything that we thought needed protection and the crops mostly survived unscathed. There are a few frost burns here and there but I would say survival was a complete success. We did get extremely close to the cold tolerance threshold of the next round of crops that show distress from cold, like napa cabbage and daikon radish. This is probably because of their higher water content. The forecast looks pretty mild for the foreseeable future but soon we'll be scrambling to harvest the next round of sensitive crops. It was very surprising to receive the mini heat wave in the middle of the week right after the extreme cold, which then had me scrambling to uncover all of the protected crops so they wouldn't overheat. Now, we wait for rain. Before then we'll finalize the garlic beds for planting as well as sow the final round of cover crops for the year, probably winter rye and hairy vetch.
Expected Harvest
Choices
By Derek McGeehan
Harvest #24 (Week B) should include butternut squash, garlic, sweet potatoes, beets, onions, leeks, cabbage, kohlrabi, cauliflower, endive, escarole, lettuces, broccoli raab, collard greens, arugula, greens mix, fennel, and napa/chinese cabbage. U-pick should include herbs.
How Many More Pick Ups?
By Derek McGeehan
We're entering pick up week #24 out of 26 weeks, so there are 3 more pick up weeks including this one. Week B half shares have 2 more pick ups (this week and the final week), Week A half shares have 1 more pick up (next week), and full shares have 3 more pick ups. Then the Winter CSA begins.
Workshifts Over For Season
By Derek McGeehan
Workshifts have ended for the year. If you weren't able to finish your hours, please send your $15 per missed work hour check made payable to "Anchor Run CSA" as soon as possible (half share - $60, full share - $120). This fills out the balance of your share cost and saves us the need to contact you for payment.
2015 Winter Share
By Derek McGeehan
The Winter CSA will begin on Tuesday, November 17th, 1-8pm, for Full Shares and Week A Half Shares. Week B Half Shares begin Tuesday, November 24th. The season runs for 6 weeks through the week of December 20th. (Half share folks, we will try to keep your same Week A/B designation you had for the Main Season). CSA members can still sign up for a winter share but we do need payment by Friday, November 13th, to confirm our harvest numbers. Prices are the same as last year, $200 for a full share and $110 for a half share. New this year are string construction lights to get you safely from the parking lot to the barn; a project on our to-do list for years. Six more weeks of harvest sounds great to me!
How I enjoyed my harvest this week
By Linda Dansbury
Roasting is a delicious and easy way to use up a lot of the fall/winter farm veggies. I use this method up to 3 times a week. Changing up the veggies and herbs changes the flavors enough that it feels like a different meal.
Cauliflower, broccoli, leeks, garlic - roasted veggies. Simple, easy, delicious, and nutritious.
Beets, lettuces, tarragon - roast beets and made a beet salad making a tarragon, dijon, vinaigrette with a little honey. Topped salad with pecans and fresh chevre - yummy!
Chard, garlic, onion - sauteed Swiss chard with garlic and onion as you would spinach - it was delicious.
Chard stems, onion, leftover roasted mixed veggies - made a frittata. It was simple and satisfying.
Onions, garlic, mixed greens - I made a big pot of chili and at the end I chopped up a head of endive and added it to the chili. It turned out to be a good move - it tasted good and the added greens looked pretty.
Arugula - made an arugula salad to go alongside pork milanese. It is simple: squeeze fresh lemon, a little salt and pepper, some good quality olive oil - toss together well and then top with parmesan curls.
Cooking methods - roasting and sauteing
By Linda Dansbury
Roasting and sautéing are two methods of cooking that should be your fall and winter time friends, if they aren't already.
Roasting turns out a delicious final product. Here is a list of veggies that can be roasted - some may surprise you: potatoes, sweet potatoes, celeriac, leeks, onions, garlic, cauliflower, kohlrabi, beets, turnips, fennel and winter squash. Preheat oven to about 400 degrees. Cut all up into similar sized pieces, toss in some olive oil, salt and pepper - that's all that is needed, but herbs such as thyme and rosemary add a nice taste. Spread in a single layer on a large cookie sheet. Check every 15 minutes and turn or shake veggies around so they all have a chance to get browned edges. When finished, eat as is, or top one or a combo of the following: chopped fresh parsley, a light drizzle of good quality olive oil, squeeze of lemon, and a grate of parmesan, romano or manchego cheese, if desired. Leftovers can be turned into a frittata or a salad.
Sauteing is another wonderful method for the greens we receive. Sometimes we look at all the cabbage and think what can we do with it besides cole slaw and adding to soups. If you ferment, you know exactly what to do with these large amounts of cabbage, but if not, you may scratch your head. Sauteing is easy, flexible with ingredients, and brings out a delicious taste in some veggies that you don't get by other methods of cooking. Cabbage is a great example: saute onions and/or garlic in a combination of olive oil and butter (or just the oil if you prefer), then add cabbage that you have shredded as you would for coleslaw. Allow it to cook low and slow, but high enough to turn parts of the cabbage to a golden brown. This is the carmelization process that brings out a nutty taste so the harshness that cabbage can have is gone! Add salt and pepper to taste and top with fresh chopped parsley for a great side dish for any meat or fish for dinner or as a side for brunch.
Saute works well for many of the greens: chard, collards, brocccoli raab, and even escarole and endive.
Enjoy and let me know how you are enjoying your harvest at lindadansbury@comcast.net.
Member ideas and suggestions
By Linda Dansbury
Back in July, fellow member Janine Lazur sent me a recipe for her mom's Pennsylvania Dutch Pickled Beets and Eggs. I was thrilled because it is almost identical to the one that my grandmother and mother make, minus the eggs, which you can do. I didn't post it back then because we were no longer receiving beets at the farm. Now beets are back, so I am adding this recipe and am also anxious to make it myself. Thank you Janine! You probably thought I forgot! These beets, minus the eggs will keep for at least 3 weeks in the fridge.
Please send me your suggestions at lindadansbury@comcast.net. Please put Anchor Run in the subject line.
Recipes
Mom Aleta's pickled beets and eggs
From member Janine Lazur. This is the exact email she sent to one of her siblings.
Turns out I'm the first to request this recipe from Mom. In case anyone else is interested, after Mom talked me through it and I took notes, I user tested it and have the following to share:
As you may know, Mom tends to cook from memory and has basic ratios that allow her to scale things up or down depending on how many she was feeding. The key for pickled eggs is the sweet and sour brine. The ratio is 2:1:1 -- 2 water to 1 apple cider vinegar to 1 sugar -- but taste it and adjust as needed. Mom told me it should taste a little sharp and vinegary but not super sharp. The slightly sharp edge will go away as the vinegar is absorbed by the eggs and beets.

How much brine should you make? Enough to cover whatever you're pickling. Based on the container I was using, I figured I needed 2 cups of liquid to cover my 6 eggs, the beets and onions. That worked out well.

What follows are the measurements I ended up using. I had to add more vinegar because the original 2:1:1 mix didn't have the slightly sharp edge this needs -- perhaps my cider vinegar was on the milder side.
6 hard boiled eggs, peeled
2 cups fresh red beets -- cooked then peeled and sliced (or cut into chunks). How you cook them is your call -- baked, roasted, boiled. No need to save the cooking liquid. The cooked beets will release lots of color once put into the brine. (or canned beets, sliced will work too to save time)
1/2 onion, sliced (golden mom ratio on this: 1 onion/dozen eggs)
For the brine:
1 1/3 c water
1 c apple cider vinegar
1/3 c sugar
1/4 tsp salt
a generous sprinkle of pepper
Combine the water, cider vinegar, and sugar in a mixing bowl. Stir until the sugar dissolves. Taste and make any adjustments. Goal: a little bit sharp and vinegary tasting -- but not super sharp. Once you have the sweet and sour balance about right, add salt and pepper to taste.

Put the eggs, beets, and onions in the jar or container you'll be steeping them in. Pour in enough brine to cover them. Cover and refrigerate.

After 24-36 hours, they're pickled. Drain and discard the brine. Refrigerate the fruits of your labor.

Other notes from my conversation with Mom:

- The recipe also works for pickled beets. Just omit the eggs.
- She has left the brine on longer and after 4 days of soaking, the yolks will be deep pink too. This means the eggs are pickled through and through. They might keep longer this way but they won't be as attractive.