Peppers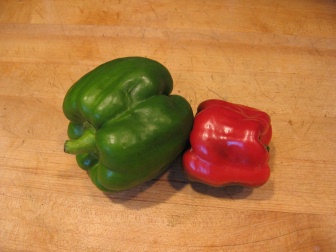 Bell peppers, also known as sweet peppers, are like the Christmas ornaments of the vegetable world since they are beautifully shaped, glossy in appearance and come in a variety of vivid colors such as green, red, yellow, orange, purple, brown and black. Despite their varied palette, all are the same plant, known scientifically as Capsicum annuum, and are members of the nighstshade family, which also includes potatoes, tomatoes and eggplant. Sweet peppers are plump, bell shaped vegetables that usually feature either three or four lobes. There are also other varieties that have a more tapered shape and no distinguishing lobes. Sweet peppers usually range in size from two to five inches in diameter and two to six inches in length. Inside the thick flesh is an inner cavity with edible bitter seeds and a white spongy core. Bell peppers have a delightful, slightly watery crunch. Green and purple peppers have a slightly bitter flavor, while the red, orange and yellows are sweeter and almost fruity. Pimento and paprika are both prepared from red bell peppers. Peppers provide a lot of health benefits and are very high in Vitamins A and C.
Storing / Preserving:
Unwashed sweet peppers stored in the vegetable compartment of the refrigerator will keep for up to one week. Sweet peppers can be frozen without first being blanched. It is better to freeze them whole since there will be less exposure to air which can degrade both their nutrient content and flavor.
Preparation / Use Suggestions:
Use a paring knife to cut around the stem and then gently remove it. Peppers can be cut into various shapes and sizes. To easily chop, dice or cut the peppers into strips, first cut the pepper in half lengthwise, clean out the core and seeds, and then, after placing the skin side down on the cutting surface, cut into the desired size and shape. Peppers can also be cut horizontally into rings or left whole for stuffed peppers after carefully removing the seeds from the inner cavity.
When preparing hot peppers, it is best to wear rubber gloves. The hot elements from the peppers do not readily wash off, and if you rub your eyes after handling a hot pepper, it will burn, water and turn red -- take it from one who knows -- it hurts a lot!
A Few Quick Serving Ideas:
Add finely chopped bell peppers to tuna or chicken salad.
Steam cored peppers for five minutes, stuff them with your favorite rice salad or grain pilaf, and bake in a 350©F oven until they are hot.
Healthy sauté chopped peppers, celery and onions, then combine with tofu, chicken or seafood to make a simple Louisiana Creole dish.
Purée roasted and peeled peppers with healthy sautéed onions and zucchini to make a deliciously refreshing soup that can be served hot or cold.
Bell peppers are one of the best vegetables to serve in a crudité platter since not only do they add a brilliant splash of color, but their texture is also the perfect crunchy complement for dips.