Where's That Perfect Amount of Rain?
News
Notes From The Field
Dry and Hot, Again
By Derek McGeehan
Having received under an inch of rain in all of August we've been forced to return to regularly irrigating as much of the farm as possible. Like July, when we received 12 inches of liquid, August is also testing our resolve, but for the obvious opposite reason. The boom and bust cycle continues, Mother Nature and Father Geology grin and play games, we march on, trying our best to keep the farm productive and the CSA shares satisfying. During dry weather we are very lucky to have soils that drain very slowly, hold moisture well, and face north. For these reasons July was a difficult month but the farm survived with only a relatively small noticeable amount of loss. If anything, the stress is probably worse for us than the crops, but that's how it goes. After spending a solid 20 hours setting up irrigation infrastructure last week for all of the crops that need it, we're a bit more comfortable. We were eagerly looking forward to last Sunday's hypothetical rain event to water in newly sown cover crops and the .2 inches received looks to have sprouted some of the seeds. Now we hope that they can tolerate the dry heat and hold on until we receive more rain, whenever that may be. Farming is not for the faint of heart.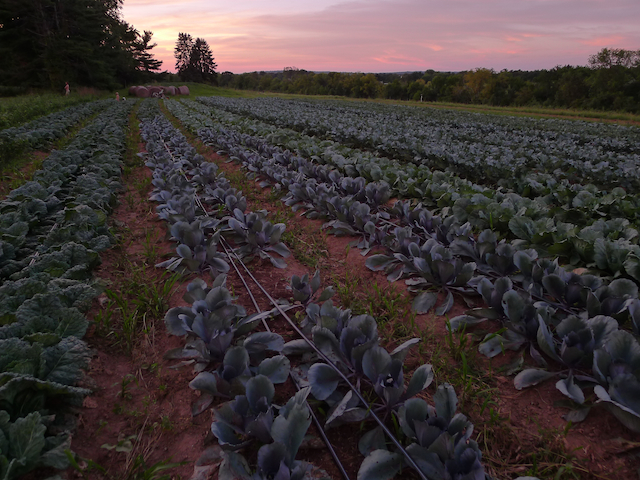 A sunset scene of our fall cabbage, broccoli, and cauliflower with freshly applied drip tape trickle irrigation to keep these crops happy and healthy.
Expected Harvest
Late Summer Mix
By Derek McGeehan
Harvest #16 (Week B) should include kale, winter squash, potatoes, sweet peppers, fresh onions, scallions, cured garlic, lettuce, swiss chard, eggplant, okra, hot peppers, and tomatoes. Some items may be a choice. U-pick should include cherry tomatoes, husk cherries, tomatillos, flowers, dill, cilantro, basil, and perennial herbs.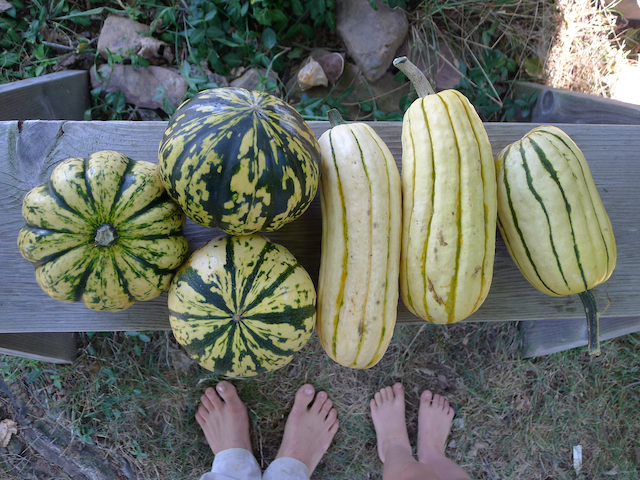 Sweet dumpling and delicata winter squash will probably be distributed this week. These varieties do not store very long so try to eat them soon. Simply cut in half, scoop out the seeds, and roast for 45 minutes at 400 degrees. Soak the seeds in water to easily separate them from the connective tissue - you'll have to use your hands here - and add them to a pan to roast as well.
Workshifts week of 8/28
By Derek McGeehan
Half of your committed work hours should be completed soon! Over the course of the season full shares work 8 hours; half shares work 4 hours. If you're unable to contribute the physical portion of your share, you must contribute to the farm financially at the rate of $15/hour. This fills out the balance of your share cost.
Tuesday 8/30 8-10am; 10am-12noon
Wednesday 8/31 8-10am; 10am-12noon; 6-8pm
Friday 9/2 8-10am; 10am-12noon
Saturday 9/3 8-10am
Monday Labor Day 10am-12noon
Workshift sign-up instructions may be found
here
.
Thank you!
U Pick Winding Down, Fall Greens Returning
By Linda Dansbury
Even though it still feels like summer, the fields are starting to say fall. This week the weather will become more fall-like and the cooler night temps along with shorter days will slow down the summer crops. Please make sure you work U-pick into your schedule, because there are only a couple of weeks left to pick before the crops are finished for 2016.
Kale will make it's first appearance in a while and barring a major insect or weather event, we should see it nearly every week going forward. Since it is still quite warm, consider making
Kale Caesar Salad.
I find massaging the leaves into velvet, as the recipe describes to be quite relaxing. Another great way to use kale for a 1 dish meal in which we currently have all the ingredients is to remove mid ribs and roughly chop the kale; cut up potatoes into thick slices or chunks, slice onions. Put all in a large bowl and drizzle with olive oil, and salt and pepper to taste. Mix well. Place in a baking dish and top with chicken thighs and/or drumsticks that have been oiled, and salt and peppered. Cover with foil and place in a 375 degree oven for about 20 min. Remove foil and continue cooking until potatoes are tender and chicken is cooked through and slightly browned - about 15 minutes. Enjoy with a side salad of tomatoes or lettuces.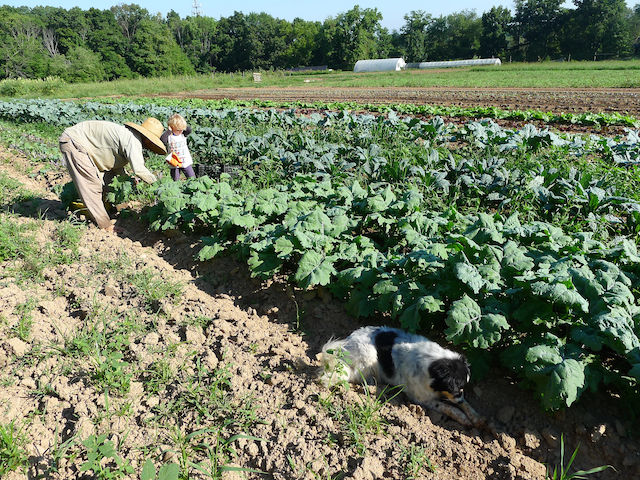 The first picking of fall kale commenced early Sunday morning. Below a few acres of woods, this field was drowned in July by the 12 inches of rain but now, after setting up and running irrigation during an extremely dry August, crops are thankfully thriving.
How I Enjoyed My Harvest
Preserving
By Linda Dansbury
Well, not really in the traditional sense, but saving things none-the-less. I prepared my edamame for freezing, made another large batch of
Caponata
and will most likely make more
Tomatillo Sauce
today. Here is a bit of other food I made this week. Please send your ideas to me at lindadansbury@comcast.net
Sweet peppers, onion, edamame, herbs - I had a couple of ears of sweet corn that I wanted to use up, so I removed it from the cobs. I sauteed onion, garlic and chopped sweet peppers and when they were soft I added the cooked edamame and corn and heated them up for a few minutes. Topped with chopped mixed herbs right before serving. It was delicious.
Green beans, garlic, scallion, herbs - made a green bean salad that I enjoyed for a few days for lunches.
Sweet peppers - grilled(roasted) several of them. When charred all over, placed them in a plastic bag - the skins come off much easier when you do this. When cooled, I removed the skin, stem and seeds and cut into strips. Added a little bit of garlic, salt and pepper and a drop of balsamic vinegar and a bit of olive oil. I love to put these on sandwiches, but they are great on eggs, served alongside grilled meats, etc, etc.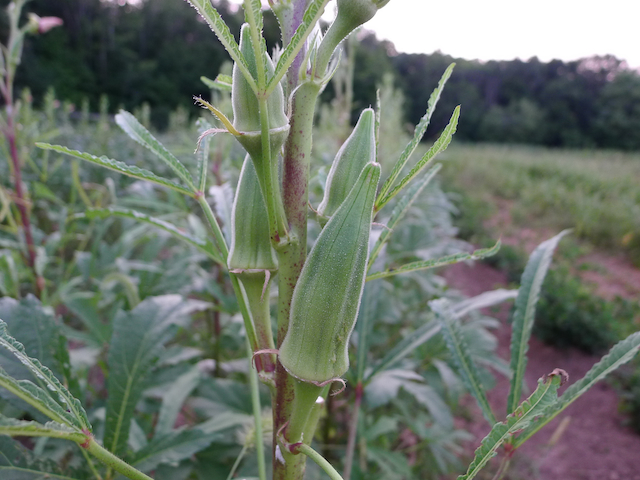 Loving the heat, okra is beginning to yield prolifically and the plants are now 6 feet tall.
Member Ideas and Suggestions
Are husk cherries taking over your counters?
By Linda Dansbury
Member Carolyn Diana sent me a note about using the husk cherries that sounds delicious! Thanks for taking the time to send this Carolyn!
She says "after salsas and sauces, she was running out of ideas on how to use them, so she tried the following recipe for a crumble and she said it turned out great. The cherries were mixed with enough fruit so it didn't taste tomato-y - she will definitely make it again!"
Mix 3 cups of fruit into a pie dish - she used a quart of husk cherries(but once the paper husks were removed, it was less), a sliced banana, some frozen strawberries and blueberries, a chopped apple, and one chopped up date.
Toss fruit with a little sugar - Carolyn used Truvia, 1 Tablespoon lemon juice, and a 1/4 cup of flour. Carolyn used oat flour.
In another bowl, mix 1 cup flour(again oat flour), 3/4 cup old fashioned oats, 1/4 cup sugar(again Truvia), dash of salt, 6 Tablespoons butter or coconut oil, or a combo - Carolyn used the combo.
Sprinkle the mixture over fruit and bake in a 375 degree oven for 40 minutes.