Continued Dryness but Thankfully Cooler
News
Notes From The Field
The Ability to Add Water
By Derek McGeehan
We're fortunate to have the ability to add the quantities of water that are needed to grow healthy crops at this stage of the growing season. I know there are farms and farmers out there that are unable to do so, therefore I'm thankful for our relatively new and deep well that is tapped into a clean and reliable aquifer at a depth of 300 feet. The pressure and flow rate is adequate for our needs. In the spring of 2013 we installed 3000 feet of underground 3 inch pipe to move water around the farm to 12 access point risers where we can more easily attach above ground pipes and tubes to carry water to the crops. This infrastructure is essential right now considering we've had just over an inch of rain since July with many hot and sunny days. This is the driest weather I can remember at Anchor Run. Because of our heavy soils and north facing slopes, our crops are mostly happy and healthy after several rounds of irrigation. When you're eating the produce over the next couple of weeks think about what is required to grow nourishing food, and how we shouldn't take any part of the process for granted. In our culture of misleading abundance it is quite easy to overlook the precariousness of our tethered connection to a healthy and providing clean earth and environment. Let's remember that.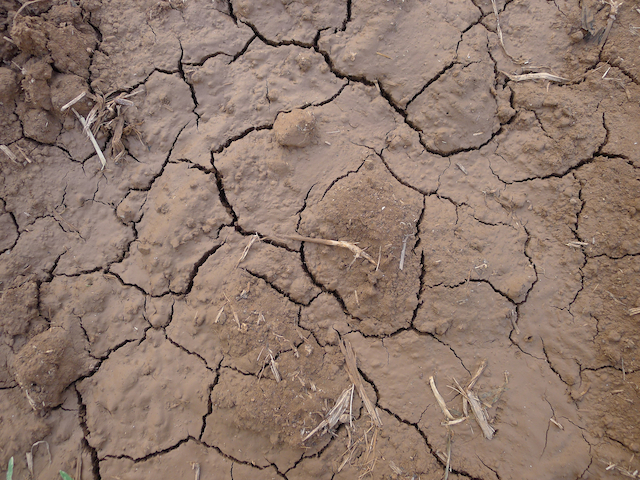 Thirsty soil! When we're initially making drip tape connections into the perpendicular 1.5 inch line, some water spills briefly, and because of the high clay content in our soil coupled with quick evaporation and drying, cracks like these can occur.
Expected Harvest
Watered Crops
By Derek McGeehan
Harvest #18 (Week B) should include butternut winter squash, potatoes, garlic, scallions, onions, kale, chard, lettuce, tomatoes, eggplant, sweet peppers, hot peppers, carrots, okra, chives, leeks, and radishes. Some items will be a choice and may not be available on all pick up days. U-pick should include cherry tomatoes, husk cherries, tomatillos, flowers, and herbs. Unless it rains soon, the majority of u-pick crops will end very soon.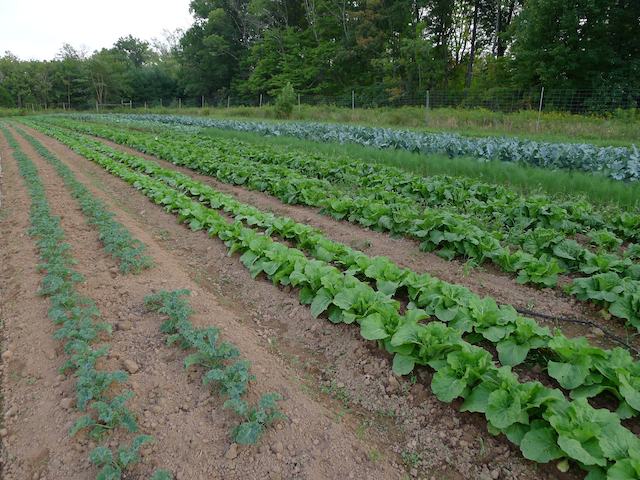 Freshly cultivated and irrigation dependent kale, napa cabbage, fennel, broccoli and other fall crops appreciate the dry weather, as long as we can give them the water they need. In our soils, a little goes a long way. These beds are drip irrigated which has been temporarily removed for cultivation purposes.
Workshifts Week of 9/11
By Derek McGeehan
Now that we're into the middle of September there is about one month left of workshift opportunities for you to satisfy the work component of your CSA share. If you're not planning to work this season, please remit the balance of your share cost soon. Half shares work 4 hours, full shares work 8 hours, over the course of the entire season. To "buy-out" of your work hours at $15/hour, please send a check payable to "Anchor Run CSA" at 2578 2nd Street Pike, Wrightstown, PA 18940. Please don't feel guilty about this option!
Shifts this week:
Tuesday 8-10am, 10am-12noon
Wednesday 8-10am, 10am-12noon
Friday 8-10am, 10am-12noon
Saturday 10am-12noon
Workshift sign-up instructions may be found
here
.
Thank you!
How I Enjoyed My Harvest
Difficult Transition
By Linda Dansbury
Normally by this time of the year, even if we have warm days, the nights start to cool down significantly so that I am excited about cooking "fall-ish" dishes - that is, things that incorporate winter squash, kale, etc. The extreme hot and humid weather is creating difficulties for me in trying to figure out how to best use my harvest - I would love your suggestions, so please email me at lindadansbury@comcast.net.
We also traveled for a few days, but here is some of what we enjoyed:
Swiss chard, garlic - I typically use my chard as a replacement for cooked spinach - I actually prefer it to cooked spinach. Heat olive oil, add some minced garlic and let it go for a few seconds, then add the roughly chopped chard leaves - you can use the stems also, just start with those in the pan and cook until fairly tender - the garlic and leaves go really fast. Cook the chard leaves until just wilted - they will continue cooking for a few minutes after it is removed from the heat. I like to add a squeeze of lemon juice salt and pepper and mix it up - when you plate it, drizzle a bit of olive oil over each serving.
Okra, tomatoes, onion, garlic, hot pepper - made the
Charred Okra and Tomato
recipe sent in by Derek's mom - check it out in member's suggestion.
Tomato, onion, basil - made a batch of tomato sauce to freeze - didn't have enough to make it worth bringing out the canner and using all that heat to bring it to boiling, so I froze it in containers that will be a good size to have a meal.
Tomatoes, scallions, parsley, chives - Made the
Southern Tomato Pie
that was featured a few weeks ago. I paired it with a salad for a nice summer meal - it was delicious!
Butternut squash - we had a choice in the pick up room of a bunch of chives or a butternut squash with a blemish that would prevent it from being stored, so I roasted it, scooped out the flesh, placed into a plastic bag and froze it for use later.
Thanks to drip tape irrigation (which has been temporarily removed to cultivate), lush fall crops of kale and kohlrabi, as well as newly seeded greens, are seen in the foreground with a buckwheat cover crop behind. The color green seems amplified this time of year when young and in their prime crops are healthy compared to perennial plants in other parts of the landscape whose tops and leaves are beginning to senesce as fall and winter approach. Browns and yellows may also be exacerbated this season due to the dry weather.
Member Ideas and Suggestions
Okra and tomato suggestion
By Linda Dansbury
In the hectic time of getting the back-to-school schedule re-established, or possibly my same dilemma of how to use the harvest, member ideas have trailed off - if you have any suggestions, please send to me at lindadansbury@comcast.net and include Anchor Run in the subject line.
Derek's mom submitted a recipe for
Charred Okra and Tomatoes(or Tomatillos)
which I did try and it is delicious - we had it alongside pork carnitas, which was made in the pressure cooker using a pork shoulder roast from Ledemete grass - the okra and tomato combination was a really nice contrast to the richness of the pork dish.
Fermentation Workshop 9/25 1-3pm
Gia Yaccarino
Fermentation Member Share Workshop Sunday, September 25, 2016 1 – 3 PM
Please join us on Sunday, September 25, 2016 for our Fermenting Workshop. Information regarding fermenting resources, websites and books will be discussed. We invite all members from the fermenting pros to the novices to join us for discussion and education on fermenting basics. This year's fermenting workshop is meant to be focused on the members - sharing their experiences – triumphs and failures, discussing their concerns about the fermenting process and answering questions. Please join us for what promises to be a very engaging workshop!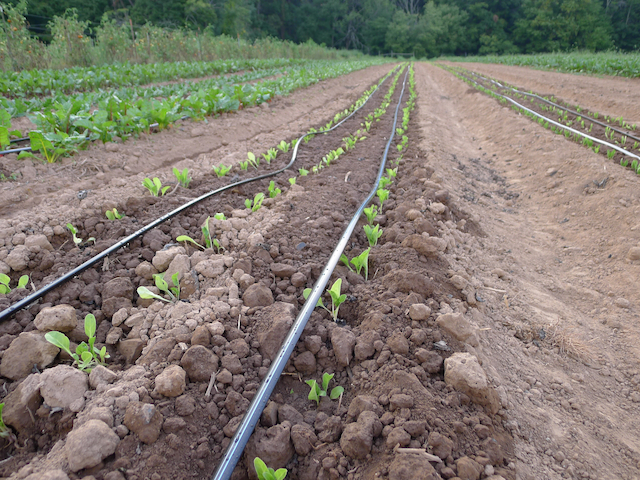 Here, drip tape is saving the lives of our newly transplanted chard and spinach on a 95 degree September day. Because of our new drip tape winder, we're able to reuse most of the drip tape for more than one season.
Maple Syrup and Honey For Sale!
Susan Klikus
Augusta Acres Farm, Susan and Todd Klikus, will be returning to Anchor Run Farm this Thursday September 15th from 1-6 pm to offer for sale their Pure Maple Syrup and their Pure, Local, Raw Honey.
Augusta Acre's maple syrup is produced from sap collected strictly on their farm and boiled down in small batches on their wood fired arch. It is Pure, Dark, Robust syrup.
Their Honey is all extracted from their farm's apiaries. It is an "All Season" honey which features a dark, very sweet flavor. It is Pure, Local and Raw.
Both maple syrup and honey will be available in pint and quart glass jars. Prices this year will be the same for both "Sweets":
Maple syrup: Pint $18 Quart $24
Honey: Pint (20 oz.) $18 Quart (40 oz.) $24
Recap reusable jar lids will also be available for $6.00.
They will be at Anchor Run from 1:00 - 6:00 PM on Thursday September 15th for tasting and pick up. Susan and Todd accept cash and personal checks made out to Augusta Acres.
Any questions and to pre-order please email Susan at susanklikus@gmail.com
Augusta Acres is a small sustainable farm located near the Delaware River in upstate PA. They practice organic methods, are members of Pennsylvania Association for Sustainable Agriculture, Pennsylvania Maple Producers Assoc., and The NE PA Beekeepers.
Ledamete Grass Farm's Monthly Market October 20, preorder now!
Ledamete Grass Farm
Ledamete Grass Farm will be at Anchor Run Farm for a market day on Thursday, October 20 from 1-5pm*!
*If you can't make that day/time, pre-orders can be left in the freezer for you to pick up on your next share day (you have 2 weeks to pick it up).
Order
Your Pastured Meats Today-
Deadline Midnight October 19!
100% Grassfed Beef
Pasture & Forest Raised Pork
Pastured Chicken
PRE-ORDERS
preferred but day of sales will be welcomed.
Ledamete Grass Farm Pasture & Forest-Raised Pork
We raise Tamworth cross heritage breed pigs, as they thrive in the forest and field and are known for their excellent flavor. In addition to forage, our pigs are fed local grain raised with organic methods, organic veggie compost, and grass-fed raw dairy products.
Ledamete Grass Farm Pastured Poultry
Our chickens and turkeys are raised on pasture with constant access to fresh bugs, herbs and grasses. In addition to the forage they find, we provide our birds with grain, grown and milled fresh by a local farmer who utilizes organic methods. The birds' access to fresh air, exercise, sunshine, green grass and bugs creates very delicious and nutritious meat!
Ledamete Grass Farm 100% Grassfed Beef
We raise Rotakawa Devon/Jersey Cross beef as they do very well on 100% grass. This meat is nutrient dense and delicious!