CSA Harvest #8: Happy Holiday Week
News
Notes From The Field
It's July
By Derek McGeehan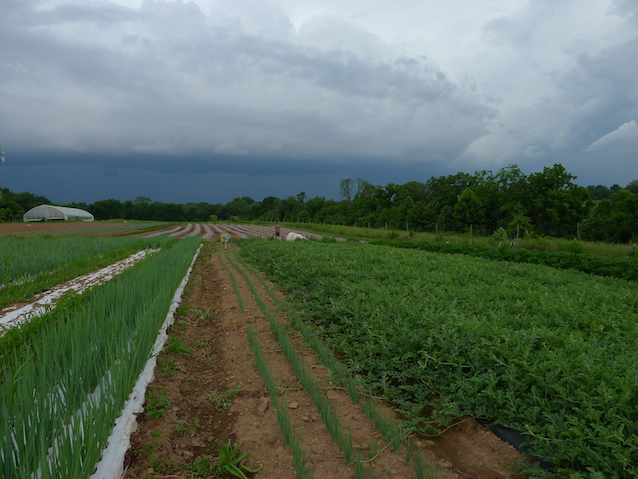 Rain was welcomed at the farm on Saturday evening and along with it we enjoyed some nice displays of lighting and a beautiful sky. It did chase us out of the field prematurely but safety always comes first. On the right in the photo is our monstrous bush of watermelon vines that appear to have been planted into some very fertile and well fed soil. Uphill and on the left is our allium patch of scallions, fresh onions, and storage onions. Thus far the health and vigor of the plants seems to have truly benefitted from the extra attention earlier in the season to deter various damaging insects. The white plastic repels some and the floating row cover was a barrier to others. The watermelon received extra attention as well. Of course it was started in the greenhouse, nurtured there for 4 weeks, then transplanted into raised beds covered in black plastic for heat and weed suppression. The aisles were manually covered with 4-foot wide landscape fabric that was stapled to the ground. Hoops and floating row cover then went over the entire patch to keep other bugs off the plants until they were truly established and flourishing. All of this is done in an attempt to have a great harvest. Growing organically is challenging and difficult, but with the right planning, tools, and resources, as well as a lot of extra work, it can be done successfully.
Expected Harvest
Out with the Old, In with the New
By Derek McGeehan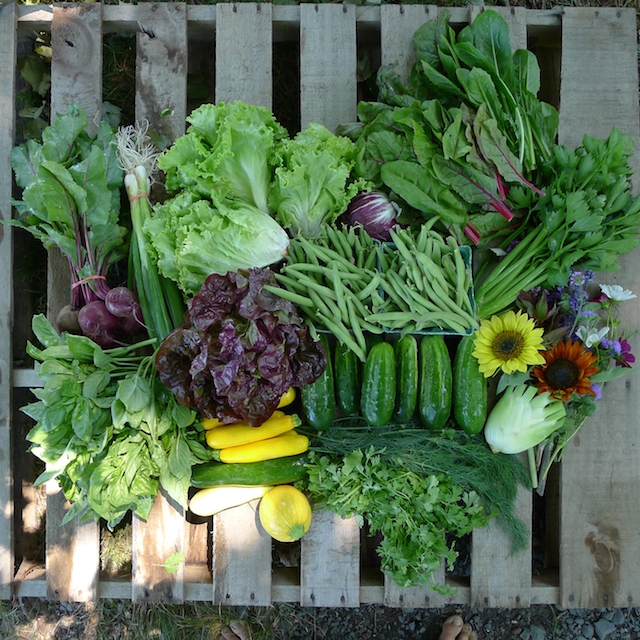 Harvest #8 (Week B) should include cucumbers, summer squash, celery, fennel, butterhead lettuce, mini lettuces, scallions, cabbage, hakurei turnips, beets, Swiss chard, Italian dandelion, kale, radicchio, basil, cilantro, and dill. Some items will be a choice. U-pick should include green snap beans, flowers, herbs, and maybe raspberries.

Quick note on the raspberries: They're less plentiful this year so we're unable to give everyone a 1/2-pint like we did last season. We just transplanted another 500 plants to increase quantities for next season (current patch was started with only 250 plants). Later this season we'll hopefully be able to enjoy an ample amount of blackberries. We promise to eventually perfect organic bramble berry production! Thank you for understanding.
Potluck Meal Saturday 7/8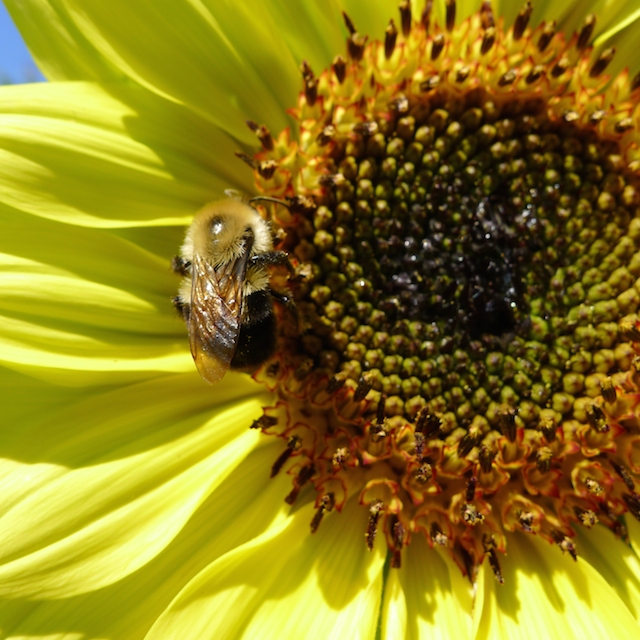 This bumblebee snacks on some nectar on a sunflower in the u-pick flower garden and will unintentionally transfer pollen so the sunflower can reproduce. Symbiosis!
Our next farm potluck meal is Saturday July 8th 6-8pm. Join us under the pavilion for a nice meal shared with your community. Bring a dish to share that is large enough to feed 4-6 adults, your own place settings, and any beverage of your choosing. A brief note/label next to your dish will be helpful to folks with dietary restrictions.

Hope to see you there!
Workshifts Scheduled for Week of 7/2/17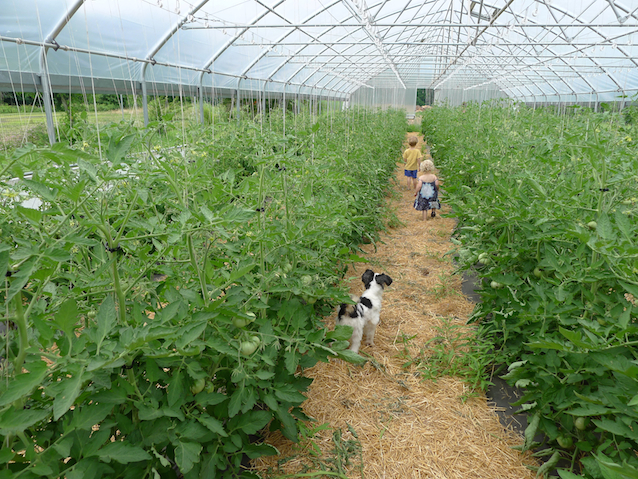 Heirloom tomatoes love growing in the protective high tunnel. Soon they'll be 8 feet tall and producing the best tasting tomatoes in this universe (they're pretty good)!
Workshifts this week:

Wednesday 7/5 10am-12noon
Wednesday 7/5 6-8pm
Friday 7/7 10am-12noon
Sunday 7/9 8-10am
Workshift sign-up instructions may be found
here
.
Thank you!
How I Enjoyed My Harvest
Member recipe
By Linda Dansbury
I had been thinking of writing something on how to use the herbs we are receiving and must have had some mental telepathy with fellow member Tina Nightlinger because she sent me the following email:
"With all the herbs that I got today, I thought this would be a good time to share my chimichurri recipe. I made mine tonight with mostly cilantro, but you can use whatever you have as long as it isn't too overpowering (like rosemary).
Blend
1/4 cup red wine vinegar with
1/2 teaspoon crushed red pepper flakes,
4 cloves garlic (scapes work well too), and
3/4 cup herbs (I usually use cilantro, basil, oregano, & parsley, but use whatever you like)
Transfer to a bowl and whisk in 1/2 cup of extra virgin olive oil. Don't do this in the blender. It will make the oil bitter. Add salt & pepper to taste.
Use it as a marinade and/or sauce for steak. It's also good as a salad dressing or mixed in a salsa. Put it on everything if you want. It's delicious. But it's probably only good for a week, so freeze excess or use it up".
Thank you Tina - it is a great way to use the herbs. I will also post this recipe to our site so it will be available for future searches. If anyone has an idea or question, please email me at lindadansbury@comcast.net and please put Anchor Run in the subject line.
Here are a few things that I made this past week:
Beets, scallions, tarragon, lettuces - made a beet salad. I roasted the beets and made a vinaigrette with Dijon mustard, red wine vinegar, olive oil, scallions, salt and pepper and tarragon. I peeled and sliced the beets and poured some of the vinaigrette over the beets and let the flavors go through. Then I placed some lettuces on plates and placed beets on top, added some fresh ground pepper, drizzled a little more of the dressing, and topped with bits of goat cheese and pecans. This is one of my husband's favorite salads and the beets keep in the vinaigrette for at least a week.
Summer squash, radicchio - grilled them and they were delicious! Brushed with olive oil, and when they were done, we sprinkled a little sea salt and pepper, a drizzle of olive oil and a few crumbles of local feta cheese - yum!
Green beans, scallions, basil - made a green bean salad - cooked beans until just tender and placed in large bowl. Added sliced scallions, chopped basil, some chickpeas, salt pepper, olive oil, red wine vinegar. Again, yum! And, we have enough for a couple days.
Assorted greens, garlic scape - made a dish that a member had sent me a few years ago. In large skillet, place some chopped onions and saute until tender. Add chopped greens, and saute until tender. Make little "wells" in the greens and then carefully crack an egg into each well. Place a lid over the skillet, and let the eggs steam in the pan just until the whites are set but the yolk is still runny. Serve with some added pepper and a nice piece of toasted bread,
Celery and Fennel New this Week
By Linda Dansbury
Very soon we will bid a sad farewell to beets, kale and romaine - all of which will make a return in the fall. But, we happily say hello to fennel and celery.

Celery is said to detoxify the body and lower blood pressure. Everyone knows about snacking on celery, either by itself or with some cheese, dip or peanut butter. Also added to potato salads. But, did you know that it is also delicious cooked? Check out the
Braised Celery
and
Italian Celery Soup
Recipes on this site. I have made both in the past and they are nice recipes. Make sure to store your celery in a plastic bag in the crisper drawer in your fridge or it will wilt quickly.
Fennel is high in vitamins C and B6, contains phytonutrients, plus has some chloresterol lowering properties. Fennel is eaten both raw and cooked - I prefer cooked fennel, or when used in a salad with other ingredients, but my Italian relatives always had it on the table during big holiday meals - they say raw fennel helps aid in digestion. This site has several fennel recipes. Try the
Roasted Fennel and White Bean Dip
,
Lentil Salad with Fennel and Herbs
,
Fennel, Radicchio and Proscuitto Salad
- actually, there are A LOT of yummy recipes on this site so try them!