CSA Week 13: About Halfway Through
News
Expected Harvest
Summertime Produce
By Derek McGeehan
Harvest #13 (Week A) should include scallions, fresh onions, carrots, cantaloupe, watermelon, lettuces, eggplant, sweet peppers, tomatoes, summer squash, cabbage, cucumbers, garlic, shishito peppers, hot peppers, parsley, Italian dandelion, Swiss chard, dill, okra, papalo, and cilantro. Some items will be a choice and/or may not be available during all pick up times. U-pick should include green string beans or yellow wax beans, cherry tomatoes, husk cherries, tomatillos, flowers, herbs, and hopefully blackberries.

Notes From The Field
Into August, Into Cooler Temperatures...
By Derek McGeehan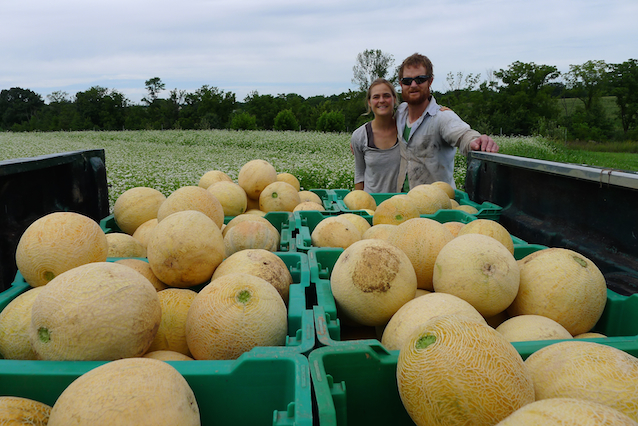 Snagging a photo of ourselves, sans kids, working outside on the farm, happens very infrequently these farming days, but this time we're all smiles after harvesting a satisfying amount of a cantaloupe-type melon, a crop we're still determined to grow successfully with good yields and good taste. The variety this year appears to be a winner, though there are so many variables affecting a crop that it's hard to say if it is specifically the variety. It could also be our extra attention, kind weather, fertile soil, or all of the above. When cantaloupe-type melons begin ripening the patch must be checked daily or every other day because they ripen very quickly, almost uniformly, and quickly deteriate outside.
Watermelon, on the other hand, are slightly less temperamental in our minds, tolerate slightly more stress, and can hold in the field much longer when ripe. Too much water on an almost mature crop, though, can quickly kill the plants leaving almost ripe fruit to fend for themselves under the sun. This year we grew two plantings of watermelon, one of which has already been successfully harvested and stowed and will be distributed over the next couple of weeks. Round two is about ready so hopefully it will tolerate the incoming moisture inundation.
Onions are 95% harvested and safely stored. Next on the harvest to-do list is embarking on the 10,000 feet of potatoes. We're anticipating a good crop this year.
Workshifts Scheduled for Week of 8/6/17
By Derek McGeehan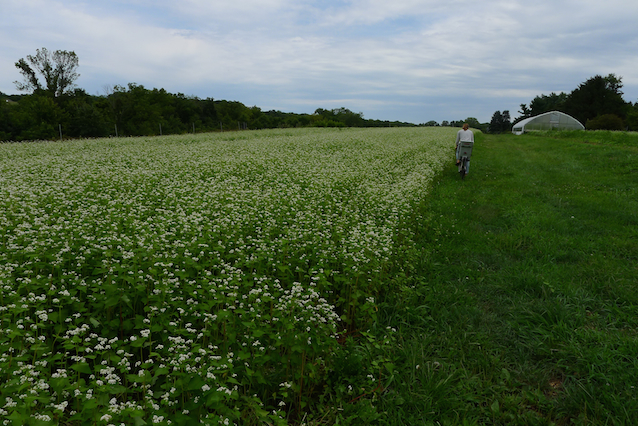 Flowering buckwheat cover crop
We're past the halfway point of the season for work hour opportunities. Workshifts will be scheduled through October but frequency will diminish in September. If you still need to work your pledged hours please consider signing up for a workshift soon. If you'd rather contribute financially to cover the work hour cost of your share please do so soon so that we can plan accordingly. E-mail us at anchorruncsa@gmail.com if you have any questions.Workshifts this week:
Wednesday 8/9 9-11am
Wednesday 8/9 2-4pm
Wednesday 8/9 6-8pm
Friday 8/11 9-11am
Sunday 8/13 7-9am
Workshift sign-up instructions may be found
here
.
Thank you!
Potential New Land Protein Partnership
By Derek McGeehan
We're sad to announce that our partnership with Ledamete Grass Farm is now over. But, we're excited to announce that we've connected with another local and Certified Organic pastured animal farm,
Hershberger Heritage Farm
, located in Sellersville, Bucks County, PA. Please peruse their website to find out what they offer and to learn more about them. They plan to come to Anchor Run Farm Monday 8/14, Thursday 8/17, Monday 8/21, and Thursday 8/24 to introduce themselves and sell their products. We'll share more details about this new partnership in upcoming e-mails.
How I Enjoyed My Harvest
Delicious Tomatoes
By Linda Dansbury
Kids having a great time at the potluck!
The time we all eagerly wait for is finally here - the height of the tomato season! No other part of the country anticipates this season like we do - and Anchor Run farmers do it as well as anyone. Delicious, juicy, colorful heirloom tomatoes, field grown hybrids and yummy cherry tomatoes. I didn't cook much this past week due to a death in my family, but I did eat a lot of tomatoes. Here are a few things I did prepare.
Tomatoes, garlic, herbs - made one of the
Uncooked Tomato Sauce
recipes from this site. This is so colorful, simple and delicious. The heat from fresh cooked pasta barely cooks the tomatoes. Make the sauce at least an hour ahead for best flavor.
Green beans, garlic, scallions, hot pepper - made a string bean stir fry. Mince garlic and finely chop hot pepper to taste. Heat a wok or large skillet with a little peanut or other neutral oil. Add garlic and hot pepper and stir fry until just barely turning brown. Add beans and keep moving them around, letting them char in the wok a little. Add a bit of water and cover, allowing beans to steam for a few minutes. Remove lid, add chopped scallions, stir in soy sauce and sesame oil. Plate and top with sliced Thai basil and a squeeze of lime.
Eggplant, summer squash, peppers - as usual I grilled them and ate one night. The new thing here is that I had a lot leftover and I put them in the fridge for a few days. The next time I cooked I put the leftovers back on the grill to heat them up and they were as delicious as they had been the first night.
Please share how you enjoyed your harvest by emailing me at lindadansbury@comcast.net.
Yummy Peppers
By Linda Dansbury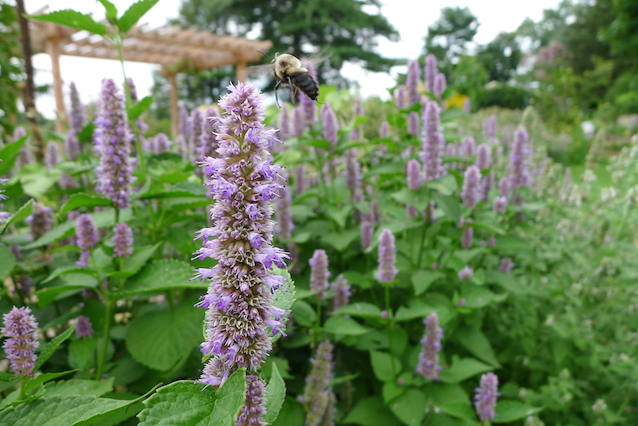 Bumblebee about to land on flowering anise hyssop in the herb garden
To me, having written these columns now for a dozen years or so (Yikes!), peppers seem to come into the pick up room with virtually no fanfare or celebration - tomatoes and fresh garlic get all the attention. But peppers are delicious, nutritious and pretty. They are typically added to dishes rather than being the star. Hopefully this year's crop will be plentiful and long lasting because peppers are very versatile. Take a look at this site and you will see several interesting recipes:
Eggplant Dip with Roasted Red Peppers
,
Pepper Puree
, several versions of
Roasted Red Peppers
, and more. Every year I make several batches of Roasted Red Peppers, usually with garlic, olive oil and a splash of balsamic vinegar. They keep well in the fridge and I use them in sandwiches, as a bruschetta, and mixed into salads with other hearty ingredients. Last year, fellow member Carolyn Lyday sent me an email about
Pepper Puree
, opening my eyes to new uses for this veggie. The puree keeps well and can even be frozen, giving meals in the middle of winter a nice fresh taste.
Store peppers in plastic in your fridge for best keeping. They will keep for at least 10 days.
I wanted to find a recipe in which peppers take center stage - so I searched and found
Grilled Pepper and Torn Mozzarella Panzanella
. Panzanella is simply a bread salad - I often have parts of delicious, rustic breads from the farmers market left over and this is a great way to use them. Most panzanellas are made with tomatoes, but I decided to try this one. I hope you like it. Send your ideas to me at lindadansbury@comcast.net