CSA Week 16: Best Weather Continues
News
Expected Harvest
Kale Returns, Watermelon Continues
By Derek McGeehan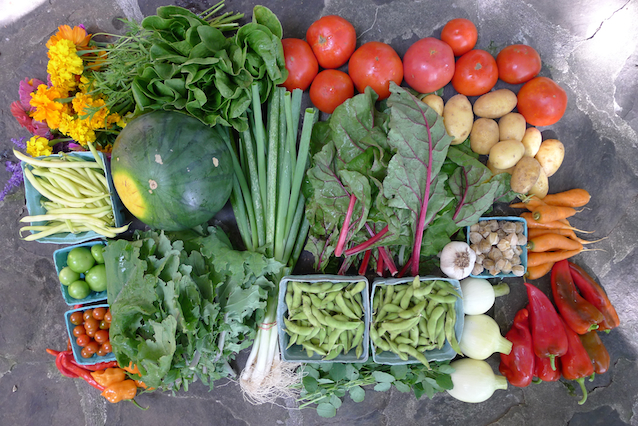 Harvest #16 (Week B) should include scallions, onions, sweet peppers, potatoes, carrots, kale, Swiss chard, Italian dandelion, lettuce, eggplant, tomatoes, watermelon, garlic, hot peppers, shishito peppers, okra, parsley, and cilantro. Some items will be a choice and may not be available during all pick up times. U-pick should include cherry tomatoes, husk cherries, tomatillos, edamame, yellow wax beans, flowers, and herbs.

Notes From The Field
And the Potatoes Are...Harvested
By Derek McGeehan
The above photo was actually taken a month or so ago when we were checking to see if the potatoes were ready to be harvested. In reality the kids didn't help harvest any potatoes this year, but about 60 CSA members and farm staff did, and we all are very thankful for the team effort.
A quick note on how to thoroughly enjoy the potatoes: cut in french fry shape, coat cookie sheet with olive oil, put potato slices on sheet single layer thick, drizzle a bit more olive oil on there, mix around with hands, sprinkle on salt, bake at 375 for an hour, and voila, the best homemade french fries ever (I promise)!
Some fun Anchor Run Farm potato facts:
- 8 varieties of potatoes were grown (Dark Red Norland, Satina, Nicola, Purple Viking, Harvest Moon, Elba, Strawberry Paw, and Butte). Two are early varieties, 3 are mid-season varieties, and 3 are late-season.
- 1750 pounds of potatoes were planted. 1500 pounds were purchased as official organic seed potato and 250 pounds were planted from our own stash.
- 6500 pounds of potatoes were harvested. The yield was just so-so this year, nothing epic. For us, an epic yield would be about 6 times the weight planted. The yield was much better in the part of the field that has been under our management longer, perhaps because of annual application of soil amendments. Blue potatoes yielded the worst while buff/yellow ones yielded the best (or perhaps are easier to see in soil).
- About 10,000 feet of raised beds were planted with a potato every foot on April 19th. The beds were cultivated in late-May and hilled in mid-June. Hilling the raised beds involves pulling an implement with that tractor that uses two sets of discs to pull the soil up onto the plants which gives the potatoes more room to grow.
Workshifts Scheduled for Week of 8/27/17
By Derek McGeehan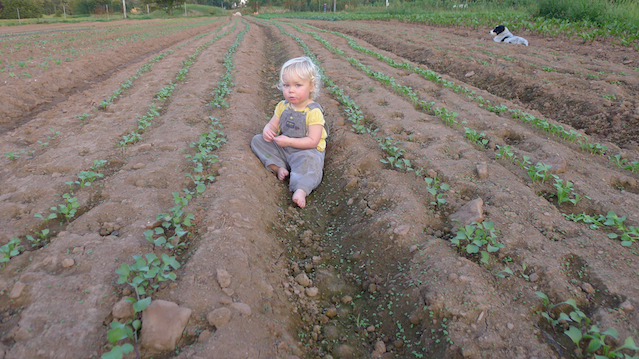 Direct seeded watermelon radish, purple daikon, white daikon, and hakurei turnips just coming up as a farm gnome and a farm dog look on.

We're past the halfway point of the season for work hour opportunities. Workshifts will be scheduled through October but frequency will diminish in September. If you still need to work your pledged hours please consider signing up for a workshift soon. If you'd rather contribute financially to cover the work hour cost of your share please do so soon so that we can plan accordingly. E-mail us at anchorruncsa@gmail.com if you have any questions.
Workshifts this week:
Wednesday 8/30 9-11am
Wednesday 8/30 5:30-7:30pm
Friday 9/1 9-11am
Sunday 9/3 7-9am
Workshift sign-up instructions may be found
here
.
Thank you!
Ode to the Farm
by Gia Yaccarino
The farm is my safe place. Recently, due to weather and my schedule, I had to do my U-Pick on Wednesday. That week had been a bit taxing and I recall the thought, on my way to the farm, repeating in my mind, "Just get to the farm. Just get to the farm." When my mind is racing, once I arrive at the farm, things slow down. My cell phone is only used to take a picture of the U-pick board and maybe some photos of the beautiful crops in the fields. Otherwise, I'm disconnected from the "demands" of my daily life. Sometimes, I do my U-Pick in solitude and it becomes a deeply meditative time. It's nothing I've planned – it just happens as I pick my share and I am so focused on the plants, the soil, the bugs! Other times, I see my "Farm Friends" – sometimes familiar faces and sometimes new ones! We chat about our lives, the crops, what we will do with our share. I swear I learn something new each time, whether it's a meditative day or a chatting day or a bit of both. And before I know it – I'm done with my U-pick for the week. Can time fly and slow down at the same time?
Recently, I have been reflecting on how I am at the farm - smiling, happy, relaxed, open to different ideas and discussions. I've decided that I need to let that person live outside the farm also. I need to try to regain my "farm calm" when life is getting me stressed. I probably won't go so far as to strike up a conversation with strangers at Acme (Security: Weird lady in aisle 3!) or be waving and smiling to other cars as I leave the Acme parking lot, but don't you think we would all benefit if we shared a little more of our "farm selves" with the rest of the world? Just a thought.
- Gia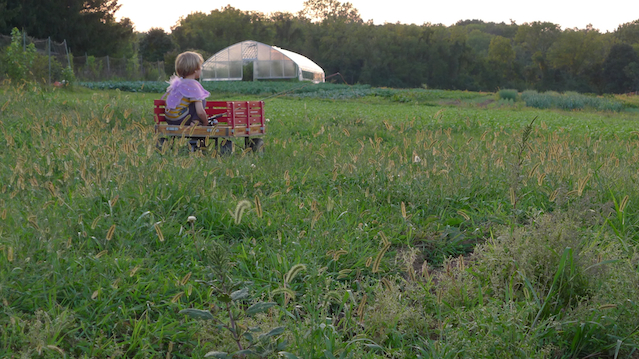 Yet Another U Pick Note
By Linda Dansbury
Don't waste this beautiful weather! Go outside and do your U Pick! Many probably think "I'll get back next time" - but with this cooler weather, opportunities for high quality U Pick veggies will decrease.
Again, the edamame are amazing this year, but a few plants are beginning to show signs of being past their prime so don't miss out! Again, I was able to get my allotment from just a few plants so it didn't take long at all.
The blackberries may be finished for the season. This year's harvest was an unanticipated bonus. The plants have only been in the ground since last April (2016). All of the berries this year were produced on canes that grew last season, their first in the ground. All of the big canes that stand 6 feet tall in the air on the trellising system will fruit next season which should mean greater yields and an easier time picking. Oh the anticipation!
Some of the flowers are starting to wane. Probably only 1 or 2 weeks of sunflowers are left, and with these cool nights the zinnias will also be trending downward - this has been the best flower year at the farm and I am so happy with the vases of color in my home.
The cherry tomatoes, although sparse now, still have a lot of little tomatoes on them. Don't give up - with the nice weather we are having, the tomatoes on the vines will be ripening without cracking.
Husk cherries and tomatillos will linger for another couple of weeks, but like all summertime produce, cooler temperatures and lessening daylight mean a decline in yields.
How I Enjoyed My Harvest
It can't get more delicious!
By Linda Dansbury
The amazing food goes so well with the gorgeous weather we are having. I made a few delicious dishes this week that I would like to share with you. Please send how you are enjoying your harvest to lindadansbury@comcast.net and put Anchor Run in the subject line.

Husk cherries, cherry tomatoes, scallions, chilies, garlic, sweet peppers, cilantro
- I finally made the
Fresh Husk Cherry Salsa
that Julianne sent to me. It is a bit time consuming because of husking and chopping the husk cherries and all the other veggies, but it was well worth it - this salsa is delicious. We ate half of it with tortilla chips and used the rest as a topping on fish. Yum!
Watermelon, tomato, scallions, chilies, mint, Thai basil
- prepared the
Watermelon and Tomato Salad
from this site - I made a large batch for a potluck dinner I went to and it was a huge hit. As a note, others brought salads using tomatoes and other fresh, local veggies, but this one was far more flavorful and delicious than any of the others.
Edamame - I haven't prepared anything yet, but did cook up the first batch and have been happily snacking on them. The next batch will likely get cooked and placed in freezer for future use.
Tomatoes, lettuce, scallions, garlic, herbs - I have been making salads that are about half lettuce and half tomatoes - don't think that just because we aren't getting a lot of lettuce right now that you can't have salads. Search this site to get some ideas.
Carrots, scallions, dill
- made the
Lemony Carrot Salad with Dill
from this site. It was a refreshing change from the other dishes we have been eating.
Sweet peppers, chili pepper, onions, garlic, tomato, Swiss chard/dandelion greens, herbs - made a frittata for dinner one night and had leftovers for a couple of lunches. One of the easiest dinners! Add or subtract what your family likes and add cheese if you desire. Dice and saute the veggies until fairly tender, adding the greens at the end. Meanwhile, preheat oven to about 400 degrees. Whisk 8-12 eggs and add milk, 1/2 n 1/2, or cream and whisk again. Add salt and pepper to taste. When veggies are ready, pour the egg mixture in and stir to evenly distribute the veggies in the egg mixture. Then, stop mixing. Let the eggs set on the bottom and then slide into the oven to allow the rest of the eggs to set up - at the end you can turn on the broiler to get the top nicely browned. Remove from oven and top with fresh chopped herbs and/or grated cheese.
New Crops: Cured Garlic and Okra
By Linda Dansbury
Garlic - we have now transitioned to cured garlic, so there is no longer the need to keep it in the fridge. Store in a cool, dry area and it should keep for quite some time.
Okra - this may be something you are only familiar with in Gumbo - a staple in the deep south. Okra actually translates to the word Gumbo! It is very perishable and won't keep for more than a week in the fridge. There is a light version of gumbo on this site called
Louisiana Shrimp Gumbo
that is delicious. There are several other recipes as well - a couple of my favorites are
Easy Indian-style Stewed Okra
and
Okra with Corn and Tomatoes.
Fried okra is also delicious - the method can easily be found on the internet. Just don't shy away from this strange looking veggie!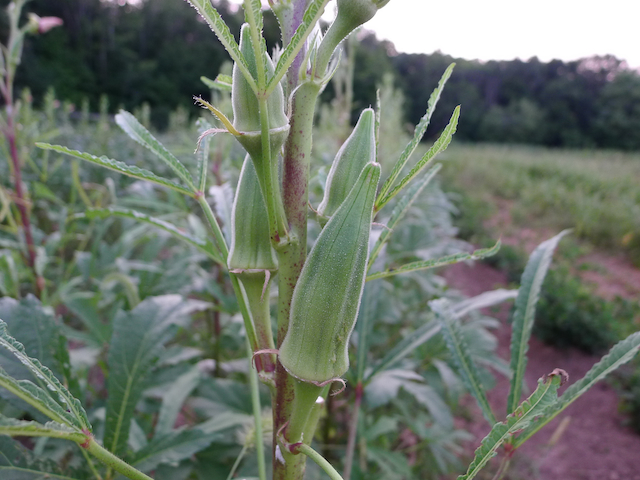 Do you need garden or yard help?
By Field Manager Hannah
Need help preparing your yard or garden for winter? Field Manager, Hannah, and Assistant Farmer, Pat, would like to bring their gardening skills to your home!

As fall approaches, work on the farm becomes less overwhelming, making us available to assist you with projects such as:
Plantings and Garden Implementation
Hardscaping
Fall clean up
Mulching
Mowing
Weeding
Leaf removal
Using our knowledge of sustainable plant care from Anchor Run, all of our work will have the health of your family and the environment in mind.