CSA Week 25: Thank You Members, We're Almost There!
News
Notes From The Field
November Already?
By Derek McGeehan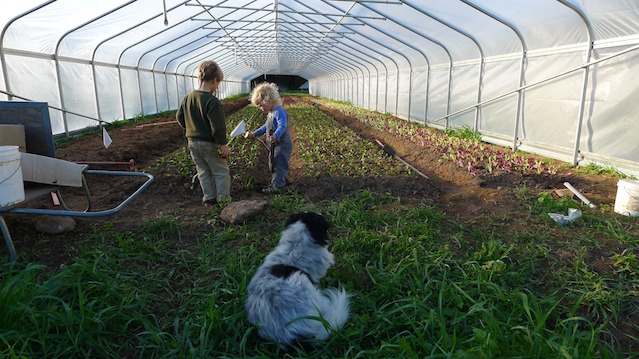 Time flies during our long (marathon) growing season. Three weekly pick ups for half a year for approximately 250 families each week and all of the preparations that go into growing high quality organic produce basically means there's no rest for the weary. But, hey, we like it! Of course, now that we're pushing harvests through the winter months means we're ever embarking on new challenges, such as how best to grow fresh produce in hoop houses and high tunnels throughout the cold months. Maybe eventually we'll have produce shares fully year round?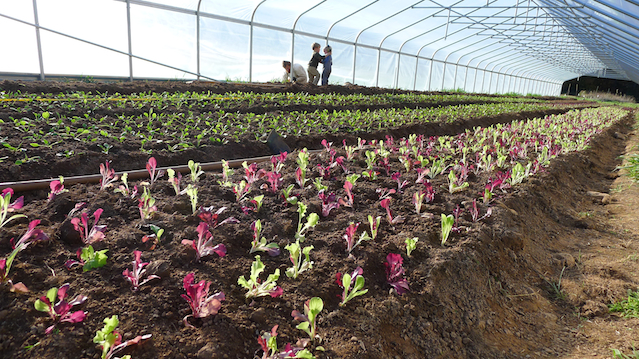 It's a labor of love that is possible and more meaningful because of the farm and business model we've been holding fast to thus far: Community Supported Agriculture. To be a fully functioning and successful farm for almost 15 years means that something is going well and right here and we hope that means we're providing you with the best possible produce we can grow with variety that pleases you.
We're ever grateful to you, our members, for your support. Your decision to be a part of Anchor Run means you are actively and directly fostering a healthy environment, local economy, and community. Thank you!

Expected Harvest
Second to Last
By Derek McGeehan
Share #25 is similar to #24 and we ran out of time for a new photo! Close up of lettuce mix instead.

Main Season Share #25 (Week A) should include sweet potatoes, onions, leeks, scallions, kale, Swiss chard, collard greens, Italian dandelion, arugula, greens mix, spinach, lettuce, hakurei turnips, radishes, beets, kohlrabi, celeriac, and herbs.
Workshifts Scheduled for Week of 10/29/17
by Dana Hunting
If you still need to work your pledged hours please consider signing up for a workshift soon! In other words, when you joined the CSA you purchased a share "with work discount" instead of a share "without working".
Now that we're into November, if you'd rather contribute financially to cover the work hour cost of your share please do so soon so that we can plan accordingly. And please don't feel guilty about it! The buyout option makes it fair for all members.
$60 covers the 4 hours for a Half Share; $90 covers the 6 hours for a Medium Share; and $120 covers the 8 hours for a Full Share. E-mail us at anchorruncsa@gmail.com if you have any questions.
Workshifts this week:
- Friday 11/3 10am-12noon
- Sunday 11/5 9-11am
Workshift sign-up instructions may be found
here
.
Thank you!
Join the Late Fall CSA and Winter CSA (2 seasons)!
by Dana Hunting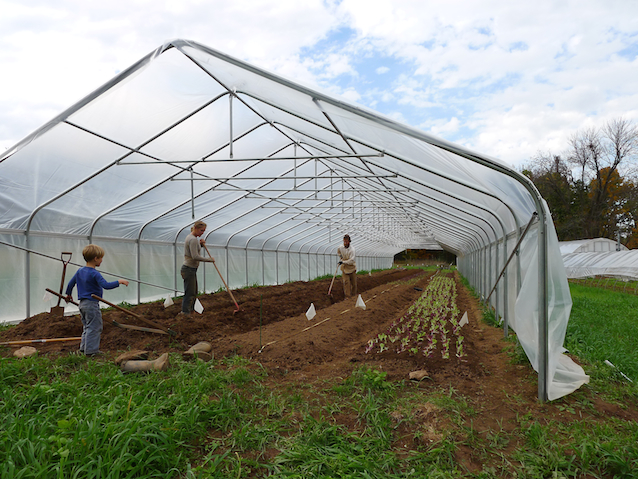 Lettuce (let us) grow produce for you this fall and winter! Affordable, abundant, organic, satisfyingly good, and nutritious vegetables! Why not?

Membership is still available for the 2017 6-week Late Fall CSA (mid-Nov through mid-Dec) as well as the 2017-2018 10-week Winter CSA (end-Dec through end-Feb). Click
here
for more information and to sign up!
Ugly But Delicious Celeriac
By Linda Dansbury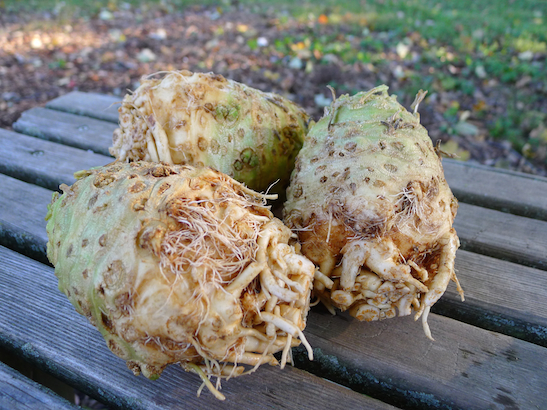 Celeriac is one of those veggies that if you are not familiar with it and you have a choice, you would probably choose to skip over it, but don't! It is delicious and nutritious. A sister to celery (actually a type of celery bred for its root), it is low calorie and fairly high in potassium and vitamin C.
Celeriac stores well in the fridge, lasting for months. Prepare it by carefully cutting away the tough, rough, outer covering (or skip the peeling part if you're like Derek and Dana and don't mind skin on your root veggies). Celeriac can be eaten raw or cooked. To eat it raw, make sure to get a "dressing" on it quickly or place in cold water with a squeeze of lemon as it oxidizes and turns brown the way potatoes and apples do when cut. Try grating some into coleslaw or making the French
Remoulade
which is light and delicious. There are many recipes for celeriac on this site for salads, soups, roasted veggies and more using this flexible root vegetable.
Two simple ways I enjoy it is to mix it with other roasted veggies - think a combo of some or all of the following: potatoes, sweet potatoes, leeks, garlic, winter squash, turnips, celeriac, cauliflower, beets, radishes, onions, etc. Just cut all the veggies up into a similar size and place onto a large baking sheet - drizzle olive oil, add salt and pepper to taste, mix well, and spread in a single layer. If you want, add a few sprigs of thyme or rosemary. Roast at about 425 degrees until veggies are tender and browned in spots - usually around 45 minutes. I also like it in what I call "mixed mash" - a combo of potatoes, sweet potatoes and celeriac - all boiled and mashed together - YUM!
How I Enjoyed My Harvest
Balance of Fresh and Storage Veggies
By Linda Dansbury
We are in that time of year when there is a nice balance of fresh veggies needing to be eaten fairly quickly and veggies that can be stored for weeks or even months. I find this an easy time - if we end up going out a couple of nights I don't worry about things going bad, and I don't have to scramble to use up all the greens. Shares will be similar to these through the Late Fall and Winter seasons. Below are a few things I made this past week. If you have anything to share, please send to me at lindadansbury@comcast.net
Spaghetti squash, Swiss chard, dandelion - this is so simple to do - perfect for a busy week night - and delicious too! Roast the spaghetti squash - I prefer this to microwaving as it results in even cooking of the squash and it is inactive cooking time, so you can do other things while it roasts. Cut in half, scoop out seeds and place cut side down in a baking dish. Add water to a half inch and place in a 425 degree oven for 35-55 min, depending on size of squash. When fork goes through skin fairly easily, it is done. Saute sausage (remove from casing) in pan until pink is gone. Add greens and chopped up hot pepper (mine was in freezer) or red pepper flakes to taste. Cook till wilted. Scrape the spaghetti squash into strands and split into bowls - shave parmesan cheese, olive oil, salt and pepper. Top with sausage mixture and top with more cheese, if desired.
Leeks, garlic, sweet potatoes, celeriac, cauliflower - roasted the veggies as described in my other article. Mixed roast goes with just about everything!
Onion/leek, garlic, greens - made a large batch of chili and added a few greens at the end.
Cauliflower, leek, parsley - made a very simple version of cauliflower rice. Just pulse in food processor until it resembles cous cous. Saute leek in large pan. When leek is soft, add the cauliflower and salt and pepper, continue to cook, stirring frequently until soft, 3-5 minutes. Remove from heat and sprinkle with parsley and lemon juice. We had it with roasted chicken.
Leek, edamame (frozen from my U pick), greens, parsley - made risotto, once again adding some greens at the end - I chopped the greens fairly fine, so they "melted" into the rice.
Member Ideas and Suggestions
Fall Vegetable Stew
By Linda Dansbury
Carrie Meunch sent me a recipe for
Fall Vegetable Stew
that she served with a side salad with a mix of spinach, lettuce, kale and scallions.
The recipe for the stew uses much of our harvests and should be thought of as a base recipe - you can add or subtract based on what is available.
Thank you Carrie for sharing - if anybody wants to share with the rest of membership, please email me at lindadansbury@comcast.net and please put Anchor Run in the Subject Line.