CSA Week 26: We Made It Together!
News
Notes From The Field
We Bid Thee Thanks and Farewell
By Derek McGeehan
At this conclusion to the Main Season CSA we say, think, write, and feel thankful to you, our CSA members, for your support, help, interest, trust, commitment, and sense of eating adventure. We recognize that a half year of local produce consumption can be quite a daunting task and that we're fortunate that you've asked us to be your produce farmers.
Without you and your support our CSA wouldn't be as successful as it has been for 14 years. We're grateful that every season we meet our membership goal, a number that is capped at 250 weekly member pick ups so that we can focus on growing the best produce for you that is potentially possible on our central Bucks County farm. We're not expanding our business or farm but are instead acquiring the experience and skills to properly serve our committed CSA members.
With your trust and support over the years we have the confidence to adjust our practices and shares to try to give you what you want in a CSA share. For obvious reasons it's impossible to please 100% of you 100% of the time, but we do try, trust me! We care about your opinions and want you to be able to eat our nutrient dense food to stay healthy and live an enriched life. Good soil = good food = good mind and body = good community. Thank you for allowing us to serve you!
Expected Harvest
You Decide
By Derek McGeehan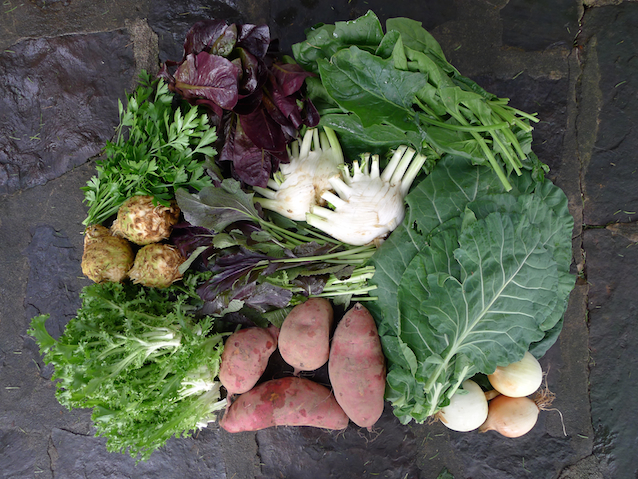 Harvest #26 (Week B) should include sweet potatoes, spinach, lettuce, a cooking greens choice of kale/collards/chard, a salad/cooking greens choice of arugula/greens mix/chicory, a root/bulb choice of beets/hakurei turnips/radishes/kohlrabi/celeriac/fennel, an allium choice of onion/leek, and an herb choice of probably parsley/sorrel. U-pick is over for the season to allow perennial herbs a chance to rest and prepare for winter dormancy.
Workshifts Scheduled for Week of 11/5/17
by Dana Hunting
Fall and winter lettuce mix transplanted into greenhouse Friday morning with help from CSA members during workshift.

Still owe work hours?
If you still need to work your pledged hours please consider signing up for a workshift very soon! Your opportunity to work will be over in a week or two (weather/jobs depending). We still have to plant and mulch the 2018 garlic and will need member help with that (exact date to be determined but we'll probably embark on it this week).
If you purchased a CSA share "with work discount" instead of a full price share "without working" it meant that you committed to helping out on the farm a set number of hours (Half Share=4hrs; Medium Share=6hrs; Full Share=8hrs).
It's no problem if you weren't able to get your hours in, it just means that you need to square your balance by contributing financially to cover the difference. And please don't feel guilty about it! The buyout option makes it fair for all members. It's also the main reason CSA share prices have remained the same since 2008!
$15/hour covers your missed hours.
Pretty soon we'll go through the member list and add the missed hours to your account so that when you sign in to the website you'll be able to see your new balance if you weren't able to work. We'll probably also e-mail you a reminder.
Contact us at anchorruncsa@gmail.com if you have any questions.
Workshifts this week:
- Tuesday 11/7 10am-12noon (garlic?)
- Wednesday 11/8 10am-12noon (garlic?)

Workshift sign-up instructions may be found
here
.
Thank you!
Remember To Sign Up For The Late Fall CSA!
by Dana Hunting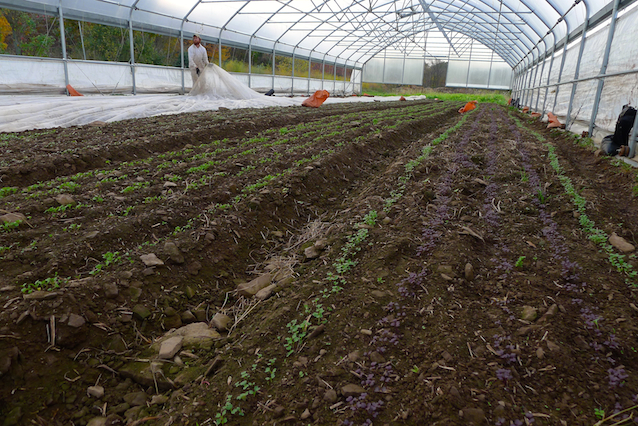 The first round of direct seeded kale, arugula, tatsoi, and red mizuna is coming up nicely in our movable high tunnel while the second round of greens gets covered and watered to assist germination. Most of these greens will be harvested in January and February.
As of this weekend produce shares are still available for the 2017 6th Annual 6-week Late Fall CSA (we're 75% sold out).

To join,
Log In
to the website. Not sure if you'll enjoy local cold season produce? A Late Fall Half Share is only a 3 week, every-other-week commitment and is a great way to provide produce for your holiday meals. Where else are you going to find organic and affordable sweet potatoes, potatoes, carrots, roots, and greens that taste this good? We promise to leave you satisfied!
Please click
here
for more information and share specifics.
First pick up for Full, Medium, and Week A Half Shares is Wednesday November 15th 1-8pm or Saturday November 18th 11am-12noon. Week B Half Shares start on Tuesday November 21st 1-8pm or Saturday November 25th.
Holiday Wreath Sale, Made by Farmers Hannah and Pat
by Hannah Stocker
Farmers Hannah and Pat would like to announce their holiday wreath sale!
They will be hand-making wreaths using materials from the farm and are taking orders starting today, November 5th. Hannah is a very experienced wreath maker extraordinaire!
If you have any questions contact Hannah at hannah.r.conner@gmail.com.
2017 Main Season Survey
by Dana Hunting
We've created a short anonymous survey that gives you the opportunity to shape your CSA by letting your farmers know your valuable opinion! Please fill it out for us so that we can better serve you, our CSA members.

How I Enjoyed My Harvest
Delicious Dinners
By Linda Dansbury
I am so happy with all the delicious veggies we are receiving and look forward to figuring out what to cook. At least a few mornings (or the evening before) I either go through a cookbook or search the internet to decide on what I can make for dinner that is reasonably easy/fast if it is a week night and of course it has to be delicious. Here are a couple of things we ate this past week.
Leeks, garlic, cilantro, hot pepper - I have a chef Ming Tsai cookbook that was given to me. The theme is one-pot meals and has sections focusing on different cooking methods. The recipes are generally healthy, incorporate a lot of the veggies we receive, and all that I have tried have been delicious. This one called for using a pork tenderloin, slicing it very thin and marinating the meat for 30 min in a mix of garlic, soy sauce, sesame oil, worcestershire sauce and thinly sliced hot pepper. Slice leeks lengthwise into thin ribbons. Stir fry the meat over high heat until nearly cooked, 4-5 minutes. Remove from wok. Add thinly sliced ginger and leeks and stir fry until leeks are nicely wilted, about 3 minutes. Add meat back into wok and mix everything up and heat the meat. Serve over whatever grain you like - we used farro and it was delicious with it. Topped with some cilantro.
Spinach, onion, rockfish (from Wild for Salmon), dill - placed a nice bed of spinach in the bottom of an oven proof dish large enough to hold the fish filets. Placed fish on top of spinach, then added dill, seasonings (people have given me various spice blends and I took this opportunity to use one of them), some veggie stock, slices of lemon and thin slices of onions, halved cherry tomatoes. Cover all with foil and place in a 400 degree oven for about 20 minutes. Served over whatever grain you like - we had quinoa.
Final week of Main Season
By Linda Dansbury
It is difficult to believe that 6 months have gone by already! Thank you to fellow members who took the time to send me your ideas and recipes. You are great cooks and I have truly enjoyed the recipes and the stories behind them!
Sorrel is one of the herb choices right now and you may not be familiar with it. It is a perenniel herb loaded with vitamins A and C. It has a tart, lemony taste. A classic French recipe incorporates it in a lemony sauce (without using lemons) used with fish. Sorrel soups are part of both French and Polish cusines.
For the amount we are receiving, you could make a little batch of sauce for fish, or do what I am doing: adding a few leaves to salads - it is very refreshing, or use in combination with spinach and/or chard in any recipe. It will keep in the fridge for a little over a week.