Welcome to the 2018 Main Season CSA
News
Expected Harvest
Harvest Time!
By Derek McGeehan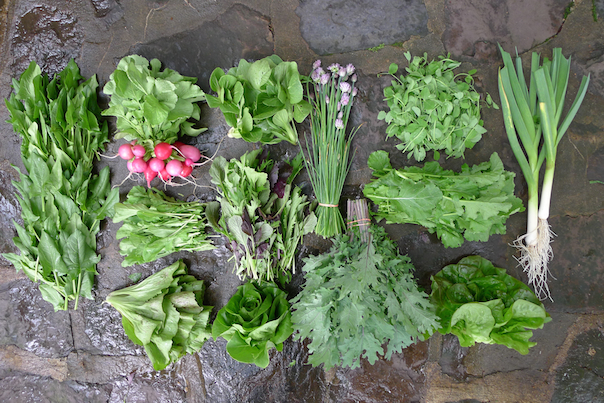 Main Season Harvest #1 (Week A) should include kale, lettuce, green garlic, chives, radishes, pea shoots, bok choy, arugula, greens mix, broccoli raab, romaine, radicchio, spinach, and hakurei turnips. Some items will be a choice. U-pick should include perennial herbs from the herb garden. Herbs ready for harvest should include mint, thyme, oregano, lemon balm, catnip, sorrel, and anise hyssop.
Please note that due to the weather there may be more variability in what we list here compared to what is actually available in the pick up room. It will match pretty closely but may not be 100% the same (could be more like 88.2% the same).

Notes From The Field
Out of the Rain and Into the Harvest
By Derek McGeehan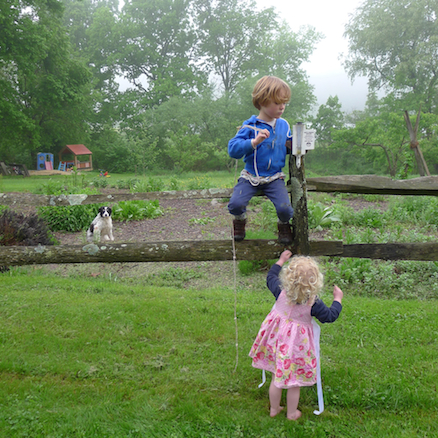 A lot of time was spent at the rain gauge this past week.
Hooray! Maybe the rain is finally over! Five inches were received last week, more than a typical month's worth. The crops - and farmers - will be happy to dry out a bit, hopefully with some sun and wind this week. Amazingly most of the crops seem to have tolerated the cool and moist weather and perpetually wet feet. Raised beds are a must these days. Amidst this auspicious time of harvest commencements we're not immune to extreme weather events though and there will most likely be some adverse effects that will reveal themselves. Certain crops are more sensitive to excess moisture than others, such as spinach.

Okay, enough with the weather - how about a 'hooray' for the start of the harvest season? This week officially begins the 2018 harvest season, the 15th season of Anchor Run CSA, our 10th here. We're excited to finally begin retrieving lots and lots of tasty spring crops from the fields. Specialties like green garlic, pea shoots, chives, radicchio compliment staples like kale, spinach, lettuce, radishes, and turnips. Some items are really bursting with growth and water and hopefully flavor.

Once the ground dries out just enough we have a busy week of cultivating, weeding, and transplanting crops such as basil, dill, cilantro, scallions, winter squash, sweet corn, eggplant, edamame, and lettuce. Last week we spent a lot of time push mowing, weed wacking, potting up, and weeding carrots. We worked outside when we could and inside when we had to. The farm's in good shape overall. See you soon!

Some Pick Up Information
by Dana Hunting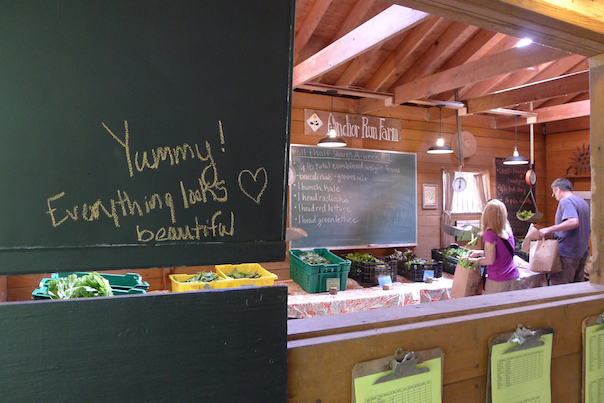 Anchor Run CSA pick up room and a nice note.
Pick up begins the week of 5/21/18 for Full, Medium, and Week A Half Shares. Week B Half Shares begin the following week of 5/28/18. We're open Memorial Day weekend and during all summertime holidays. Log in to view your pick up day/week or look at the e-mail that was sent and included all of that information.
Pick up days are Monday 1-8pm, Thursday 1-8pm, and Saturday 10am-12noon. When you signed up for a share you selected one of these days. Half Shares are also designated Week A or Week B. If you're a returning member you have the same week as last year. If you're a new member you've been assigned Week A or Week B. Log in to view your pick up day/week or look at the e-mail that was sent and included all of that information.
It is very important that you come on your correct and assigned pick up day because we harvest specific amounts for the number of members coming on that day. Sign in sheets are provided by the pick up room when you arrive to collect your share. Log in to view your pick up day/week or look at the e-mail that was sent and included all of that information.
Sign in when you arrive. Sign in sheets are located on the left in the barn hallway just outside of the pick up room.
You can temporarily switch your pick up day/week by e-mailing us by 5pm Sunday prior to your pick up week.
Allotments for the farmer harvested share and u-pick portion will be specified on the blackboards in the pick up room. Staff will be available in the pick up room to assist new members.
U-pick can be collected any day of your pick up week Monday-Sunday 8am-8pm. Weekly u-pick allotments are specified in the pick up room on the u-pick board.
Bring your own bags and scissors and wear appropriate farm footwear. Please be courteous in the pick up room and in the u-pick fields.
Parking is available in the large stone lot at the end of the driveway. Parking next to the barn is available for handicapped persons and for cars with sleeping kids.
Driveway speed limit is 10mph.
The bridge immediately north of the farm on 2nd Street Pike (route 232) is temporarily closed for repairs. Alternate routes abound if you're approaching from that direction. If heading south on 413 from Buckingham take a right on Township Line Road, a left on Cherry Lane, then a left on 2nd Street Pike. If heading north on 413 from Newtown take a left on Penns Park Road then a right on 2nd Street Pike. If heading south on route 232 from New Hope it looks like taking a right on Pine Lane to Township Line Road is best. Consult Google Maps for more help. The bridge is scheduled to reopen in June.
If you still have a balance, please remit payment no later than June 1st, 2018. You can mail it or give it to Becky in the pick up room.
Workshifts for Week of 5/21/18
by Dana Hunting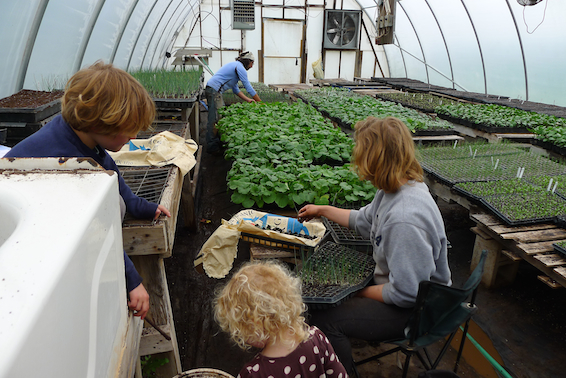 Potting up 6,000 leeks in the greenhouse gave Hannah and Craig a lot to do on rainy days.
Workshifts scheduled for this week:
Tuesday 5/22 10am-12noon
Wednesday 5/23 10am-12noon
Friday 5/25 10am-12noon
Sunday 5/27 10am-12noon
Workshift sign-up instructions may be found
here
.
Workshifts typically meet under the large red maple just outside of the pick up room. Please wear appropriate clothes and footwear for working outside and bring your own gloves and water.

Thank you!
Eating/Cooking Local
By Linda Dansbury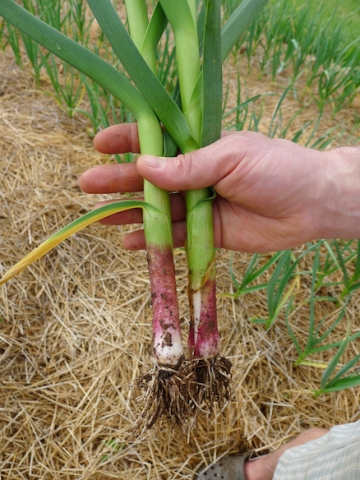 Green garlic, a spring treat. The entire plant should be eaten at this stage.
The 2018 main season commences this week - telling us it is truly and finally spring! Welcome (back) to the farm. For new members, this is the place to watch for storage and preparation information on the produce we receive each week from the farm. Starting next week, I will have a weekly column called "How I enjoyed my Harvest", which is meant to provide ideas to you on how to incorporate the delicious veggies into your meals. My sections of the newsletter are meant to be collaborative and I encourage members to email me with ideas, recipes and questions about the harvests we receive. Please email me at lindadansbury@comcast.net and please put Anchor Run in the subject line so I can find your email.
For this week's harvest, we have a couple of items you may not be very familiar with: pea shoots, green garlic, fresh chives.
Pea shoots are a lot of fun to use - they have a mild pea flavor and look really pretty in any dish. Add them to the lettuce in your salads - the best way to taste the freshness is to dress very lightly - a little fresh squeezed lemon juice and mild flavored oil, salt and pepper is all you need (this is also true with the early lettuce we receive). Another option is to gently stir fry the pea shoots. A very simple method - slice the green garlic and a chili pepper or red pepper flakes if desired, swirl it around in the oil for a few seconds. Ginger can also be put into the pan at this point. Add the pea shoots and swirl them around until barely wilted - don't cook for long because you don't want to destroy the delicate flavor. Remove from heat and drizzle a little soy sauce or sesame oil and fresh ground pepper, mix and enjoy.
Green garlic - I am excited to receive this item this year! The immature garlic bulbs and edible green stalks/leaves have a nutty-oniony flavor that is great fresh or cooked. Substitute green garlic in recipes for onions, scallions or leeks. The young, tender cloves don't need to be peeled before chopping. Slice and use in potato salad or mince and stir into salad dressings. Toss some in a stir-fry, on a pizza, or in soups. The light garlicky flavor enhances dishes without overpowering. Flavor-wise, one stalk and bulb of spring garlic is equivalent to a small onion, or a leek and one clove of mature garlic. Refrigerate.

Chives - these can be eaten in salads or cooked in any dish that calls for a member of the allium family (onion, leek, garlic). The purple flower is a bit more pungent than the green stalk/leaf.

Enjoy the first harvest!
Hershberger Heritage Farm Here on Thursdays 1-5pm
by Dana Hunting
Hershberger Heritage Farm
will be at Anchor Run Farm 1-5pm on Thursdays during the harvest season to sell their organic and pastured poultry, meat, and other land proteins. Peruse their website for more information.
Upcoming Events
by Farmer Dana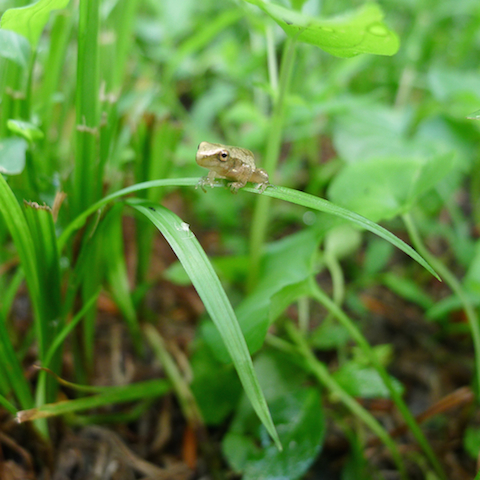 This baby tree frog wants you to come and enjoy the farm and join us for our potluck!

Saturday July 14th 6-9pm: Potluck under the pavilion