CSA Week 19: Weather Connection
News
Expected Harvest
What's Good
by Farmer Derek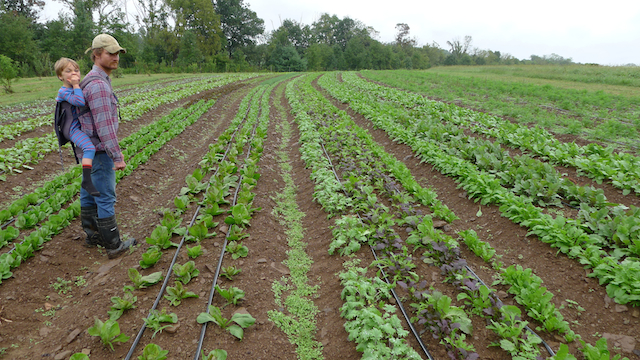 Assessing fall crops in Field 7c a week or so ago. Carrots, watermelon radishes, daikon radishes, rutabaga, hakurei turnips, arugula, greens mix, kale, radicchio, lettuce, dill, cilantro, parsley, fennel, spinach, chard, napa cabbage, kohlrabi, and bok choy. It's a cosmopolitan field.
Harvest #19 (Week A) should include beets with greens, potatoes, leeks, onions, garlic, tomatoes, lettuce, greens (kale, dandelion, endive), herbs (dill, cilantro, parsley), sweet peppers, hot peppers, okra, eggplant, carrots, and celeriac. Some items will be a choice and some may not be available during all pick up times. U-pick should include husk cherries, tomatillos, herbs, and flowers.
*<>*We're doing our best to ensure a steady flow of produce from the fields to the pick up room. Suffice it to say it has been a very challenging growing season, mostly due to excessive rain (probably will end up being our wettest season in 10 years). Up until now we've felt fairly pleased with the overall yield and harvest of most of the crops considering the adverse weather but right now we are noticing slow and stunted growth of some of our early fall staples that typically begin yielding extremely well by now such as savoy cabbage, broccoli, kale, chard, spinach, arugula, and greens mix. There has been an obvious slow down in growth the past few weeks due to an absent sun and too much moisture. We hope from your perspective that the pick up room produce has been satisfactory and that you understand the connection between weather and farming. We do apologize for this inconvenience and will think critically for ways to avoid this problem in the future.*<>*

Notes From The Field
Just Another Challenge
by Farmer Derek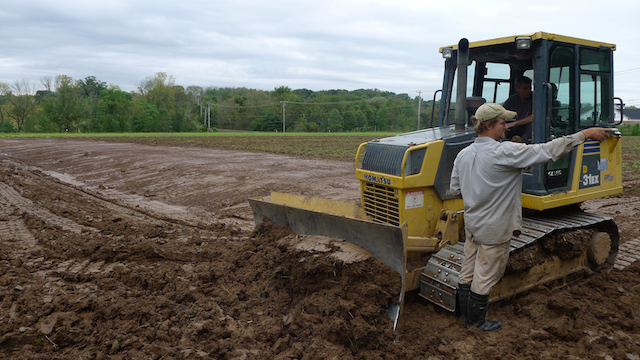 Conferring with our excavator who's putting some finishing touches on a diversion after installing a thousand feet of waterway in a troublesome field on a misty, soggy Sunday afternoon.
A new astronomical season, a new week, another flash flood, incoming additional rainfall and a lack of sunshine. So comes it, so goes it. One of these days, weeks, seasons the weather I'm sure will be more agreeable to growing organic crops. For now all we can do is our best work physically while mentally working through these challenges and occasionally accepting defeat and understanding factors that are currently beyond our control. The only way I can think of to temper the floods is by increasing the number of tunnels we have on the farm so we can grow more crops inside. Other than that, we're already underway working on water management by creating swales and berms to funnel the water away from susceptible areas to where we want it to go. Nothing solves the entire problem but all options for weathering the weather need to be addressed. The only thing worse that overly wet weather is cold wet weather and cold wet soil. And into autumn we go.

There is still much to appreciate and be thankful for and I'm trying my best to focus on whatever those things might be. This isn't the first exceptionally difficult and wet year we've endured and I'm sure it won't be our last. The best we can do is learn from it and adapt. Is it a changing climate and a harbinger of future conditions? Is it a cyclical anomaly? All the above, none of the above, whatever, we'll try to figure it out. Like I said some other time before, in 30 years we'll be perfect farmers and this will be a perfect farm. Just in time for someone else to take the reins (or the rains).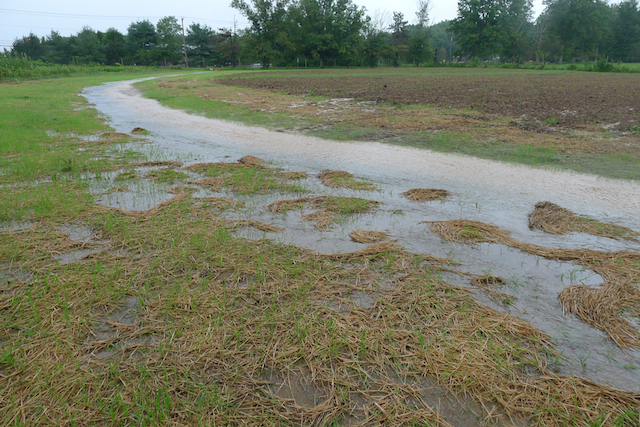 Completed waterway in Field 2 was up to the challenge of 3" of rain and another flash flood.
Final Potluck of the Season - 10/6/18
by Farmer Dana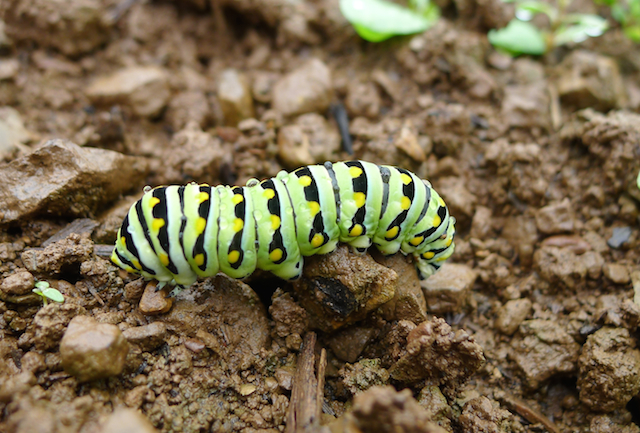 Will this swallowtail butterfly caterpillar larva be at the potluck?
Help us celebrate the conclusion of our 10th season at Anchor Run Farm by joining us for a shared meal under the pavilion. Bring a dish to share that serves 4-6 adults, your own place settings, and a beverage of your choice. We'll have a small fire after the meal. Musical instruments and voices for singing are very much welcomed.
Workshifts this Week (9/24-9/30)
by Farmer Dana
At least farm dog Borchie is smiling despite the weather.
Workshifts scheduled for this week:
Wednesday (9/26) 10:00am-12:00noon
Friday (9/28) 10:00am-12:00noon
Sunday (9/30) 9-11am
Workshift sign-up instructions may be found
here
.
We're quickly approaching the end of farm work opportunities so please consider signing up soon for a workshift if you chose the work discount option for your share. If you chose the discount but don't think you'll be able to fulfill the work obligation simply send us a check to cover the hours/balance (4 hours for a half share, $60; 6 hours for a medium share, $90; 8 hours for a full share, $120; or $15/hour if you worked partial).
Thank you!