CSA Week 21: Harvesting Together
News
Expected Harvest
Fall Flavors
by Farmer Dana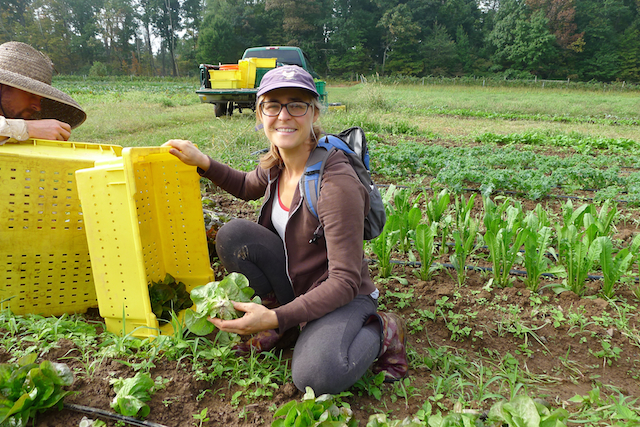 Harvesting mini lettuces in soggy weedy Field 1.
Harvest #21 (Week A) should include garlic, onions, leeks, broccoli, savoy cabbage, roots choice (beets, celeriac, radish), potatoes, herb choice (cilantro, dill, chives), head lettuce, cooking greens choice (chard, kale, dandelion), salad greens mix/choice (lettuce, endive, arugula), tomatoes, sweet peppers, hot peppers, green tomatoes, and eggplant. Some items will be a choice and some may not be available during all pick up times. U-pick is probably finished for the season as we return crop residue to the soil, sow cover crops, and give perennial plants times to prepare for the winter.

Notes From The Field
Into The Mistic
by Farmer Derek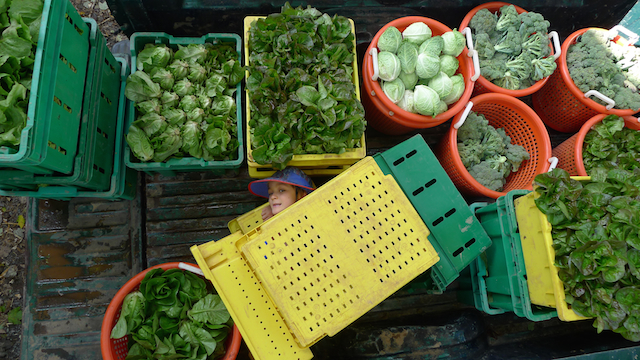 A portion of Thursday's harvest.
The final 6 weeks of the Main Season CSA are here. Twenty harvest weeks, about four-and-a-half months, have gone by. We've persevered through all types of weather but mostly a lot of rain (record breaking). We've had a few heat waves and some weeks of dry soil when we actually had to irrigate (what?). We've endured days and weeks of gray misty weather. Harvests have been good and fairly consistent but nothing has been epic. Some crops didn't perform as well as we would have liked but that can mostly be blamed on the excessive rainfall. Tomatoes produced well and over a long period and onions and leeks have performed well. The summer carrot harvest was big and we probably distributed them for longer than we ever have. Fall carrots should arrive later this month.

We're now focused on harvesting the remainder of fall storage crops like sweet potatoes, carrots, watermelon radishes, daikons, rutabaga, kohlrabi, and beets. We also turn our sights indoors as we prepare for and transplant and direct seed crops into our 4 tunnels for fall and winter growing. We have one more window of opportunity to sow cover crops before the next rain event; after that they won't grow enough to protect the soil over the winter. Last week with the help of multiple workshifts we put a serious dent in weed pressure but of course that will stay on our radar.

Broccoli has slowly started to mature and we're hopeful that it will increase in volume so that everyone gets a taste. Cauliflower should mature soon and with luck will be bountiful. Regular cabbages appear to be slightly stunted from the moisture but napa cabbage seems to be thriving and sizing up nicely. Chicories like endive, escarole, and dandelion as well as fall lettuces have tolerated the fall weather miraculously. We're anticipating an increase in greens for the last six weeks of harvest as well as a continuous assemblage of miscellaneous fun fall roots. Potatoes and sweet potatoes should round out shares (sweet potatoes need to cure for two more weeks and will be distributed starting with week 23).

We hope you enjoy your CSA shares!

Workshifts this Week (10/8-10/14)
by Farmer Dana
Buckwheat and daikon radish cover crops working to improve and protect the soil.
Workshifts scheduled for this week:
Tuesday (10/9) 9:30-11:30am, 1-3pm, 5-7pm **harvesting carrots and sweet potatoes!
Wednesday (10/10) 9:30-11:30am, 1-3pm, 5-7pm **harvesting carrots and sweet potatoes!
Friday (10/12) 10:00am-12:00noon
Sunday (10/14) 10:00am-12:00noon
Workshift sign-up instructions may be found
here
.
We're quickly approaching the end of farm work opportunities so please consider signing up soon for a workshift if you chose the work discount option for your share. If you chose the discount but don't think you'll be able to fulfill the work obligation simply send us a check to cover the hours/balance (4 hours for a half share, $60; 6 hours for a medium share, $90; 8 hours for a full share, $120; or $15/hour if you worked partial).
Thank you!
CSA Shares Available for Late Fall, Winter, and 2019 Main Season
by Farmer Derek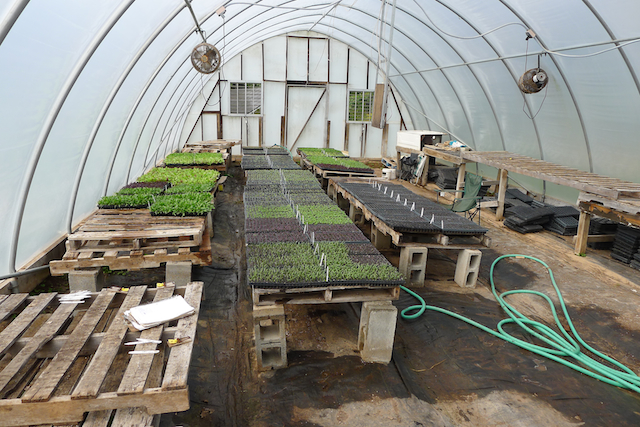 Finished flat seeding this past week. Been seeding every week since the last week of February. One more outdoor seeding to do. These crops are destined for the tunnels to be eaten this fall and winter. Seen here are 3 rounds of spinach; 5 rounds of lettuce mix; 2 rounds each of kale, mizuna, and red mizuna; and 1 round of cilantro and parsely.
Thoughts on Storage and Use
By Linda Dansbury
Derek talked about there being less broccoli and what we receive is lower quality - well, I
ate my broccoli last night, and it is as sweet and delicious as any broccoli I have had.
I have observed and talked about needing to use the farm broccoli quickly after receiving it - it is so delicious the the cabbage worms love it too! They hide on the green stems and will keep eating, even in the fridge, causing the broccoli to rot. So eat it fast or carefully check it for green worms and remove before storing up to a week.
Due to the continual rain, the greens are wet when we receive them. This causes things to go bad faster in the fridge. I have found the greens keep their quality longer if I place paper towels or thin towels in the storage bags to absorb the excess water. Even better than bags, I have a large plastic container with paper towels on the bottom to store my salad greens. They keep quite well this way.
How I Enjoyed My Harvest
Eat Your Squash
By Linda Dansbury
I have been away a lot recently, as you have probably gathered from the lack of my writings. When I am home, I find myself making a lot of veggie stews to use things before they go bad. I basically take the
Caponata
technique and gradually add whatever I want to use and adjust the seasonings to mix up the flavors - so one week it might be slanted toward Italian or Spanish and the next week it leans toward Middle Eastern.
The delicious greens are back so large salads are welcome - use a blend of greens - endive, escarole, dandelion and mixed greens added to the mini lettuce adds texture and flavor to salads.
Potatoes, onions, carrots, garlic, Hershberger short ribs - the cooler weather had us making a long braised dish. Yum!
Tomatoes, onions, basil - made tomato sauce, very simple and basic. I had frozen some tomatoes when I had more than I could use, and used a combination of fresh and frozen ones to make sauce.
Carrots, onions, leeks, garlic, herbs, chicken - I came down with a bad cold this week, so I made chicken soup! Made me feel better almost instantly.
If you have an idea you would like to share with fellow members, please email me at lindansbury@comcast.net and please put Anchor Run in the subject line.