CSA Week 23: Sweet Potato Surrender
News
Expected Harvest
October Thanks
by Farmer Derek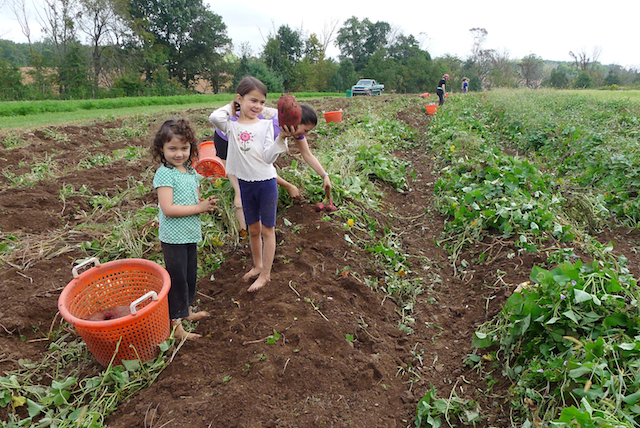 Marveling a mammoth sweet potato.
Main Season share #23 (Week A) should include sweet potatoes, garlic, onions, leeks, roots (beets, kohlrabi, daikon, celeriac), salad greens, cooking greens, herbs (dill, cilantro, parsley), radicchio, mini lettuce, fennel, tomatoes, sweet peppers, hot peppers, and rosemary. Some items will be a choice and some may not be available during all pick up times.

Notes From The Field
Winds of Change
by Farmer Derek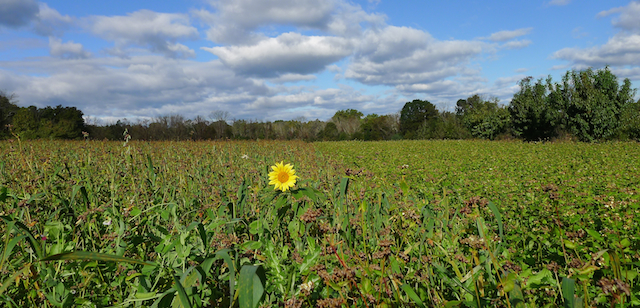 Solitary sunflower in a sea of buckwheat, oats, and daikon radish cover crop.
The monsoon season having departed, we're now entering the windy frosty season. So far we had two very light frosts and are hopeful for nothing too heavy too soon. Tomatoes are out of the field as well as the tunnels but we still have sweet and hot peppers rolling in from outside. These are the last of the summer crops that we're coaxing along, plants that may succumb to a hard frost. Traditional fall crops tolerate light frost but when temperatures begin to dip below freezing damage can occur on unprotected leaf tips of greens. We have low and high tunnels to carry us along so we're not overly concerned but don't want to have to contend just yet with frostbite on our fingertips as we harvest.
Sweet potato distribution commences this week and we're pleased that we had good yields of such a tasty and nutritious crop during this most difficult of growing seasons. We grow these in very high raised beds which probably allowed for their success due to increased drainage ability. After curing in a warm and humid room for a couple of weeks they're now ready to be eaten, so sweet and delicious are they.
We're slowly filling up our four tunnels with fall and winter greens. Within the next 2-3 weeks they'll be filled to capacity with spinach, lettuce mix, kale, arugula, mizuna, cilantro, and greens mix. We make four succession plantings to spread out the harvest. Additionally, we erected low tunnels in the field to cover more than 1000 feet of beds of greens we're hoping to speed along for a harvest in 2-3 weeks. Do crops grow faster with sun and lower temperatures or heavy clouds, mist, and warmer temperatures?

Workshifts this Week (10/22-10/28)
by Farmer Derek
Wonders of the fields, farm creatures galore! Come be a farmer for a few hours!
Workshifts scheduled for this week:
Tuesday (10/23) 10:00am-12:00noon
Wednesday (10/24) 10:00am-12:00noon
Wednesday (10/24) 6:00-8:00pm **Garlic processing in barn**
Friday (10/26) 10:00am-12:00noon
Sunday (10/28) 10:00am-12:00noon
Workshift sign-up instructions may be found
here
.
We're quickly approaching the end of farm work opportunities so please consider signing up soon for a workshift if you chose the work discount option for your share!

If you chose the discount but don't think you'll be able to fulfill the work obligation simply send us a check to cover the hours/balance (4 hours for a half share, $60; 6 hours for a medium share, $90; 8 hours for a full share, $120; or $15/hour if you worked partial).
Thank you!
Maple Syrup & Honey For Sale Monday 10/22
by Farmer Dana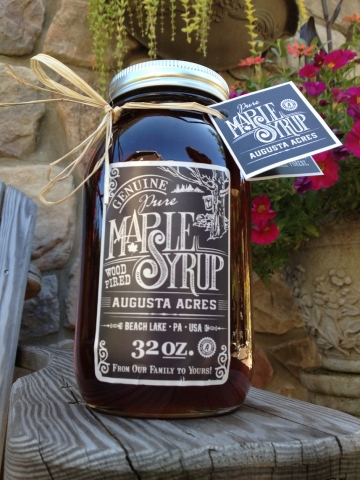 Susan and Todd Klikus of Augusta Acres Farm will be at Anchor Run CSA on Monday, October 22nd 1:00-6:30pm to share and sell their maple syrup and honey!

Augusta Acres is located in Beach Lake, PA and is a family-run operation. They farm using only organic methods and are members of Pennsylvania Association for Sustainable Agriculture and the Pennsylvania Maple Producers Association.
Sap from trees located strictly on the farm is boiled down in small batches on their wood fired arch to produce a maple syrup that is dark and robust.
Holiday Special: Buy 3 get the 4th for half price for both pints and quarts of maple syrup.
Their honey is extracted from on-farm apiaries and is an "all season", raw honey which is dark and very sweet.
Pints are $15; Quarts are $24.
Cash, checks, and credit cards are acceptable methods of payment.
Questions and to pre-order, contact Susan Klikus directly at susanklikus@gmail.com
If you can't make it to the farm this Thursday during those hours and you would still like to participate in this opportunity contact Susan at susanklikus@gmail.com and she will set aside your order to pick up on your regularly scheduled pick up day.
Wild For Salmon Buying Club Time
by Farmer Dana
The Anchor Run CSA Wild For Salmon buying club is open for ordering!

"Wild For Salmon is a fishermen owned business that makes fresh/frozen wild Alaskan sockeye salmon available to you at a common good price. Because we are the fishermen and we are local, we are able to provide you with the highest quality, flash/frozen, Alaskan sockeye available. Wild For Salmon is owned and operated by Steve and Jenn Kurian of Bloomsburg, PA."
Order by October 23rd.
Pick up date & time: October 25th, 1-8pm.
Pick up the farm.
For more information, click here.
How Sweet it is!
By Linda Dansbury
Sweet potatoes that is. Farmer Derek indicates it was a really good sweet potato harvest (I guess they like it wet??)
Sweet potatoes are delicious and healthy, packing 400% of daily requirement of vitamin A, plus a really good source of fiber and potassium. A baked sweet potato is only approximately 100 calories! The skin is also edible.
How do you store them? NOT in the fridge and NOT next to onions. Sweet potatoes like it best in a dark place, at between 55 and 60 degrees. For me, right now that is in the garage, but I have to watch the temperature carefully because this will change to the basement in a short time.
The sweet potatoes will not be washed before we receive them, because they store much better unwashed. Look over the potatoes carefully when you get them home. If any of them have cuts in the skin, make sure you cook them soon.
If you don't have a good place to store them, here is an option:
Cook until almost tender, and let cool. Peel and cut in halves or slices, or mash. Dip in a solution of ½ cup lemon juice to 1 quart water to prevent browning, or if mashing, add 2 Tablebspoons lemon juice per 1 quart of sweet potatoes. Place in container with ½-inch head space and freeze. Baked sweet potatoes can also be frozen slightly under cooked and wrapped in foil, then put in a container, with final cooking completed when ready to eat.

Sweet potatoes are delicious baked (eat the skins!), mashed and roasted. One of our favorite "mashes" in my house is a combo of sweet potatoes, potatoes and celeriac. Sweet potatoes will need less time to boil so start the pot with potatoes and celeriac first and add the sweets after a few minutes, or cut the potatoes and celeriac into smaller pieces.
Roasted alone or with other veggies is another favorite - try a combo of sweet potatoes, celeriac, beets, leeks, garlic and rosemary. Roast at about 400 degrees. Cut everything into equal sized pieces, drizzle with a little olive oil, salt and pepper and mix together. Spread on large cookie sheet in a single layer. Roast, turning veggies about every 15 minutes or so and cook until tender, around 45 minutes.
How I Enjoyed My Harvest
Lovin' the Greens...And More!
By Linda Dansbury
Fall cooking is so enjoyable! The house is cooler and our bellies desire slow cooked, hearty dishes. I haven't written an article in awhile, so if you have ideas on how you enjoy the bounty of what we are receiving now, please email me at lindadansbury@comcast.net. Please put Anchor Run in the Subject Line so I can find your message.
Onions, potatoes, tomatoes, carrots, garlic, herbs, Hershberger short ribs - made a slow braise adding the carrots and potatoes the last hour of cooking. The house smelled so good all day we couldn't wait to eat.
Butternut squash, celeriac, watermelon radish, potatoes, onions, garlic, leeks, herbs - roasted the veggies that were lightly coated in olive oil and salt and pepper at about 400 degrees for about 45 minutes. Stirred every 15 min or so for even cooking. This is such a colorful and delicious dish, and is great with most meats and fish. I normally make a large batch so I have some left to add to a frittata.
Peppers, tomatoes, onions, a lot of greens - made a frittata for dinner. Love this weeknight meal when paired with a toasted piece of locally made whole grain bread.
Broccoli, turnips, carrots - I eat these as snacks with my lunch most days.
Dandelion, small Swiss chard leaves, small kale leaves, radicchio, head lettuce - I really like to use a mix of greens in salads. Nut oils and a bit of cheese help to soften the stronger greens, but I have to say that the radicchio we are receiving is the most mild and tender of any I have had.
CSA Shares Available for Late Fall, Winter, and 2019 Main Season
by Farmer Dana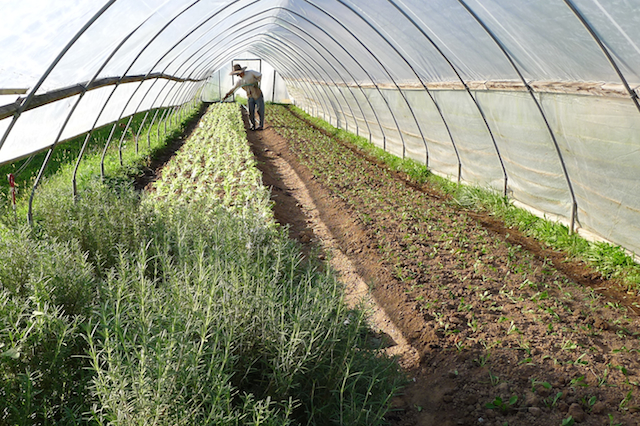 Overwintered rosemary maturing nicely, to be cut starting this week for a few weeks. Watering in lettuce mix and spinach in the hoop house.