Harvest Week 5: Bounty Appreciation
News
Expected Harvest
Lettuce Play the Beet
by Farmer Dana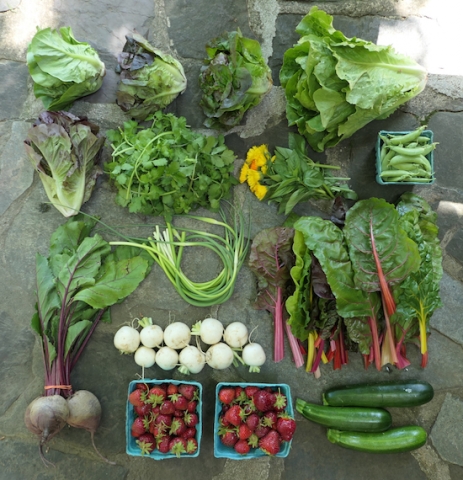 Harvest #5 (Week A) should include garlic scapes, yellow and green zucchini, romaine lettuce, head lettuce, kale, chard, endive, Italian dandelion, parsley, dill, cilantro, hakurei turnips, kohlrabi, beets, and strawberries. U-pick should include strawberries, snap peas, and herbs.
Notes From The Field
Hustle and Bustle
by Farmer Derek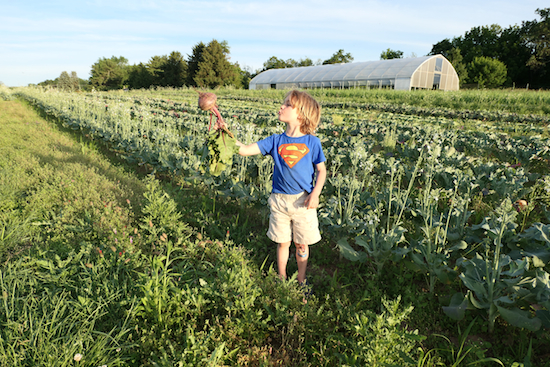 Super beet!
The marathon continues with intermittent sprints. We've had pretty amazing weather the past week and a half which has allowed us to stay on schedule and accomplish most of the tasks that make up our to-do list. Last week we began the perpetual tomato pruning and trellising which will occupy a lot of our time over the next month or so. Each plant gets pruned to 1 or 2 leaders and each leader gets clipped to a wire that is supported by 7' t-posts (we have around 2000 tomato plants on the farm). We also transplanted successions of lettuce, dill, cilantro, zucchini, cucumbers, cantaloupe, basil, edamame, beans, sunflowers, and scallions. The dry weather enabled us to hoe and weed where needed and with the help of workshifts we finished cleaning up the onion patch. This week we'll continue the steady march of spreading plants around the farm by transplanting more lettuce, beans, and edamame as well as leeks and celeriac for fall harvest. Strawberry plants for a 2020 harvest will arrive in a couple of weeks so I'll be busy getting beds ready for those 7,000 plants. We're already preparing for fall crops of broccoli, cauliflower, cabbage, etc etc by spreading compost and doing an initial chisel plow to incorporate the lush cover crops and compost into the soil. The robust organic matter needs some time to mellow and break down by the beneficial microbes and bacteria in the soil. After a rain event or two we'll mix the mixture around again to stimulate additional decomposition, wait for another rain event, then begin the process of making raised beds. All in all it's a 1-2 month long process to finalize beds for planting into.

Workshifts For This Week
by Farmer Derek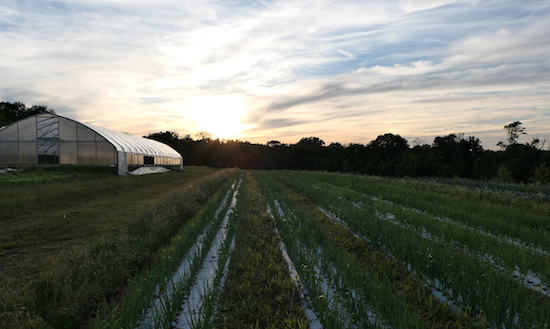 The onion patch at sunset. It was successfully weeded last week thanks to workshifts and farm staff.
Workshifts scheduled for this week:
Tuesday (6/11) 1-3pm
Wednesday (6/12) 9-11am & 6-8pm
Friday (6/14) 9-11am & 1-3pm
Sunday (6/16) 9-11am
Workshift sign-up instructions may be found
here
.
Take advantage of these relatively cool late spring temperatures! Help your farmers pull some weeds and harvest this week.

Upcoming Events
by Farmer Dana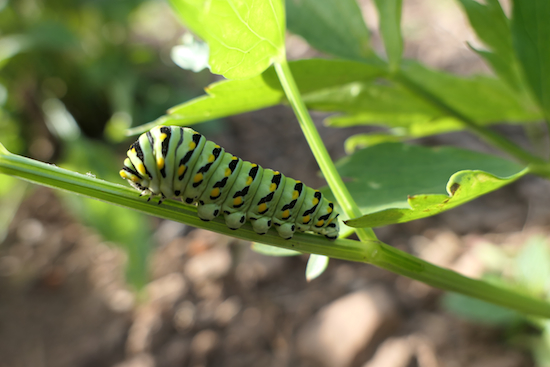 Join this swallowtail larva for a meal at the farm!
Saturday, June 29th, 6-9pm: Potluck in the pavilion. Meet and mingle with your farmers and other CSA members. Bring a dish to share to feed six, your own place settings, and a beverage of your choice. The meal should be followed by a small fire. S'mores anyone?

Check the calendar here.
Scapes and Beets
By Linda Dansbury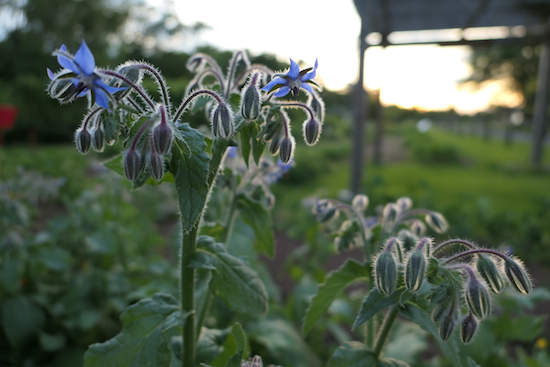 Borage is currently flowering in the herb garden. The flowers and leaves of this plant are edible, tasting mildly like cucumber.
This week we see 2 perennial favorites in the pick up room: garlic scapes and beets with tops.
Garlic scapes are the flower stalk of the garlic bulb. Farmers have been cutting the flower stalk off the plants for years so that the energy goes into forming the cloves, rather than into reproduction of the plant. As with green or spring garlic, it has to be stored in the fridge, where it will keep for a few weeks. Use it for a mild garlic flavor in any dish you like - but...don't cook it for long because the taste will be lost. If using in a cooked dish, add at the end, as you do with greens. We have a few recipes on this site for scapes, including
Garlic Scape and White Bean Dip
and
Garlic Scapes and Greens with Pasta
to help you with ideas.
Beets with tops are a wonderful treat from the farm. These spring beets are particularly sweet. When you get them home, separate the greens from the beets and store separately in the fridge. The greens can be cooked on their own or along with other greens with olive oil and garlic, adding a bit of red pepper flakes, salt and pepper. They will take 5-8 minutes to be ready to eat. Or, for a special treat, try making recipes that incorporate both the beets and greens, including
Roasted Beets and Beet Green Risotto
- the color of this dish is a show stopper, and it is truly delicious! Or simply make the
Roasted Beets and Beet Greens
dish. There are many beet recipes on this site.
How I Enjoyed My Harvest
The Freshest Food
By Linda Dansbury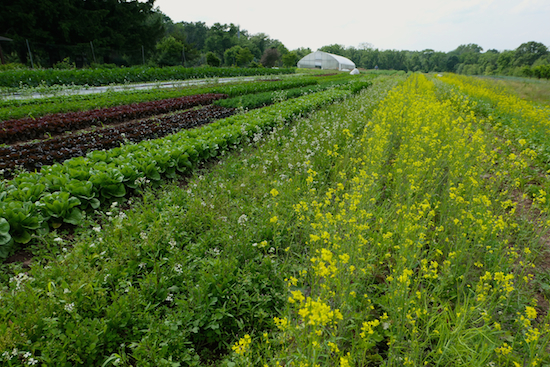 Flowering arugula, greens mix, and broccoli raab contribute additional benefits to the farmscape: food for pollinators and eye candy for creatures that visually appreciate flowering plants.
This week was pretty crazy so I wasn't able to cook a lot of different things but I certainly ate well. How did you enjoy your harvest? Please share with membership by emailing me at lindadansbury@comcast.net. And please put Anchor Run in subject line so I can find your message. Here are a few ways I enjoyed my harvest.
Spring garlic, chard, kale, escarole - made a simple but yummy dish by slightly cooking chopped garlic with chopped chard stems, then added a large pile of mixed, chopped greens. Added salt and pepper to taste - a bit of red pepper flakes is delicious too. Let the greens partially wilt, then made "wells" in the pan and cracked eggs into each of the wells. Put a lid on the pan for about a minute and then check. You want the whites of the eggs to cook, but the yolk to stay runny. Lift greens and eggs onto a plate, break the eggs and mix the runny yolk into greens, forming a sauce! Top with more pepper, chopped parsley and scallions. I also love a toasted slice of local bread to go with it.

Summer squash, scallions - as you read my article through the season, you will notice that I often do squash on the grill, as I got to do for the first time last night. It is so simple and delicious! Cut squash into halves or quarters depending on the size, brush scallions and squash with olive oil. Place on hot grill and don't go too far away. Turn as each side of squash get grill marks and cook until desired done-ness. We like it with some bite left in them. Just barely char the scallions. Remove from grill, add a bit of salt and sliver of basil or chopped parsley and you are ready to eat. Leftovers are amazing in a pasta salad.
Spring garlic, turnips, escarole - I made a Moroccan dish of ground lamb and veggies over quinoa. The recipe called for carrots, but I used our little turnips instead and it did not call for greens but I added some chopped greens at the end of cooking. The dish was so delicious, with enough for leftovers - I will add even more greens when we eat it again. Maybe some chard this time!