CSA Week 11: Hot Tomato
News
Expected Harvest
And From The Heat Wave
by Farmer Dana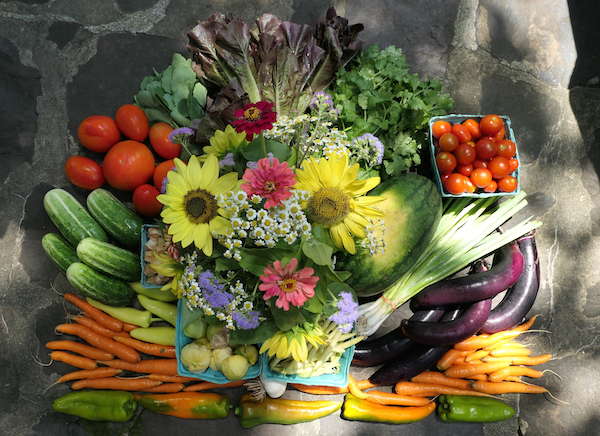 Harvest #11 (Week A) should include sweet peppers, eggplant, carrots, scallions, fresh garlic, lettuce, tomatoes, cilantro, basil, dill, parsley, hot peppers, Italian dandelion, cucumbers, zucchini, and watermelon. U-pick should include snap beans, tomatoes (cherry, grape, plum), tomatillos, husk cherries, flowers, and herbs. We're into peak U-pick!

Notes From The Field
Feeling the Heat
by Farmer Derek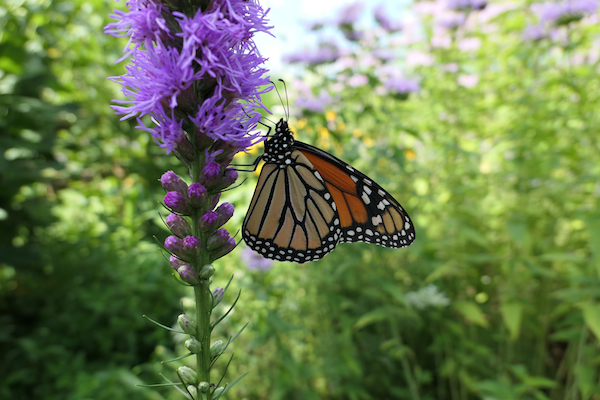 Hello beautiful monarch butterfly enjoying a blazing-star snack!
Whenever we have extreme weather I try to notice and acknowledge the wild species on the farm that seem to be thriving or at least seem to respond in a positive way or are able to ignore completely the unique weather circumstances. Observing these creatures provides a nice distraction from any worry associated with crop health because we can feel happy that they're happy. After flash floods I listen to a chorus of eastern gray tree frogs or aptly named green frogs and may watch our resident also-aptly-named big brown bats echo-locate around the trees and buildings while they snatch their insect prey from the moist air. During this brief but intense heat wave the calls of the midsummer nocturnal cricket-like katydid are ratcheting up and joining their daytime cicada cousins while june bug beetles seem to be intensely pursuing each other haphazardly. A romp through the woods yields spiderwebs galore filled with patiently waiting arachnids. The moist duff of the forest floor beckons the fruiting bodies of various species of fungi to cast their spores. Amidst this extreme heat, we slow down, cool down, and wait for it to break.
Before the heat's arrival we were fortunate to receive three-quarters of one-inch of rain, slowly and surely. We are very thankful and appreciative of this dose because without it we would be fretting the absence of moisture during these high temperatures. Anticipating the rain, we began putting some fields 'to sleep' for the off-season. That's a weird saying and I'm not sure what it means exactly, but what we did was mow and chisel plow and sow cover crops and disc-harrow to incorporate the seeds in fields where production is over for this growing season. If the seeds germinate well and the plants grow well we won't have to disturb the soil there until next spring. So, they're resting/sleeping but also photosynthesizing/nourishing/providing habitat/nectar/pollen/capturing carbon/beautifying. We sowed a mix of buckwheat, oats, and daikon radish. We'll use this mix for another month or so then we'll switch to oats and crimson clover and end with rye or wheat with hairy vetch in October. Cover crop nourishment of the soil is integral to crop health and something we emphasize here.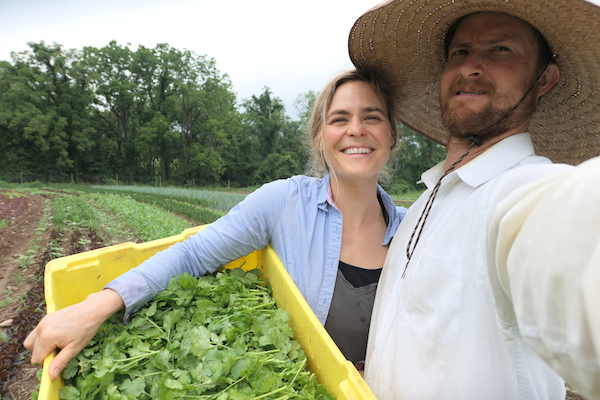 Farmer selfie with some fresh cilantro.
Workshifts for Week of 7/22/19
by Farmer Derek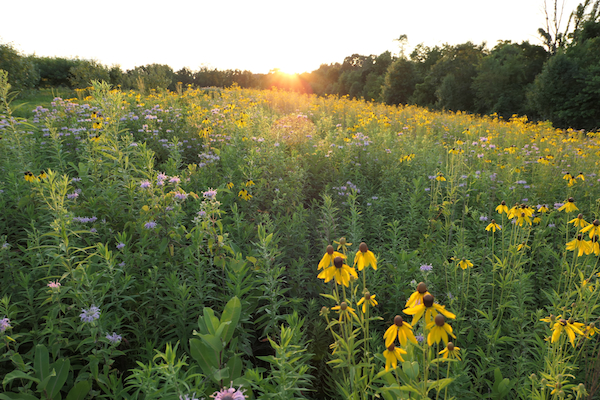 Wild bergamot and gray-headed coneflower blooming in the pollinator habitat at sunset.
Workshifts scheduled for this week:
Wednesday (7/24) 9-11am
Wednesday (7/24) 6-8pm
Friday (7/26) 9-11am
Sunday (7/28) 7-9am (special early-riser and heat-beating start time!)
If it is actively raining during the time of the shift it will be canceled.
What are husk cherries?
By Linda Dansbury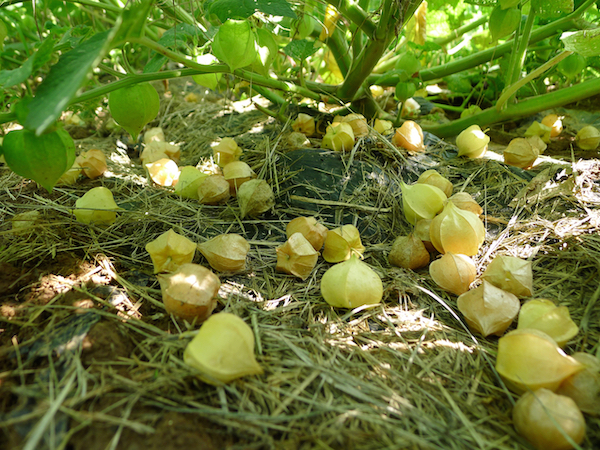 Ripe husk cherries turn gold and often lose the gravity battle.
Husk cherries/ground cherries/cape gooseberries are in the same family as tomatoes and tomatillos and are very nutritious. The ripe fruit have a good amount of
beta-carotene. Plus, they also have significant amounts of calcium, iron, phosphorus, potassium, bioflavonoids, protein, and fiber. On top of this, ground cherries only have 53 calories per 3.5 ounce serving.
Ground cherry flavor profile is somewhat tropical. The flavor has been called a cross between a strawberry and pineapple. They are delicious as a healthy snack eaten all by themselves. But, their high pectin content makes them perfect for
Ground Cherry Jam
,
Ground Cherry Pie
, fruit compote, an addition to salsa verde, and as a component in a
Corn, Basil and Ground Cherry Salad
. My personal favorite is
Ground Cherry Salsa
- if you chop everything by hand it does take some effort, but it is worth it! They keep for a long time just sitting out on your kitchen counter - leave the husks on them. Since they have such a long shelf life, you can also save up a few week's harvest and then use them up.
They are also one of the easiest crops to harvest - just pick the ones up that have fallen off the plants - yum!
How I Enjoyed My Harvest
Summer Bounty
By Linda Dansbury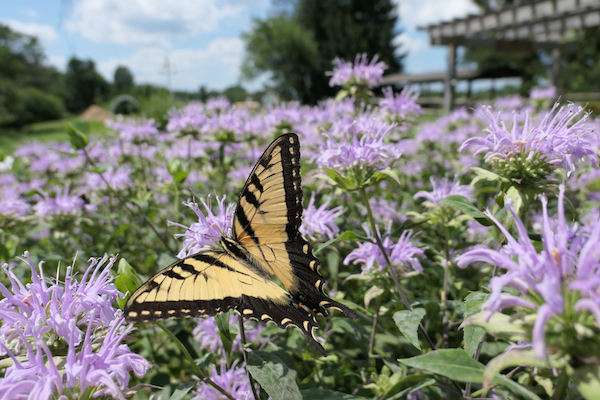 Swallowtail butterfly on wild bergamot aka bee balm.
Cooking this time of year is easy and rewarding because everything is so delicious! There are so many options and variations of using our harvest. Please share how you are using your harvest by emailing me at lindadansbury@comcast.net and please put Anchor Run in the title so I can find your email. Here is some of how I enjoyed my harvest.
Zucchini, cherry tomatoes, pesto - time to get the zoodle maker out! I already had pesto in my freezer so this was so simple. Zoodled some green and yellow zucchini, halved cherry tomatoes. It can be left completely cool or cold, but I put the zoodles in a warm pan and heated till just warmed through - you don't want to really cook it because the zucchini will get mushy. Put zoodles in a bowl, add tomatoes and a good amount of pesto, mix well, add a bit of fresh basil or parsley and enjoy.
Green beans, sweet pepper, scallions, cherry tomatoes, parsley, basil - made a large green bean salad - I have some beans from my garden as well and this is a great way to enjoy the beans. Using a red wine vinegar based dressing allows the beans to stay fresh for a long period of time.
Eggplant, onion, garlic, basil
- made a new dish this week, called
Spicy Eggplant Pasta.
Pretty simple to make and very delicious. You can keep it vegetarian, but I cooked shrimp slightly in pan and removed before doing the onions and it was delicious. Sausage or chicken would also work well.
CSA Member & Coffee Roaster!
by Farmer Dana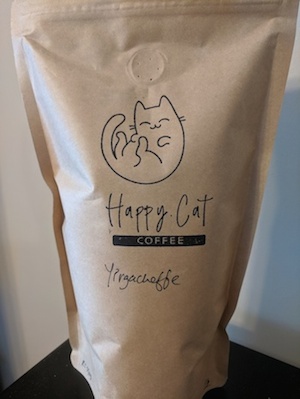 Longtime CSA member and coffee aficionado Sukhi Bedi has started his own small batch coffee roasting company,
Happy Cat Coffee
. Orders can be placed on the website and can be shipped directly to you, or you can arrange for him to bring it to the farm for you to pick up. Currently, Anchor Run CSA members can enjoy a 20% discount with code 'ANCHORFARMROCKS'.
Also, Sukhi is planning to be at the farm on Thursday, July 25th, 4:30-6:30pm with his freshly roasted coffee for sale.