CSA Week 20: Officially Autumn
News
Expected Harvest
Fall Flavors
by Farmer Dana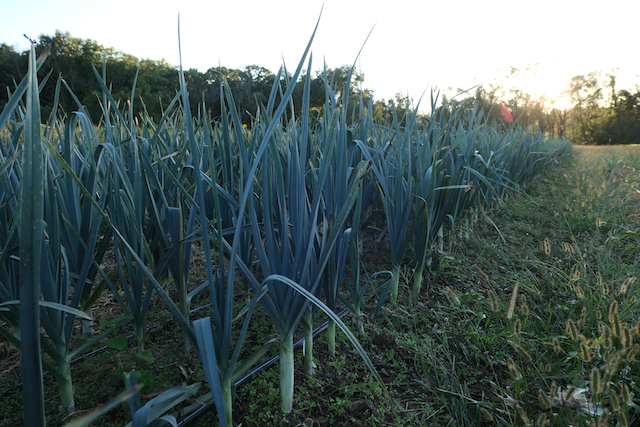 Too much to do and not enough time today for a harvest picture; a photo of plentiful leeks will hopefully suffice. Sometimes we hear from members who don't know what to do with leeks, but we recommend using them as you would any other allium (onion, scallion) if you're having difficulty.
Harvest #20 (Week B) should include broccoli, garlic, onions, leeks, lettuce, savoy cabbage, potatoes, kale, Swiss chard, arugula, endive, sweet peppers, hot peppers, cilantro, dill, and tomatoes. U-pick should include herbs (parsley, rosemary, sage, thyme, oregano, papalo, mint, tarragon, lemon grass, etc.).

Notes From The Field
Registration Open for 2019 Late Fall CSA
by Farmer Dana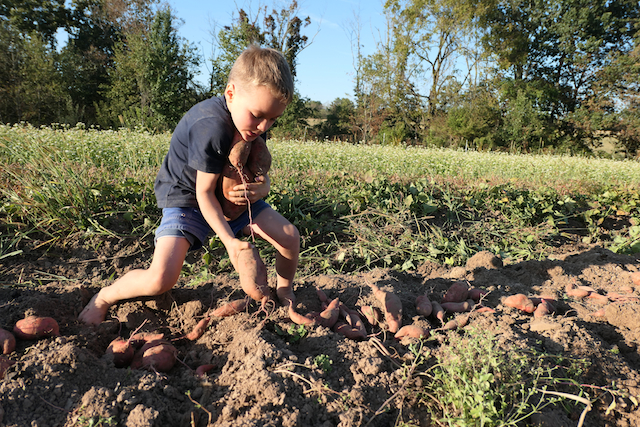 Sweet potatoes will be plentiful in shares during the final month of the Main Season as well as the Late Fall CSA.
Registration is now open for the 2019 Late Fall CSA!
2019 marks the 8th Late Fall CSA season!
Offering a mix of fresh and storage crops like lettuce, spinach, radicchio, arugula, mizuna, bok choy, kale, collards, chard, cabbage, Napa cabbage, herbs, leeks, garlic, onions, beets, watermelon radishes, daikons, turnips, carrots, celeriac, kohlrabi, potatoes, rutabaga, and sweet potatoes. It's basically an extension of the Main Season share. We use season extension techniques and infrastructure such as the unheated high tunnel, hoop house, and hoop tunnel; the minimally heated greenhouse; low hoops; and row covers to provide fresh crops as well as storage crops.
Eight week season begins the week of November 11th (immediately following the conclusion of the Main Season) and ends the week of December 30th.
Full ($240), Medium ($175), and Half Shares ($130) available. Price/week remains the same as prior seasons. Half Shares will be assigned same A/B week as Main Season unless a different week is requested.
Pick up day options include Wednesday 1-8pm and Saturday 11am-1pm (you choose a day but you can switch temporarily by notifying us in advance) however...
(During the week of Thanksgiving, Late Fall Harvest Week #3, Wednesday's pick up will take place on Tuesday, November 26th to accommodate travelers and holiday schedules and...during the week of Christmas, Late Fall Harvest Week #7, Wednesday's pick up will take place on Thursday, December 26th.)
No work requirement/discount.
The total number of shares available is about half that of the Main Season, so sign up soon!
Workshifts for Week of 9/23/19
by Farmer Derek
Sweet potatoes revealed underneath their vine canopy. Hardworking members and farm crew retrieved a few thousand pounds of these tubers from more than 3000' feet of beds on Friday and Sunday. They'll cure in a heated room for a couple of weeks to heal and sweeten.
Workshifts scheduled for this week:
Wednesday (9/25) 9-11am
Friday (9/27) 9-11am
Sunday (9/29) 8-10am
Workshift sign-up instructions may be found
here
. Calendar is
here
. Member Work Guidelines are
here
.
If it is actively raining during the time of the shift it will be canceled.
Work opportunities should last for another month or so but frequency will decrease as we move away from summer.
If you still need to complete your pledged farm labor hours for your share discount please sign up soon. Alternatively, if you'd rather pay the full amount for your farm share that is fine, just send us a check to cover the workshift hours.
Changing of the Crops
By Linda Dansbury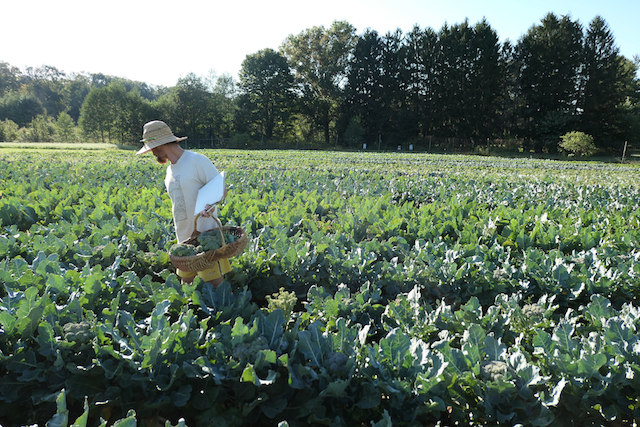 During our weekly field walk and to-do list creation broccoli was checked and subsequently sampled to confirm readiness and tastiness for shares this week.
There has been a gradual changeover with summer crops overlapping with fall crops as they slowly start being harvested. This week, fall comes to us both literally and figuratively, with more fall crops entering the scene. Cabbage and broccoli are here!
Cabbage is easy to store - a plastic bag or container in the fridge and it lasts for weeks - outer leaves may yellow a bit, but just remove them and you have a perfect head left underneath. The first of our cabbages is Savoy cabbage. It is has a tight head like the traditional green and red cabbage, but the leaves are wavy/wrinkled, making the head look pretty. It can be used interchangebly with regular green and red cabbage.
As for broccoli, I find a little game of "find the hidden worm(s)" an important step in the broccoli keeping best in the fridge. The little critters hide on stems and in-between the florets and the color blends in with the color of what they are eating, but not removing them causes the places where they lay to go bad. This may sound complicated, but it really only takes a minute or two and is well worth the time.
This past week we received green tomatoes - you may wonder what to do with them. They are edible and don't need to be ripened. They can be cut up and added to your green salads, made into a
Green Tomato Relish
or fried up as in
Fried Green Tomatoes with Remoulade Sauce
,
both of which are on this site. Or, mix with the remaining sweet and hot peppers, red tomatoes, onions, garlic, fresh or dried oregano, fresh cilantro, a bit of cider vinegar, salt and pepper - if it seems too tart for your taste, add a bit of your favorite sweetener.
How I Enjoyed My Harvest
Using up Summer Produce
By Linda Dansbury
Well, it feels like summer, but tomorrow marks the official end of summer and with the shorter days and cool nights, the summer crops are coming to a close. I am still enjoying some of them, and mixing in some fall greens as well.
Sweet peppers, onions, Swiss chard, herbs, tomatoes - I made a large frittata - which is one of my go-to meals. I make a large one and then can have it for a few days, eating leftovers for lunch or even breakfast. Saute chopped onions and peppers until soft. I also had green beans from my garden so I steamed some of those and added them to the pan. Once cooked, I added in some chopped Swiss chard, salt and pepper, and then added the beaten eggs. Topped with cheese and sliced tomatoes and placed it in a 375 degree oven for about 15 minutes or until set. Sprinkled with fresh herbs and enjoyed.
Onions, hot pepper, a bit of Swiss chard, cilantro - Made a broth for mussels and even added a bit of slivered Swiss chard to that. It added a nice flavor and crunch.
Onions, garlic, kale, butternut squash - the sweetness of butternut squash is a nice counter to the kale and onions. I had used half of a baked squash just as a side dish and had the other half left so I added it to a saute of the rest of the ingredients along with salt and pepper and a few bits of chevre cheese and toasted pine nuts added at the end. It was really delicious.